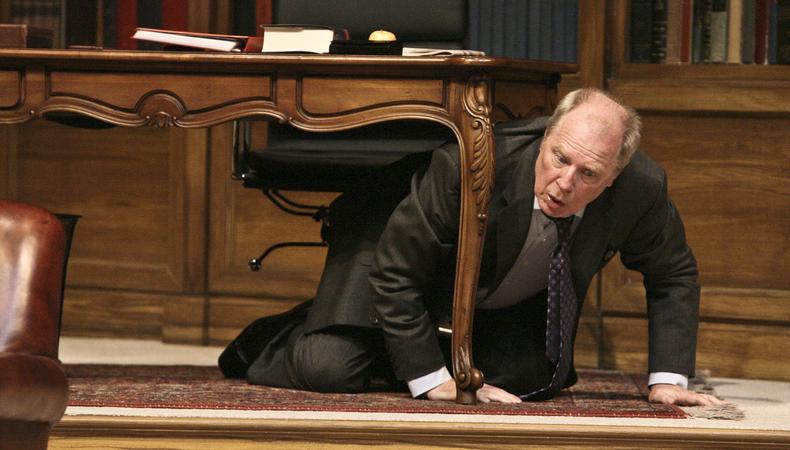 Michael McKean likes to keep busy. With his new show "Family Tree" currently airing on HBO, McKean is now following up his performance in "Gore Vidal's The Best Man" on Broadway with political comedy "Yes, Prime Minister" at the Geffen Playhouse.
McKean's most recent work proves that developing relationships is important to him. While McKean was working on "The Best Man," writer-director Jonathan Lynn came to see the show. Shortly after, Lynn contacted McKean to offer him the role in "Prime Minister." Since he was already familiar with the British TV series on which the play is based, he was excited to join the production. And his role on "Family Tree" came about through his relationship with Christopher Guest. Although McKean initially suggested a few British actors to play the role, Guest ended up asking McKean to do the role.
McKean has a special affection for the theater. "When you're on the stage, every night it's like a tightrope," he says. "You have to be there and everybody counts on you and you count on everybody else and it's just more of a spirit of community." McKean offers some advice on maintaining a long acting career.
Keep it real.
McKean is a fan of Lynn's directing style and believes that it's important to keep a performance grounded in reality to make farce work. "If you're going to make a really silly story, everyone on stage has to take it very seriously or it's not going to be funny at all," he says. "That's kind of our job. To keep it on the level. To keep it where nobody's exaggerating for effect."
Variety is the spice of life.
After his role on "Laverne and Shirley," McKean found he was getting lots of offer to play other silly, idiotic parts. "I didn't want to do those because I already had and I knew instinctively that if you do something more than once people start to think that's all you can do," he says. "If you do the same thing three times then they're convinced. So I tried to change it up a little bit." He made sure to play very different characters in "Young Doctors in Love" and "This Is Spinal Tap." Throughout his career, McKean says, "I've done a few roles that were very similar and an alarm just kind of goes off and I go, 'You know what, let's pass on the next one.' "
Be your own brand.
"If at all possible, be the only place they can get what you do," says McKean, citing Cary Grant and Sandra Bullock as examples. Another example would be Bill Murray. "If Bill Murray is not going to do the part that you wrote perfectly for Bill Murray, you might as well not do it," McKean says.
Stay calm.
Even though auditions are stressful, it's important to stay calm. "If you're at an interview and you're terrified, there's really nothing to be afraid of, because the worse thing they could do to you is not give you the part, and guess what? You already don't have the part," he says. "You walked in there without the part, so that ship has sailed—just go in and have as much fun as you can."
Be open to the unexpected.
At one point, McKean dreamed of playing King Lear, but after playing such a wide variety of characters, he's changed his perspective. "It's all what looks like fun and what looks playable and what looks like I might be the right guy," he says. "And then I try for it and sometimes it works." He's already fulfilled one of his dreams: to be in a Broadway musical. (He's done two: "Hairspray" and "The Pajama Game.") "I've learned from life that you really don't know what's around the corner," he says. "I didn't know Jonathan Lynn was going to come see 'The Best Man' and offer me the lead. He's never heard of me." So he just embraces the opportunities that come his way.
Work with what you've got.
With guest star credits ranging from comedy to drama to sci-fi to animation, McKean has learned to just jump into the role, since there's usually very little information or preparation time. For a short scene in Season One of "Homeland" McKean arrived in Charlotte, N.C. "I met the director [Michael Cuesta] on the set, met Mandy Patinkin on the set, and we chatted a little bit and it was all there in the words," he says. "The two characters that we were told the story; I didn't really have to ask too much. There's some dark secret that my character, this judge, is holding onto that makes him vulnerable, but I could supply my own because they didn't have anything to give me necessarily." With "Curb Your Enthusiasm," McKean was given the basics and then had to run with it. "That's all improvised, like the Guest films are. So I just go and I do what I do and that's it," he explains. But make sure you understand your character so the audience can. "Don't say something if you don't know what it means because it's not going to make any sense," he says.