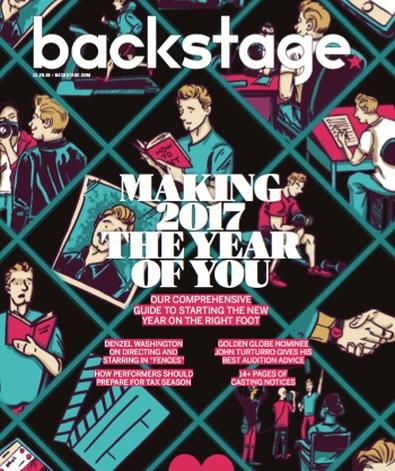 Now that the time has come to put 2016 to rest (and what a year it was!), we here at Backstage are looking ahead. For working actors, that means reflecting on the progress of the past 365 days and thinking about how to improve upon the next. What goals and resolutions will you be working on in 2017? From your résumé to your gym membership, we've rounded up the things that should be on the to-do list of any professional performer looking to start next year on the right foot.
Audition for something that scares you.
New Year's resolutions are all about setting goals that will challenge and make you stronger. What better way to do that as an actor than to audition for a role that's outside your comfort zone? Even if you don't get the part, flexing muscles that go against your type will keep you versatile and loose.
Make a 2017 budget.
The holiday season is a great opportunity to reassess (or create) a budget for your performing arts career. How much should you spend on classes and coaching? Rent? Transportation? How much, realistically, will you be able to afford to spend based on your 2016 income? Grab a calculator and your thinking cap and come up with a system that will help you feel in control of your finances. Then stick with it!
Invest in yourself.
Don't be afraid to take some of your holiday money and put it back into your career for big-picture success. Are your headshots looking a little shabby? Hire a photographer for a glitzy new collection! Is your website out of date (or nonexistent)? Put some money into designing a one-stop destination for industry professionals to learn what you're all about.
Put all your bills on autopay.
Managing your finances is never a walk in the park. So take a load off and get one step ahead of the game by putting your monthly bills on autopay to make sure they're taken care of. It's one less thing you'll have to worry about!
Find a rewards credit card.
There are a lot of credit cards out there, offering benefits and points systems galore. Not all of them are good deals. Take the time to research which credit cards could help you get to that faraway gig or audition and which ones really are too good to be true.
Brush up on contracts.
A new year is a great time to brush up on the basics of the business of being an actor. Anyone with a Wi-Fi connection and a little bit of patience can cross an important task off the list: familiarizing oneself with contracts. Pay attention to the differences between TV background work and guest roles, to the changes brought about by Off-Broadway's #FairWageOnStage campaign, and especially to industry jargon. You owe it to yourself as a professional.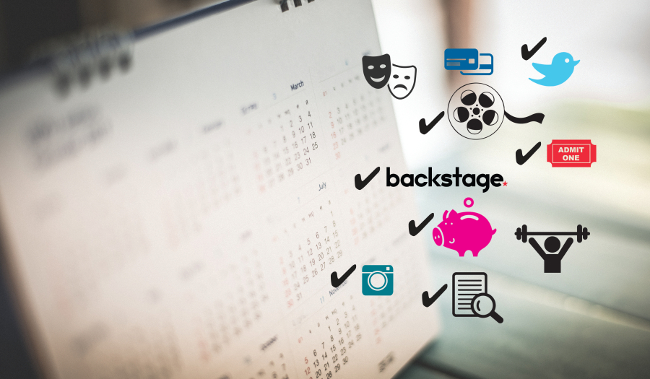 Join a gym.
Sure, lots of gyms and athletic clubs are besieged with well-intentioned New Year's resolution-keepers in January. But feel free to join the masses; those establishments usually offer incentives to join at the beginning of the year. Find a gym near your home or work, and factor its monthly membership into your budget. Making fitness a regular part of your routine can only help your career as a well-rounded performer. Just do it!
Revamp your social media presence.
If we've said it once, we've said it a thousand times: Actors should be on Twitter, Facebook, Instagram, LinkedIn, and other social media platforms. Not only is it a great way to connect with other actors and casting directors, it'll keep you in the know with resources like Backstage. Make sure your name and handle are uniform across all platforms. (Find us on Twitter @Backstage.)
Update your résumé.
We know as well as anyone how busy life can get, and that means little (but essential) assets like your résumé may not have your recent credits highlighted. Wear your work with pride! Spend an hour or two running through your year's most exciting projects and make sure they're appropriately represented on your one-sheet. (Pro tip: If you're looking to pursue a specific kind of role in the new year, be sure to lead your résumé with parts that bolster the image.)
See awards contenders.
One way to spend the holidays that requires very little energy and can help familiarize you with industry goings-on: watching awards-contending films and TV series. If you're lucky enough to have received screeners for the year's most prestigious projects, get the popcorn ready and curl up with your loved ones. If sitting in a dark theater is your thing, you're in luck; this year, for example, Christmas Day saw the release of "Fences," "20th Century Women," "Hidden Figures," and "Live by Night." Ultimately you're treating yourself to superb performances—and you'll be the expert at your Oscars party.
Select your agent's holiday gift.
Looking for the perfect end-of-year gift for your representation? As Secret Agent Man has said in his column, you don't have to break the bank to impress your agent. "This is more about showing gratitude than spending money," he advises. "Some of the best presents I've ever received were from clients who spent little or no money." Go for meaningful rather than rote; your agent is more likely to remember a gift based on an inside joke or something handmade over a bottle of wine.
Reevaluate your acting coach.
Have you been training with the same acting coach for years and feeling like you're not growing or learning anything new? It's OK to look into other options—good coaches want what's best for you! Like any healthy relationship, that could mean speaking about your problem spots and concerns directly and trying to fix them together, or it could mean parting ways and finding a new school or training style that fits your needs.
Reach out to a potential mentor.
Any working actor will tell you that a career is built not just by one person's success but by the joint successes of those around you. Having a sturdy support system socially and professionally is essential to long-term stability. If there's a performer in your local arts scene that you particularly admire, don't be afraid to ask him or her for a coffee to talk shop. Backstage is great for time-proven career advice and insight into a well-known actor's craft, but culling that insight in person from a role model has the potential to shed more light on your specific needs.
Join Backstage.
Of course, one of your best go-to resources for becoming a more well-rounded professional is right under your nose. Part of investing in yourself means getting your annual subscription to the No. 1 trusted source and top casting platform—for over 50 years—to kick-start your career, land your next (or first!) role, and get discovered. In addition, Backstage features an almost endless supply of information on both the craft and business of the performing arts to ensure you enter those casting calls with your best foot forward. Check out Call Sheet, our resource for locating agents and managers and securing their representation. If you need a monologue to add to your roster, try the Monologuer, our searchable database of speeches for working performers. And don't forget our casting notices! A Backstage subscription is your one-way ticket to new acting gigs uploaded daily, making you ready for the new year and a long-lasting career.
Now get to auditioning! Check out our film audition listings!