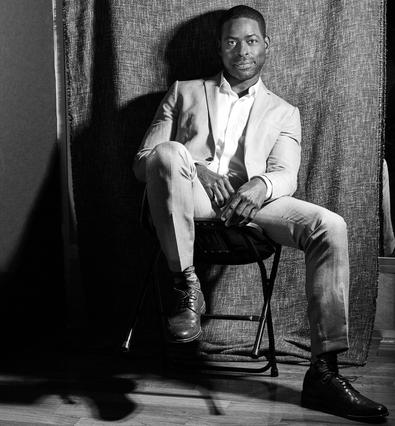 Appointment television is not dead.
Despite the proliferation of streaming series and customized media consumption, for 10 weeks this winter, a miniseries on FX proved episodic TV could still dominate the American consciousness. In depicting the trial of O.J. Simpson, itself an appointment-viewing event in 1995, it created the most relevant pop culture phenomenon of 2016.
Sterling K. Brown, who plays prosecuting attorney Christopher Darden, says it's easy to see why "The People v. O.J. Simpson: American Crime Story" drew in millions of viewers, becoming cable's most-watched new show of 2016 and FX's highest rated first-year series ever. Co-writers Scott Alexander and Larry Karaszewski, director-producer Ryan Murphy, and a spectacular cast were firing on all cylinders.
"They created a show where everybody knows the ending," Brown points out. "And people were still glued to their seats waiting to see what happens next."
Come Sept. 18, the miniseries is sure to dominate this year's Emmy Awards given its whopping 22 nominations, including an outstanding supporting actor nod for Brown. Considering his A-list co-stars—Cuba Gooding Jr., Sarah Paulson, John Travolta, and David Schwimmer, a cast of "names," as he puts it—his first Emmy nomination feels especially earned. Best known for his work onstage in Suzan-Lori Parks' "Father Comes Home From the Wars" and on Lifetime's "Army Wives," Brown was the only major "People v. O.J." actor who had to audition for his role.
"We're close to the same height," he says of himself and Darden. "His birthday is the beginning of April, my birthday is the beginning of April. We're about 20 years apart in age so I was about the age he was when he was trying the case, which is crazy." The similarities mostly ended there. It took intense study of the attorney's withdrawn mannerisms and posture—plus a stellar makeup and wardrobe team and what Brown calls "very, very, very '90s glasses"—to disappear completely into Darden.
Brown also did not have the benefit of meeting the man himself. "I reached out to him on a couple of occasions and he did not respond," he says, "which is fine. And I do believe after having walked in his shoes, kind of, I can see why he wouldn't be interested in revisiting this particular period of his life."
For almost all of 1995, and with the entire country watching, Darden and his co-counsel Marcia Clark tried and failed to prove beyond a reasonable doubt that Simpson murdered his ex-wife Nicole Brown Simpson and her friend Ron Goldman in Brentwood, Los Angeles. While Simpson's "Dream Team," led by black defense attorney Johnnie Cochran, addressed racial tensions and police brutality more than hard evidence, Darden was put "in the most complicated position of anyone else in the trial," claims Brown, "because he was the black face of the prosecution."
READ: " 'The People v. O.J. Simpson' Proves Truth Is Weirder Than Fiction"
"He was vilified," he adds. "He was ostracized by the black community and called an Uncle Tom and a sellout and a race traitor. He got death threats." In one of the only interviews Darden gave, he stated that if he were given the chance to do the trial over, he wouldn't. "But it was too good an opportunity to pass up," Brown says. "He was a moth to the flame."
Simmering underneath Brown's portrayal in "People v. O.J." you can see Darden's greatest fear—that he was only brought onto the trial of the century for his skin color. When Cochran accuses the district attorney's office of just that, the camera swoops down on Brown, who blinks as if in a daze—are those tears in his eyes? Quiet fury? Brown says such on-camera moments hearken back to his acting training at NYU Tisch School of the Arts. His philosophy, then and now: "Understand what you want and want it as badly as you can. Make the stakes for yourself as life-or-death as you can. For Darden, the stakes were high."
By the time the prosecution's star witness is proven a despicable racist, Darden is lashing out at Clark: "You put me on this trial because you wanted a black face, but the truth is you never wanted a black voice." Brown hurls the line at Paulson, raw and desperate, a volcano erupting. It's the first time the comrades-in-arms relationship between Darden and Clark collapses, and the first time Brown and Paulson's magnetic chemistry feels anything but tender. "That's a good scene," says Brown modestly.
Paulson remembers it too. "He was quite reserved and contained that day," she says via phone. "We have such a warm connection that I think him having to get that angry at me, and living inside that space, was not really comfortable for him. But I knew that what he was doing was almost protecting me from his anger, from the place he needed to go."
For Paulson, the best part about acting is playing opposite performers like Brown. "There are actors [who] are storytellers, interested in moving the story forward through their characterizations. They're not so focused on the light shining on them, particularly in terms of being lauded or appreciated. His responsibility was to Christopher Darden, and to Ron and Nicole. Mine was the same with Marcia. We had a very similar way of viewing our responsibilities...which allowed for something very, very alive to transfer between us."
Brown also gushes about his co-stars every chance he gets. "Sarah Paulson doesn't lie," he says with a grin. "Like, in life. But she doesn't lie onscreen, and you can't take your eyes off somebody who always tells the truth. She's the most honest person I've ever met." Courtney B. Vance, as the famously flamboyant and eloquent Cochran, inspires similar awe in Brown. "It's hard to find a mentor in this business, someone who's in a similar category as you, who's had a similar trajectory and can tell you about where you are. Courtney's been very much a mentor for me and I'm proud to call him a friend."
READ: "Why Sarah Paulson Needs an Emmy Already"
One of the best treats about "People v. O.J." is watching each of these actors play people realizing, slowly but surely, that their every move will become their historical legacy. The inevitability our hindsight provides renders the events depicted—the police chase of Simpson's white Bronco, the defense's ill-fitting glove, the "not guilty" verdict—a Greek tragedy. At its conclusion, Nicole Brown Simpson and Goldman are still dead, no one has been convicted for their murder, and our country is still (even in 2016) divided along racial lines. "Game of Thrones" wishes it could reach this level of epic.
In a 1997 interview with Oprah Winfrey, Darden said he hoped Simpson's acquittal wouldn't become what he's known for. "He's still hoping to reshape and reframe who he is," explains Brown. "I wish him all the best with that. But to this day that trial, and his participation in it, is what people remember."
Now Brown's legacy is tied to the trial of the century too. No matter the extent to which the Emmys honor "People v. O.J.," the actor is a bona fide breakout star. With roles in the upcoming NBC dramedy "This Is Us" (premiering Sept. 20) and M. Night Shyamalan's "Split," and a Reginald Hudlin–directed Thurgood Marshall biopic on the horizon, Brown is poised to prove to the world that what Paulson says about him is true: "Acting is really about listening and responding as truthfully as possible. It requires you to be completely and utterly present. That's something Sterling is without even trying."
As for the Sept. 18 ceremony, Brown is looking forward to it as only a first-time nominee can. "I have no idea what's going to happen," he says. "I think we created something really special, more special than we recognized. And we'll duke it out with 'Fargo'!
"It's going to be a good night. The wife and I are going to go out, we already have the babysitter set up. A night out without the kids is going to be a good night. That's a win, baby."
UPDATE: Sterling K. Brown won the 2016 Emmy Award for Outstanding Supporting Actor in a Limited Series or Movie.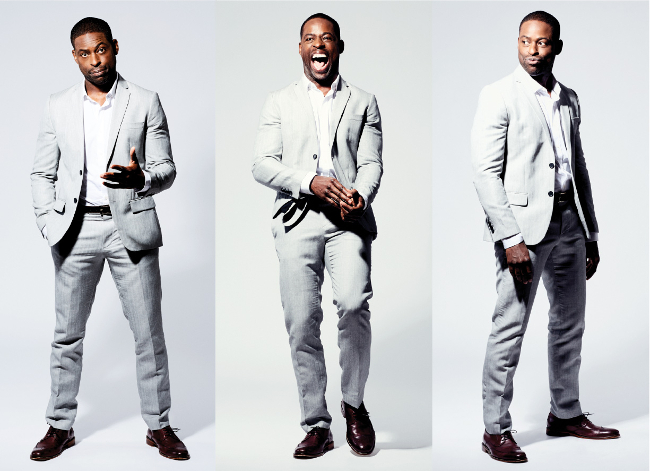 ---
Manna From Heaven
Three months of silence passed between Brown's first audition for "People v. O.J." and his callback. Sitting in a hotel in Albuquerque, New Mexico, where he was filming "Whiskey Tango Foxtrot," he remembers engaging in a practice all too familiar to working actors.
"I was going through my IMDbPro," Brown says sheepishly, "looking at all the people who had booked the jobs I had auditioned for, that I didn't get. As I'm doing it—as I'm doing that!—I get a call from my manager saying, 'They want to see you again.' "
This time he didn't have to wait as long. Soon after meeting with executive producers Brad Simpson and Nina Jacobson and feeling "pretty good" about his audition, Brown's phone rang. "I was with my son at basketball practice," he remembers. "I had the Denzel tear flow down the eye. And it was a good day."
Is the "Denzel tear" one of his favorite acting tricks? "I pull out the Denzel tear from time to time," Brown admits with a laugh. "I use that tear in the show! As you watch my work you'll start to see it."
Want to land an Emmy nomination? Check out our television audition listings!
Suit by Kenneth Cole.