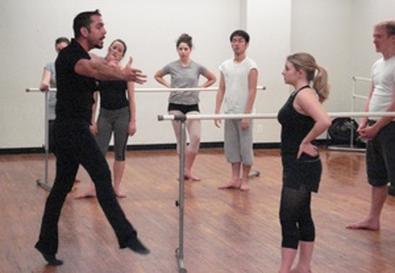 On a recent Tuesday in a bare dance studio in Chelsea, excitement buzzed as musical theater veterans and hopeful beginners began Steven Sofia's beloved musical theater class. With his calming smile, Sofia helped the dancers find a joyful mind-body connection, improve technique, and investigate repertoire -- all in two hours. After class, Sofia's Facebook page exploded with grateful -- and not uncommon -- messages, including "You remind me why I dance" and "Thank you for bringing me back."

A New York City native, Sofia has danced on the Broadway stage, on tour, and with the renowned American Dance Machine. Equally impressive, in the span of just a decade he garnered a steadfast following as a teacher at NYU's former CAP21 program and at professional studios, including Steps on Broadway. In his classes Sofia strives to "turn on the light bulb that starts an inner dialogue," he says. "That allows students to find individual voices that, as dancers, we don't always realize we have." But now, at 42, he is transitioning to a career teaching Pilates and moving to San Francisco.

While filled with bittersweet emotions, Sofia is ready to move forward. "Dancers go through a hard mental transition. We defy gravity and have the science to go past our prime, but eventually it's not healthy," he says. "At some point we do have to transition. I wanted to know, 'How can I still contribute as a dancer but in a different way?' Pilates made sense to me. It's my new dance!"

As a teen, Sofia studied with jazz greats including Phil Black before working with the American Dance Machine. There he met mentors Tony Stevens and Chris Chadman, placing him firmly in an essential musical theater lineage. Soon he had a slew of Broadway gigs under his belt, including "Guys and Dolls," "Beauty and the Beast," and "Chicago."

Around 37, noticing "the upsetting corporatization of the industry," he considered transitioning. Businesses such as a tanning salon or a clothing store were possibilities. But "I realized I had to do something I was passionate about," he says. "Nothing I didn't love manifested."

A "Chicago" tour and a scheduled audition for Kathleen Marshall's production of "Anything Goes" encouraged him to stall the shift. But on his way to the tryout, his life changed. "A car hit me. I was 40. Instead of worrying about getting older, I had to deal with wondering, Was I going to walk again?" Sofia says. Both his ACL and MCL were torn, his hand was broken, and he had dislocated fingers.

Sofia chose not to have surgery, opting for intense work with a physical therapist. Enter Pilates. "Pilates -- specifically the 'high chair' -- eventually gave me the strength in my knee to walk and dance again," he says. "Now I want to help other people understand their bodies through Pilates, whether to get stronger or rehabilitate."

In San Francisco, he'll start by making connections and gaining clientele at local studios, hopefully offering dancer rates to performers. Eventually, he'd like to work with the area's dance companies as their Pilates resource before finally opening a whole-body wellness center. "My process of making my leg better included different options, like a jigsaw puzzle, which is essential," he says.

For dancers approaching a transition, Sofia recommends Career Transition for Dancers, which provides grant money, connective resources, workshops, and even therapy. Learning about options there encouraged Sofia to amp up his business and financial knowledge, which he urges all dancers to acquire. "It's about letting go," he says. "It's OK to admit it's hard. But it gets better. And it's worth it. We're always artists, and there's a way to live your life gracefully and happily from a new perspective."