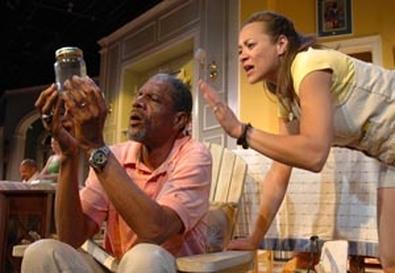 Lydia R. Diamond's drama intelligently explores social issues surrounding African-American citizens, in its generally engrossing though overwritten portrait of culture clashes and startling revelations during a family gathering. At a vacation home in Martha's Vineyard, members of an upper-middle-class black clan convene. Customary pleasantries give way to hidden resentments, hypocrisy, and bigotry. Director Shirley Jo Finney leads a first-rate cast and gifted design team in a thought-provoking and impressively polished but overlong West Coast-premiere rendition.
Putting a seldom-dramatized segment of African-American society under a dramaturgic microscope, Diamond uses the metaphor of an insect undergoing lab analysis to shed light on the dehumanizing way people can scrutinize and judge the perceived behavior of other cultures or subsets of their own cultures. The key catalyst for the skirmishes is outspoken Taylor (Michole Briana White), fiancée to youngest son Kent (Chris Butler), whose budding career as a novelist meets with scorn from the haughty and materialistic patriarch Joseph (John Wesley), a renowned surgeon. Taylor is an ambitious and talented postgraduate in entomology, yet she receives subtly dismissive treatment from members of the family, as well as from the ostensibly liberal-minded yet uppity Kimber (Avery Clyde), the wealthy white girlfriend of eldest son Flip (Terrell Tilford), also a successful doctor. Adding fuel to the ensuing conflicts is feisty young maid Cheryl (Tinashe Kajese); there's more than meets the eye in her close relationship with the family.
Diamond's strengths here are well-rounded characters, an involving story, and integrity in incisively tackling important topics. The downside comes in patches of dialogue that defy credibility, as some family discussions sound like stilted textbook discourses. This adds to the verbosity of the overplotted, nearly three-hour script. The actors, however, can't be faulted, yielding an exemplary ensemble effort and capturing a realistic sense of love-hate bonds. White is especially fine, balancing the indomitability of her character with the vulnerability brought out by the situation. Wesley is a powerhouse as the domineering father, stopping short of presenting him as a contemptible lout. Kajese skillfully takes her character from strident to heart-rending, in a finely shaded portrayal. Butler, Tilford, and Clyde are likewise sublime.
Presented by and at the Matrix Theatre, 7657 Melrose Ave
.,
L.A. April 11
-
May 31. Thu
.-
Sat
.,
8 p.m
.;
Sun
.,
3 p.m
. (
323
)
960-7740. www.plays411.com/stickfly
.