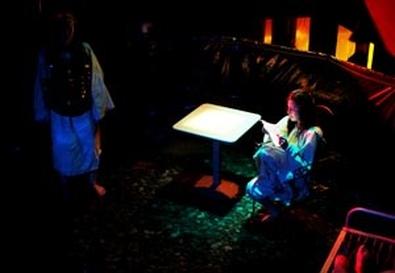 We're told this production is a radical adaptation of Shakespeare's
Macbeth
, cast as a recurring dream of Lady Macbeth, and directed and designed by Chris Covics. In the lobby, a television set produces a pervasive sound that might be dripping water, a metronome, or someone beating rhythmically on radiator pipes. An unnerving crash of percussion, and we're allowed into the dimly lit theater. On the stage three women appear, barefoot, soaked and dripping, their hair straggling down, clad in muslin tunics and knickers. They lead us onto the stage and an upper platform where a single row of folding chairs surrounds a deep pit, its bottom covered with round stones and several inches of water. At one side sits a fourth woman, clad like the others with the addition of armor: a metal breastplate partially rusted from the damp. The women share the roles, and apparently whoever wears the armor is Macbeth.
The four women (Brittany Slattery, Angela Stern, Erica Stone, and Amy Tzagournis) perform a truncated version of Shakespeare's text. When not involved in the action, they writhe on the springs of an iron cot, perch on a metal lawn chair, or recline in a bathtub. As the action progresses, more water rains down from overhead pipes or arcs outward from jets on the rim of the pit, till the women are knee-deep in water. There they stand, sit or lie, sometimes under the furniture.
The four women seem virtually interchangeable, but they speak the text skillfully, and one suspects they could perform a more traditional
Macbeth
well. But it's hard to concentrate on the play when one fears for the safety and well-being of the actors, immersed in murky waters, clambering awkwardly on uneven stones, or toppling and leaping off the furniture. They enact the scenes Lady Macbeth might remember and Macbeth's disillusioned monologues at the end. It's hard to get much sense of the play; it offers sometimes-striking images, and one has to admire the mechanical ingenuity of the set and its intricate plumbing.
Presented by and at the Unknown Theatre, 1110 Seward St
.,
Hollywood. May 29
–
June 27. Thu
.–
Sat
.,
8 p.m
.;
Sun
.,
6 p.m
. (
323
)
466-7781 or www.unknowntheatre.com
.