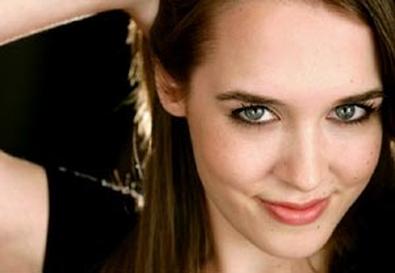 I'm standing like a deer in the headlights in the doorway.
"Well, are you going to
come in?"
asks the younger-looking man standing to one side, chuckling.
The large multi-purpose room is mostly dark; I can faintly see people inside setting up cameras and lights. Equipment is everywhere, and electrical cords run passed me to outlets all the way down the hall.
I hear a voice directing others, but can't make out individual faces.
This can't be where my callback is,
I think.
Sure enough, I have walked straight onto the set of a camera test for the major motion picture I'm auditioning for. The role: Stand-in for the big-name star of the film.
Ok, so it's not the role I dreamed of having as an eight-year-old in my mother's kitchen, or even when I entered the acting program at NYU, but it's a step in the right direction.
"Hi, Rachel!"
Across the room, the casting assistant from my first audition a week earlier calls me over. She leads me to the Green Room.
The other girl who has been called back is waiting there. She's very sweet, and I'm almost sure she'll get the job. (It's not that I doubt myself—I'm very optimistic—but this casting is strictly visual. The DP said he will be looking primarily at our face angles, and the other girl's are clearly a far better match to the leading actress's.)
Still, I can't help but be extremely hopeful.
The job may only be for a stand-in, but it would get me out of the full-time office job I've had been forced to take to pay the bills. And this gig will probably not catapult me into super-stardom, but it's full-time work for three months, with great pay, and will give me SAG eligibility. That alone sets me on the right track.
As I sit there praying that something good can come out of this day, a flock of new girls flutter into the room.
Great,
I think,
more competition.
I try not to let myself be intimidated.
A few of them have clearly worked together before; they squeal and hug each other, catching up excitedly.
I sit and read a book, trying to ignore them. As our wait continues, the chatter grows louder. The door is wide open, and people are working in the next room... Do they not realize this?!
Half an hour passes. One girl complains about the delay, and the others loudly agree. Soon the wait is all they talk about, at a volume that can clearly be heard next door.
"Wait, what movie are we here for again?" one screeches, finally. They all laugh.
I put down my book and stare at her, completely stunned. I can't believe what I'm hearing.
Wow,
I think,
she REALLY doesn't even know what she's auditioning for?
I wonder how people like this are able to break into the business. The idea that someone so unprepared might book this job—or
any
job for that matter—sickens me. I mean, if this is the attitude and preparation she brings to the audition, imagine how she'll be every day on set!
***********************
After a half hour of waiting and the group's nauseating complaints, in walks the director. Smiles are quickly painted onto the faces of the whining girls, and I fight rolling my eyes. He greets us all and thanks us for waiting.
We are asked to line up next to the lead actress in front of the camera. The director and DP look at our fronts, our backs, and both profiles. We switch around places as they begin to make cuts.
First to go: The whiners. Thank goodness.
Then, the final picks are down to the sweet girl and me. I hold my breath. Finally, I am dismissed. I look at the director, smile, and thank him as I head back to the Green Room.
As I am about to leave, the director pops in.
"We need someone to stay all day for make-up testing. Are you interested?" I'm not really sure what that means, but without hesitation I volunteer.
Careful what you wish for.
The next thing I know, I am handed a pair of pasties and a man-sized button-down shirt. A few of the whiny divas snicker at the ensemble as they fly out the door. Their judgmental looks make me worry a little.
Just
what,
exactly, have I gotten myself into?
As I eyeball the pasties, the friendly assistant explains that the camera testing will be for special effects: Make-up will be applied to my entire upper half. She assures me that no one but the make-up artist, the director, and the DP will need to see me in the pasties. I think about what she's saying, and it hits me that I have—basically—just signed up to be a human mannequin for the day. A half-naked one at that.
Should I back out?
I think.
Maybe...
But I remind myself this isn't a student film. This is the professional world—the real deal—and right now, I would be absolutely
crazy
to pass up an opportunity like this. If I get the chance to watch and learn any aspect of the profession I've only dreamed of working in, then I am happy to wear pasties all day,
damn it!
I go with my gut, and tell the assistant I am glad to help.
***************
I enter a tiny room where the make-up artist, Steve, is waiting for me. He is unbelievably down-to-earth, and we get along right away. He begins his work and, an hour later, my entire torso is covered with painted, sculpted, goooooey
glue.
The stuff is more uncomfortable than I anticipated. It pulls at my skin. When the first phase is complete, Steve mentions that we'll have to wait a while till the DP and director are ready for me.
I don't complain, but sit there and we chat. Steve tells me about himself, and how he got into the business. I tell him I'm relatively new at this, and that I haven't spent much time on sets this high profile.
"Well, hell, you can watch and learn then," he tells me. Steve motions for me to follow him into the main room, and we watch the camera testing process. I stand quietly, observing the chosen stand-in in front of the camera.
I listen carefully to the direction the DP gives the stand-in. I also watch as they photograph the lead actress, who is graceful, focused, and skilled. I ask Steve a few questions, which he patiently answers. Then, finally, it's my turn.
A sheet is hung to shield my glue-covered torso from everyone in the room. I step in front of the camera, and the director shakes my hand and introduces himself. He laughs a bit at the sight of the glue, and jokes about the silliness of the moment. I am warmed by his sense of humor.
They film the make-up from several different angles, asking me to move this way and that. "She's very relaxed, which is great," I hear the director tell the DP. He gives the make-up artist some feedback on his work, and we return to the make-up room to prepare for the next test.
***************
After
ten hours
of camera testing, we return to the make-up room to remove the glue. I am completely exhausted.
The director walks in, followed by the two stars of the film. He introduces us; we shake hands, and laugh about the sticky mess I have turned into. The actors give their thoughts on the make-up, then quickly say goodbye and leave.
Before the director walks out, he takes my hand, looks me in the eye, and says, "Thank you. You were just great." Something in his eyes tells me he means it—that I've really helped, that I've contributed something, no matter how small it may have been.
Steve echoes the sentiment. "We really appreciated your professionalism. We often get stuck working with some pretty negative people. Your patience and kindness have been refreshing."
He gives me his card, and tells me he's going to try to help me with future work.
"Thank
you,"
I say humbly. "Honestly, today was more of a treat than a chore."
***************
Exhausted, I make my way to the subway. When I arrive at home, I crawl into bed. Staring at the ceiling, I think back on the day. The pasties, the make-up artist, all that itchy glue.
Then, I start to think about the whiny girls from that morning. How would they have acted? Would they have received such a warm response?
After hours of sitting in a make-up chair and a somewhat painful wash-off process, my hunch is, probably not. They would have been rudely rushing the make-up artist to finish his work. And where would that have gotten them? Absolutely nowhere.
Long ago, I made a choice: To look at every experience as a window of opportunity. And today I made it one to remember.
The next morning, I receive a phone call. They want to bring me back for more testing, and now want to use me as a leg double for one of the stars. This means two more waivers, which means I am now SAG eligible.
I guess I wasn't such a sticky mess after all.
Rachel Marie Lewis graduated from NYU's Tisch School of the Arts in May 2009. She received a BFA in drama and lives in New York City. She trained at the Stella Adler Studio and is just beginning her career. Recent work includes "The Shape of Things," "Pericles," and "The Ash Girl." She can be reached at

[email protected]

.