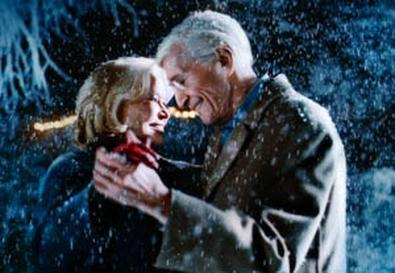 Veteran actor Ellen Burstyn believes that young actors are misguided in thinking an agent is a panacea. "I hear it all the time, 'How do I get an agent?' " she comments in the soft, almost breathy voice that's become her vocal signature. "They feel the most important thing is to get an agent. It's not. The most important thing is to become a really good actor and to keep on studying, and if you do that and you have talent, people will start talking about it, and you'll find your way to an agent and work."
Identified for more than 45 years with the iconic Actors Studio, as a member and now its co-president with Harvey Keitel and Al Pacino, Burstyn is an impassioned advocate for ongoing training. "Talent only takes you so far," she says; that's a view she says is shared by current members, who are committed to the notion that acting is a craft, not just a business. Burstyn calls her training with Lee Strasberg at the Actors Studio (from 1965 until his death in 1982) the defining experience in her life. "It's the place I learned how to develop my creativity, be an artist, and also discover who I am," she says. "I learned everything there."
The Oscar, Emmy, and Tony winner, whose dozens of credits contain an array of characters—including the feisty widow and single mom in "Alice Doesn't Live Here Anymore," the healer in "Resurrection," and the pill-addicted, TV-obsessed mother in "Requiem for a Dream"—is now taking on the role of the mature, sensitive love interest of an elderly gentleman (Martin Landau) who lives next door in "Lovely, Still." Her performance is a study in subtlety and understatement.
The film, written and directed by newcomer Nicholas Fackler and in release this week, was a terrific opportunity, she says. It explores important and rarely discussed end-of-life issues that are "not pretty," and it gave her the chance to act with Landau, whom Burstyn has known for many years but never performed with. "We worked so well together, like jazz musicians who do improvisations together," she says. "It was not improvised at all, but it had that feeling. We'd play the scenes differently each time. It was a delightful acting experience."
Whether it's a stage or film project, what's most important to Burstyn is the level of writing and the story, "though for stage it has to be really challenging and have a lot of meaning to warrant the investment of time," she points out. "You have to put in long rehearsal periods, and there may be a long running period, but you make very little money compared to what you make in film. In film, the character I'm going to play is very important. Is it an interesting character?"
By her own admission, good roles continue to come her way. She gratefully points out that she is one of the few female actors who has not experienced ageism. Right now she has three films coming down the pike—a comedy, a dramedy, and a murder mystery—as well as her second stint on "Big Love." "I play a lot of grandmothers, but they're all very different, interesting women," she notes.
Accessing
the Unconscious
Born in Detroit, Burstyn discovered the magic of acting when she was 6 years old, performing on stage such nursery rhymes as "Little Miss Muffet" and "Mary, Mary, Quite Contrary." "I remember that feeling of looking out into the dark and knowing my mother was out there somewhere," she says. "There was something very mysterious and appealing about the experience."
After graduating from high school, Burstyn relocated to Texas and launched a career as a model before moving to New York, where she earned her living first as a model and then as a dancer on "The Jackie Gleason Show," when it was still telecast live. Her first acting audition was for the Broadway show "Fair Game" (1957). She landed the lead. More acting gigs followed, and in a performance career spanning more than half a century, she has never been forced to take a nonacting job, she says. Appearing as Cybill Shepherd's strict mother in Peter Bogdanovich's "The Last Picture Show" in 1971 was a career turning point for Burstyn, leading to her first Oscar nomination and many more major opportunities, she says. But the film was also significant as an artistic turning point in bringing together everything she had learned at the Actors Studio.
Still, she admits that defining her method is not easy. She recalls talking to a friend recently about an upcoming character that Burstyn did not fathom at all. "But as I went on talking about her, the answer rose up underneath," she says. "As I said I didn't understand, I went, 'Oh, wait, I get it.' Acting is a mysterious process where the unconscious seems to know everything. The trick is to be open to it and hear it when it's speaking to you and access it.
"In order to do that, you have to learn to be present and to be quiet while you're acting," she continues. "Usually when you first start acting, there's a lot of scattering going on in your mind. 'Will I remember my next line?' You're sitting out front watching yourself. It takes a long time to learn how to be present and be where you are onstage, not offstage watching yourself. It's like meditation or any other thing. You have to practice it over and over again."
Burstyn suggests it's far harder to launch an acting career today than it was when she started. What's especially distasteful to her is the speed with which some actors move on to TV and film, where they become seduced by the big bucks and stop growing as actors. "It's not a blessing for some actors to be making lots of money early in their careers," she says. "When I started my career, we did some TV work, but a lot of stage work. You had the opportunity to study and develop. The process is always what interested me. I got a Broadway lead the first time out, so I came in with a gift. But I realized at a certain point that I could only go so far, and I could see that there were actors around me who knew something I didn't. I wanted to find out what that was. I would hope that if I were starting out now, I would have the sense to seek out that degree of exploration."
Out Takes
-Became the third woman to win a Tony Award and an Academy Award in the same year—for Bernard Slade's "Same Time, Next Year" on Broadway and Martin Scorsese's "Alice Doesn't Live Here Anymore," for which she also earned a Golden Globe nomination and a BAFTA Award
-Has been nominated for an Oscar five other times and won her first Emmy—after four previous nominations—in 2009 for a guest appearance on "Law & Order: Special Victims Unit"
-Starred Off-Broadway in 1985 with Burgess Meredith in "Park Your Car in Harvard Yard" and recently garnered critical praise in Stephen Adly Guirgis' 2008 play "The Little Flower of East Orange," directed by Philip Seymour Hoffman at the Public Theater in New York
-Was the first woman elected president of Actors' Equity Association (1982–85) and wrote a best-selling memoir, "Lessons in Becoming Myself," published in 2006 by Riverhead Press