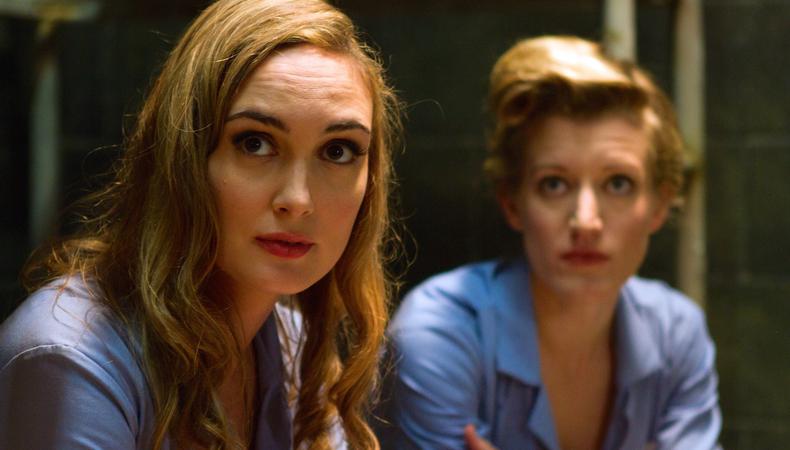 For Jillian Armenante, "Kittens in a Cage" came together through a merging of her past and present. Armenante, a prominent character actor now appearing on ABC's hit show "Fresh Off the Boat," was a member of Seattle's Annex Theatre before moving to Los Angeles. And when she heard about a play focused on women in a prison from her old place of employment, she had to read the script.
"It was one of those laugh-out-loud-every-five-minutes scripts. A lot of play scripts don't do that," Armenante says. "I could see the whole thing and I wanted to be in that world so desperately."
"Kittens in a Cage," distributed by TV4 Entertainment and available on Vimeo and Hulu, is a satire of the women-in-prison genre that was all the rage in '50s exploitation movies, like "Caged," that the actor has always adored. "I came up on those women-in-prison movies. I've always loved them," Armenante says.
"Kittens in a Cage" follows sweet-faced, ukulele-playing bank robber Junie Matilda Butler (Rebecca Mozo) as she enters Marquetta State Prison, and her subsequent flirtations with the comely Vickie (Erin Anderson). The play was largely told through monologues about the prisoners' prejail lives. "I could bust it out and take it to the courtroom or the back alleys. That's what keeps it light and quick, visually," says Armenante, who takes on the role of Barbara the cannibal. "The primary relationship between Junie and Vickie is grounded in something so real. It's the ridiculous world around them that makes it so funny."
After reading the script, Armenante immediately called playwright Kelleen Conway Blanchard and said, "You don't know me but I want to make this."
Armenante then rang up some buddies she knew from her Seattle days who had also made the transition to Hollywood, including Joel McHale (making his foray onto the Web with TV-show-turned-Yahoo-show "Community"), Lauren Weedman ("Looking"), and "The Guild" producer Kim Evey.
It was important for Armenante to write to the original Seattle cast and let them know her plan to adapt "Kittens in a Cage." She assured them she had heard they were fantastic and apologized for not being able to use them because she was shooting in L.A.
The series started production at the same time as another high-profile women-in-prison show: Netflix's "Orange Is the New Black." Armenante avoided watching it, but the tone of each narrative is so different that it's apparent they share a setting and little else. Now that "Kittens in a Cage" is complete, Armenante says she's looking forward to catching up on the award-winning series.
Armenante funded the seven-episode first season with a Kickstarter campaign that raised $54,000. "Because I'm a theater person, I love the 'stone soup' method," Armenante says. "I like just starting and not waiting. That's part of the reason I didn't shop the script around. I just wanted to cook. Kickstarter seemed immediate and heightened."
Blanchard and Armenante have already started mapping out the second season. "I pushed that rock over the hill and all I can do is push up my sleeves and start pushing the next rock. The wheel is already turning," she says. "Now that's going, and I'd like to just make content."
Like this story? See more of our Now Streaming articles here!