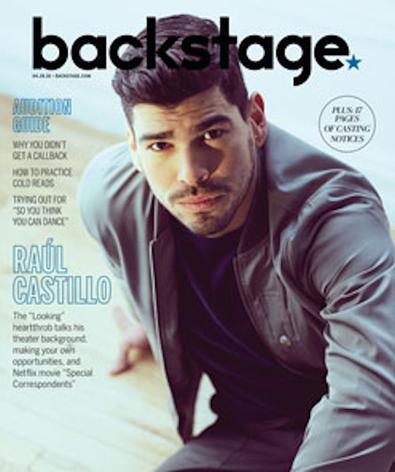 Raúl Castillo wasn't acting the first time he stepped onto a stage at age 13. But he was performing what would set the precedent for a career he hadn't anticipated.
"My older brother played guitar and he was such a diligent and hardworking musician. He'd sit and play scales for hours, and he's an incredibly gifted musician because of it," recalls the 38-year-old. "And I would go into my room and put a song on and I would perform in front of the mirror."
The "theatricality" of '80s glam and punk rock musicians engrossed Castillo, now an actor-playwright. He'd imagine being at the school dance and playing onstage with a girl watching, and if he ever lost focus of the "scene" in his mind, he'd stop the song, rewind it, and start again.
Between sessions perfecting his stage act as a bassist, he was bootlegging VHS tapes of John Leguizamo's one-man shows—"Spic-O-Rama," "Freak," and "Mambo Mouth"—and memorizing them to perform the monologues at school. He revered Al Pacino and Anthony Quinn, and spent the summer after eighth grade watching "The Outsiders," admiring Matt Dillon's performance in it, almost daily.
"That movie resonated for me because of the storyline," he remembers. "I always felt like an underdog." Years later, his unlikely casting on HBO's dramedy "Looking" reinforced the feeling both on- and offscreen.
Castillo, who was getting ready to throw in the towel, was initially overlooked to play fan favorite Richie on the show about a group of gay friends living in San Francisco.
"We'd seen a bunch of people and, oddly, Raúl fell through the cracks the first time around," says series co-writer and director Andrew Haigh. "You get sent so many tapes and videos that he fell through, and we sort of then rediscovered his audition. He'd actually been in the short film ['Lorimer'] that Michael Lannan directed, which is kind of what 'Looking' became. So we went back and looked at it again and thought, Oh, this is interesting. This person's really interesting!"
In the show about three best friends looking for love in all its various incarnations, Castillo's Richie is the anchor in a sea of ambivalence and Grindr profiles. His initial charm in Season 1's meet-cute with lead protagonist Patrick (Jonathan Groff) on a Muni bus left audiences intrigued. Later, his assertiveness in the face of Patrick's stereotyped assumptions about Hispanic men made Castillo an impressive standout, and he was bumped to series regular for the second season, which delved even deeper into his dynamic with Patrick, his strained relationship with his family over his homosexuality, and his Latino identity.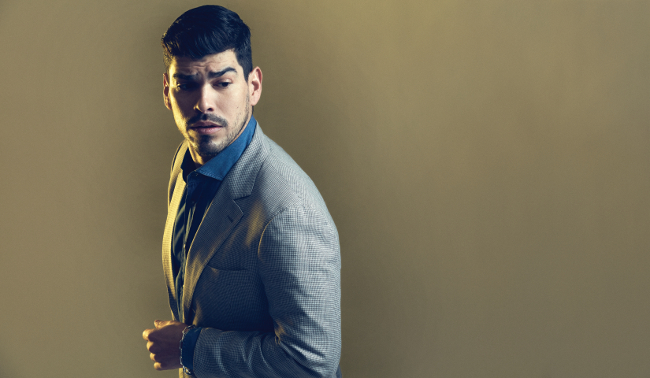 "I was always aware that I was representing a marginalized community and that there was a lot of responsibility to that," says Castillo about portraying an out Mexican-American man. "Especially being a straight guy, I wanted to honor this character. And even though it wasn't representing the entire community—this was one story—I knew there would be a lot of expectations. I know, having done projects around the Latino community, that there were going to be a lot of people paying attention."
"Looking" was hailed for its multifaceted portrayal of gay life sans the usual Hollywood stereotypes about the LGBT community, but weak ratings pushed HBO to cancel the show and announce a wrap-up movie in lieu of a third season.
It'll be bittersweet for fans, predicts Castillo over a jalapeño-infused tequila cocktail at the NoMad Hotel in his resident Manhattan. "I was excited when I read the script, [that] HBO gave us this opportunity to resolve storylines, or at least find some kind of closure. It would've been disheartening to just end things. I had so much invested in this character, in this world, and in my cast mates. I love my cast mates. I love the whole crew. I got really lucky that this was my first major project that put me on the map, because I got to work with some people that I feel really invested in as human beings."
Having mutual theater backgrounds as well as a common place to call home contributed to the chemistry between Castillo and Groff, and the friendship that grew after the show.
"Something about the two of them made perfect sense," says Haigh about the co-stars. "The minute we saw them together, it was a connection you can't fake." According to the director, Castillo's subtleties as an actor and his knowledge as a playwright about what works and what doesn't in scripts made him an asset on set.
Castillo's knack for storytelling was a skill he initially began honing out of necessity. As a teenager, he had no interest in academics until a friend said, "If you want to get out of here and you want to go to college, you'd better start working your ass off." Castillo says it was theater that interested him enough to want to raise his low GPA, and what eventually got him out of small-town McAllen, Texas. He applied to Boston University's playwriting program and discovered the added incentive of the school's student-run playwrights' festival, which guaranteed a platform for his work.
"I started writing plays and they were very—I was younger, so they were very heavy plays. Very serious dramas because I wanted to be taken [seriously]," he says about his earlier work, which dealt with sociopolitical and racial tensions on the border of Mexico and the United States. (It was the only time he's ever acted in his own shows because his lead characters were Hispanic and "it was Boston in the late '90s!")
He carried those border-based themes with him to New York City, where he became a member of the Labyrinth Theater Company and had his play "Knives and Other Sharp Objects" produced at the Public Theater in 2009. His follow-up, the humorous "Between You, Me and the Lampshade," about a Mexican immigrant breaking into what she believes is an abandoned trailer on the U.S.-Mexico border, was produced by Chicago's Teatro Vista in 2015.
He credits playwright and Labyrinth Theater Company member Stephen Adly Guirgis' "wicked sense of humor and urge to get to the core of the human condition through humor" with influencing his style. "I started writing comedies and I'm somewhere in the middle now," he notes.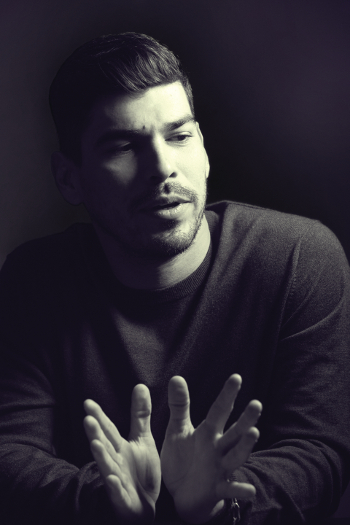 Now that he's officially "on the map" as an actor, Castillo's expanding the genres he tackles in front of the camera, too. He's booked nine major projects since "Looking," including ABC's new pilot "The Death of Eva Sofia Valdez," a villainous guest spot on "Gotham" that gave the actor a newfound respect for action stars taking on physical roles, three short films, and two Netflix projects: Joe Swanberg's anthology series "Easy" and Ricky Gervais' satiric film "Special Correspondents."
His ability to play such a vast range is surprising even to those closest to Castillo. He laughs, recounting his girlfriend's mother's sincere response to his casting in Gervais' comedy: "Raúl's funny?"
The Netflix original, about two radio journalists faking the audio of an Ecuadorian war out of a Spanish restaurant, was admittedly his first time doing that level of comedy onscreen. "I've never broken character as much as I did on that set," he says, smiling and shaking his head. "I've done a lot of comedy onstage and I pride myself on being able to stay in the moment and not break when everyone's laughing. I take pride in breathing through. Of course I want to laugh, but I don't because it's funnier if you don't! But on that set I was constantly breaking character and laughing."
Being involved in the film brought him back to the days when he was just a fan reciting funny monologues. "It's such a throwback to the comedies I grew up on, and when I watched it, I felt like this was a film that I would've loved as a kid," he says. "My younger self is so over the moon to be a part of a project like this."
---
If You Can Make It Here
Auditioning in New York City can be like a reunion if you build a strong community. "You walk into a room and you see people that you know, and there's a lot of love," says Castillo. "I saw Flaco [Navaja, who cast Castillo in his Web series 'East WillyB'] not too long ago at an audition and it's, like, 'What's up!' It's like seeing your family, which is a lovely experience because auditioning is so fraught with so much around it that it helps to put you at ease."
Castillo's experience on the other side of the table, working with actors on his own projects, helped him see the audition and rehearsal process with more clarity. "I see when actors are working toward contributing to something and being selfless for the betterment of the script and the production," he says. "The opposite of that is when the ego is damaging the work."
Luckily, Castillo has built a solid foundation of quality actors in New York City and Chicago who put the work before themselves. "New York has more of a sense of community among actors," Castillo says. "So I always have people to call on."
Want to read more? Check out our Backstage covers here!