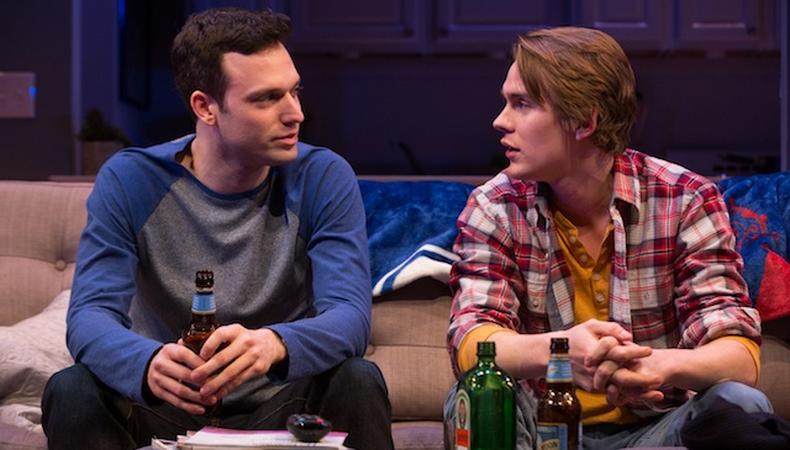 Actor of stage and screen Jake Epstein ("Degrassi: The Next Generation," "Beautiful: The Carole King Musical") is back on the New York stage with Off-Broadway's "Straight," playing through May 8 at Theatre Row's Acorn Theatre. Epstein plays Ben, a late-20s sports fanatic living in Boston and loving his girlfriend, Emily (Jenna Gavigan). But his habit of sleeping with guys on the side catches up with him when he falls for Chris (Thomas E. Sullivan), a local college student. Epstein chatted with Backstage about bringing Scott Elmegreen and Drew Fornarola's provocative script to the stage, creating chemistry with his two co-stars, and baring it all in the audition room.
On "gay culture."
"[Director Andy Sandberg] sent me the script. I read it, and I just fell in love with the writing and the humor and the characters.... What resonated with me is how a straight person is just a person, but a gay person is a gay person—it's part of the title you give somebody. I thought that's total bullshit. I thought the whole angle that the play takes about not a fear of coming out but a fear of definition, a fear of being labeled as a gay man, was an argument that's not really made in our sort of post-acceptance society. It's not about a guy who's afraid of coming out; it's about a guy who's not connected with quote-unquote 'gay culture.' I'd never really heard it put together like that before. I found it really moving and thought-provoking."
On building chemistry with Sullivan.
"I got a callback and I actually did the callback with Tom [Sullivan], who plays Chris. There was clearly this crazy energy between us. In the room, chairs were flying, he spilt a bottle of water on me in the scene, I flipped out. Either it was going really well or I was just crazy and they were gonna laugh at us. I met [Tom] five seconds before we went in the room together. This is his Off-Broadway debut. He's an awesome actor. Because of the nature of our relationship on stage...is kind of bipolar. We're, like, in each other's faces, we're sexually attracted to each other, we're physically rolling on top of each other. When you go through a three-week rehearsal process doing all that stuff, you get very close. There's this huge respect between us."
On playing a good guy behaving badly.
"The thing that always breaks my heart about [Ben] is that he's cheating on his girlfriend. He loves his girlfriend so much—she's his best friend. He's a total dumbass for cheating. But at the same time, I hope people are able to see he's trying to do the right thing. He's trying to figure it out. He's totally screwing up; he's totally digging himself into a hole. But I think we watch this guy who has genuine, good intentions despite doing the absolutely wrong thing. I believe that he's a good person, so I hope other people do, too."
On mixing things up.
"The thing is, I get tired of doing one thing. After doing 'Beautiful,' I went home and I shot a Canadian TV show for a season where I played a doctor, and loved it. And then I was sort of tired of the film thing and wanted to go back and do theater. You're so lucky as an actor if you're able to get any work, but the fact that I've been able to do so many different kinds of work—musical theater and straight plays and film and TV stuff... My dream is to be able to do everything and not just be known for one thing."
On audition advice.
"I wish I had 'the secret'—if you know it, I'd love to know it. I think it's persistence. You're not going to be right for the majority of things that you go in for. Doing a good audition for something you know you're not right for is really valuable. A casting director will see you do good work. Good work leads to other good work. An audition is just an opportunity to go in and do your thing, to go and act. Do your best constantly, and something will go your way."
Like this story? Read more of our Spotlight On interviews!