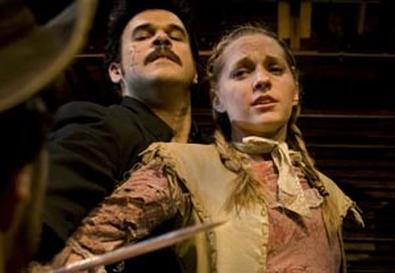 This show is advertised as a "new spaghetti Western musical," which is a slight misnomer. It is a Western, in the Sergio Leone vein, and there is some excellent music by Tony Bollas but not quite enough to qualify as a musical. The script, by Eva Anderson and Keythe Farley, directed by Farley, centers on a bleak and impoverished Western town (handsomely and atmospherically designed by François-Pierre Couture) that is suffering under the yoke of the flamboyant, whip-cracking outlaw Lagarto (Michael Dunn) and his henchmen (Richard Azurdia, Dylan Kenin, and David Natale). They have robbed the citizenry, shot the sheriff, and kidnapped his daughter Lucinda (Molly O'Neill), brutalizing her and turning her into a vicious fighting animal. They know that somewhere in the town is a fortune in gold, meant to be a legacy for Lucinda, and they're out to find it, with the help of the double-dealing local Padre (Joe Hernandez-Kolski).
The townspeople, including saloon proprietress Miranda (Ann Closs-Farley, who also created the dusty, authentic-seeming costumes and makeup), and the timid local undertaker (Travis Michael Holder) are hopeful the laconic, hard-bitten Stranger (Cameron Dye) who has wandered into town will free them from Lagarto's depredations.
Anderson and Farley have effectively captured the flavor, brooding menace, and bloody violence of the genre, and there's so much shootin' and fightin' that one wondered occasionally if there'd be anyone left alive for the second act. Spectacular fight choreography by Victor Warren and dance choreography by Bradley Michaud blend into a single ballet of mayhem, dazzlingly executed by O'Neill, Dye, and their cohorts.
Dye captures the still-waters-run-deep taciturnity of the Stranger with a dark past, and Closs-Farley's Miranda is hard-boiled but ever loyal to the lost Lucinda. Dunn is a gutsy, scenery-devouring villain, Hernandez-Kolski is a wonderfully ambiguous Padre, and the ensemble, including Wallis Herst, offers admirable support.
Bollas leads a skillful six-man band in his brassy, nerve-tingling, Mexican-flavored score, and Dan Weingarten's lighting underlines the barrenness of the Western desert.
Presented by and at the Bootleg Theater, 2220 Beverly Blvd., L.A.
June 6–July 4. Wed.–Sat., 8 p.m. (Also Sun., 2 p.m., June 21 and 28.)
(213) 389-3856 or www.bootlegtheater.com.