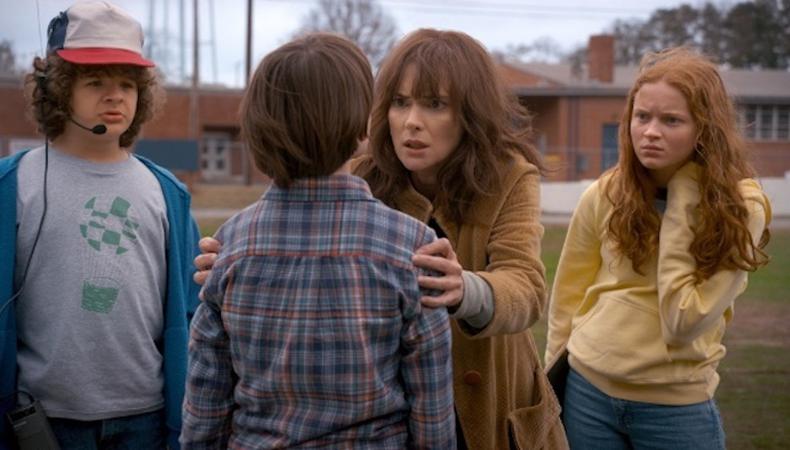 So far on "Stranger Things," a band of '80s Hoosier kids—with help from a telekinetic human test subject—have rescued their friend from a monster in an alternate universe. "Watching 'Stranger Things' is [like] watching Steve King's Greatest Hits," tweeted Stephen King in July 2016, two days after the series debuted on Netflix, adding, "I mean that in a good way." That October, Tina Fey relayed the message that "Saturday Night Live" was pulling costumes not only for "Stranger Things" characters like Eleven, Dustin, and Mike, but also the show's identical twin creators, directors, and executive producers, Matt and Ross Duffer. It was a certified hit.
This summer passed without a comparable TV sensation, and the entire internet seems to convulse at any new detail about "Stranger Things" Season 2, which hit Netflix in full Oct. 27. "We really wanted to get another girl in there, and a strong girl" sans superpowers, Ross says of the core group of protagonists, which previously consisted of four boys and the aforementioned escaped test subject, Eleven, played by Millie Bobby Brown, a 13-year-old Brit who received one of the show's 18 Emmy nominations this year. ("Stranger Things" won five).
READ: How Netflix's 'Stranger Things' Cast Its Kid Actors
To fill this new female role, the Duffers and casting director Carmen Cuba auditioned an estimated 500 actors for the role of Max, a new student from California who comes from a broken home and happens to be a video game virtuoso. Meanwhile, Max's older brother, Billy (Dacre Montgomery), is a Camaro-driving lothario, not to mention a "really bad" villain and "sociopath," according to Matt. "She lives with this guy, and it makes her life very, very complicated," he says.
Redheaded Sadie Sink, 15, landed the role of Max. Like her co-stars Gaten Matarazzo ("Priscilla, Queen of the Desert," "Les Misérables") and Caleb McLaughlin ("The Lion King"), Sink had previously appeared on Broadway, in "Annie" and "The Audience."
"She just had a professionalism about her, but also a naturalism," says Ross. It was refreshing to see, rather than the typical "kiddie child acting where they're trained to be cute for the camera," he says. Through casting, the North Carolina–raised, Chapman University–educated brothers, now 33, found kids who were "much more interesting than what we had written," says Ross. For example, Mike was "originally a little more soft-spoken" until they met Finn Wolfhard and incorporated his fast-talking, "antsy, wild energy."
Whenever new actors arrive on the Atlanta set, "We just kind of throw them into the deep end," says Matt, laughing. "We're not able to coax these performances out of them." Due to the brisk shooting schedule, there's no formal rehearsal time. First up are a couple of run-throughs, where, Matt says, "everyone's acting at usually about 30 percent" and "no one's actually bringing it." Then the Duffers determine camera placement and give their actors notes, without micromanaging. "You don't want to go, 'David [Harbour], you're going to move from this spot in the living room to that spot in the kitchen," says Matt. "He needs a little bit of freedom."
Next comes 45 or so minutes for lighting before it's time to shoot. "We'll call cut after the first take, because the first take is never good," Matt says. Sometimes they will get what they need in two; in very rare instances, they will need as many as 13 takes, but "at that point, everyone's freaking out—something's really wrong." With so many young cast members, Matt says every "Cut!" brings pandemonium. "[The kids] don't get insulted if I shout directions at them," he says (although doing the same with Harbour or Winona Ryder would admittedly be "a little rude"). He says directions for his child actors rarely get more complicated than "Say that line again!," "Bigger!," and "Energy times 10!"
"You can't get all intellectual about it," he says. "I've found that kind of stuff never works."
Want to act on a Netflix project? Check out Backstage's TV audition listings!