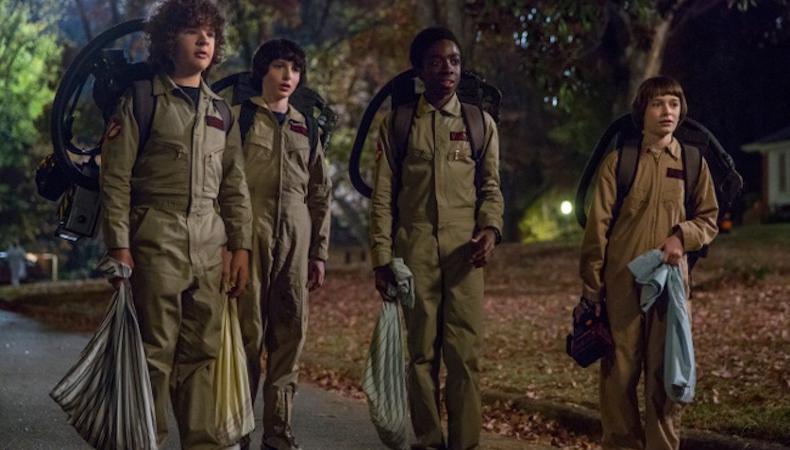 "Stranger Things" star Caleb McLaughlin's success may feel swift, but this young actor has been at it for six years and counting. What began as a favor to join his sister at Pied Piper Children's Theatre in New York City eventually led to Broadway's "The Lion King," "Law & Order: SVU," and other TV projects like TBS' upcoming "Final Space" with Fred Armisen. McLaughlin came by Backstage's Brooklyn HQ to discuss his New York roots and why he loves playing the divisive Lucas Sinclair on Netflix's thrilling paranormal hit.
He can't wait for 'Stranger Things' Season 2.
"I love to play Lucas because when we started filming, I got to experience a different level of my acting, and it challenged me in a way. And also, when people get mad at me, that means I did a great job because I was believable. Some people would come up to me at Comic-Con and say, 'I hated your character, but I love you.' Hate is a strong word! I'm pretty excited about [Season 2]. I watched all the episodes. I try not to [binge-] watch too much, but I couldn't [stop]."
He has a 'cheesy' group chat with his kid co-stars.
"We get along very well. We have a group chat. What is it called? 'Stranger Texts.' It's very cheesy and fun. So yeah, we text every once in a while: 'Hey guys, how ya doing? We love you guys.' "
He almost didn't want to audition for 'Stranger Things.'
"I was still performing at Signature Theatre [in] the show 'The Painted Rocks at Revolver Creek,' [and] a few months after that, I got the audition for Lucas.... I remember auditioning for a whole bunch of series that I didn't get. I kept getting rejected; I was a little bit upset about that. I was about to tell my mom I didn't want to audition for this, but then I was like, You know what? I'll do it because this is what I wanna do. I wanna act."
He advises other kid and teen actors to keep a positive energy.
"You're going to get rejected a lot. I still will get rejected. You just [need to] grow a thicker skin. And I think [you should] do community theater, watch movies [with] your favorite actors, and just work on your craft, and one day, you'll nail a job. It took me a while to get where I am now. What people really think is it happened overnight—it didn't. It took a few years and discipline. It happened quicker with my positive energy. You can't always think negative; I always thought, I'm gonna get that. Your competition is yourself. Don't think about anyone else because when you think about someone else, you go to the other track, and that's not yours."
Ready for Netflix? Check out Backstage's TV audition listings!