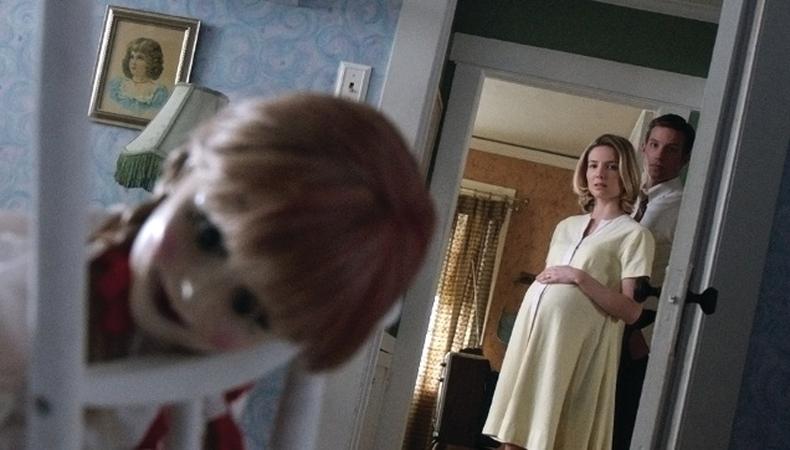 Annabelle, the demonic doll from 2013's "The Conjuring," is getting her own film come Oct. 3. Cinematographer-turned-director John R. Leonetti is taking on the origin story that focuses on an expectant couple as they deal with the sinister toy after the husband brings it home for his wife's doll collection.
"For me it was an honor and an interesting challenge to be entrusted with a movie that is involved in that franchise, but the bar is really high," says Leonetti of "Annabelle." While he directed "The Butterfly Effect 2," Leonetti didn't want to be known as a "sequel director." He makes sure to clarify that this film is not a continuation of "The Conjuring" but an extension of the story and the first part of a new business plan for New Line Cinema and Warner Bros. that capitalizes on the built-in fan bases for successful films, allowing for smaller budgets and production time with a bigger payout on the back end. Leonetti shot "Annabelle" with a $5 million budget in 25 days.
"It's not a sequel to 'The Conjuring,' but it's a stand-alone movie that is part of a really cool franchise," he says. " 'The Conjuring' is a classy horror film that's different than most in our day and time—it's a different kind of horror movie—I believe that 'Annabelle' is, too."
Some of that referenced classiness comes through specifically in the casting. Leonetti worked with brother-sister duo and casting directors Jordan and Lauren Bass—"They're the kind of people that leave no stone unturned"—to land lead actor Annabelle Wallis ("The Tudors"), Oscar nominee Alfre Woodard, Eric Ladin ("Boardwalk Empire"), and Tony Amendola.
"You don't necessarily need a name actor because of the genre," he says, "but you need really good actors that are right for the characters. Using Mia Farrow [in 'Rosemary's Baby'] as a model and an inspiration, I wanted the movie and [Wallis'] character to be timeless like that. Not only is she really good and strong in her acting soul, but she had the look, too, and her eyes are just amazing."
Unlike "The Conjuring," in which the workload was divided among a large cast, "Annabelle" "is one actor that has to carry pretty much this whole movie," says Leonetti about Wallis' role.
To get the film right, Leonetti relied heavily on the script to guide his preparation, adapting a Hitchcockian approach of meticulously planning out each shot before getting on set. He also charted each individual character's emotional arc on paper and decided to shoot the film in sequence to preserve the building tension of the narrative.
"It helps the actors know where they are emotionally," Leonetti says. "Once you start shooting and you have all this preparation, you're on the same page. Then you just go make the movie. It makes it so easy to make a change. It's so easy to use a better idea, it's so easy to just make it better. And there the magic happens."
Inspired by this post? Check out our audition listings!