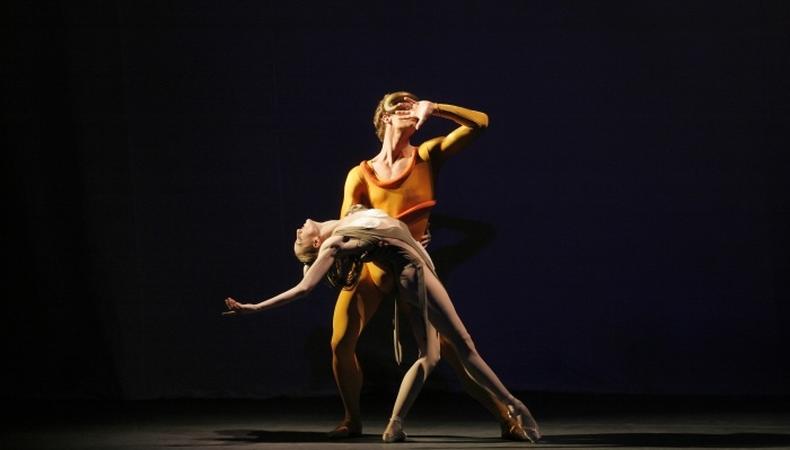 New York City Ballet opened its fall mixed-repertory season Sept. 18 with an enlightening triple bill. Celebrating the collaboration of choreographer George Balanchine and composer Igor Stravinsky, the program comprises what is often tagged the duo's "Greek trilogy"—"Apollo" (1928), "Orpheus" (1948), and "Agon" (1957). Presented in chronological order, the ballets illustrate the evolution of Balanchine's neoclassical style, allowing audiences to trace the origins and re-workings of specific images and patterns. Though Balanchine's choreographic mastery reached its pinnacle with "Agon," the company fares better in its performance of the two earlier works.
Fueled by Robert Fairchild's dynamic performance in the title role, "Apollo's" exemplary four-member cast offers an unusually expressive rendering of the famously stark work. Balanchine conceived the character of Apollo as a young god, still learning from the Muses. But while most interpreters emphasize the role's boyish qualities, Fairchild brings a manly strength and piercing percussiveness to his depiction of Apollo.
And there is certainly much to learn from his Muses. From the phenomenal Tiler Peck, who plays Polyhymnia, the muse of mime, one sees how to ooze a rich quality of movement out of even the tiniest body motion. Despite the perfection of her double turns and the excitement she brings to risky off-kilter postures, what makes her solo so powerful is the drama she mines from the character's gestures. While Polyhymnia's index-finger-to-the-lips and her sudden vocal outburst are often executed as movement symbols, Peck makes the actions real. Meanwhile, one learns how to exude aristocratic beauty without coldness from the thin, light, and pretty presence of Sterling Hyltin, who portrays Terpsichore, the muse of dance. And from Ana Sophia Scheller, as Calliope, the muse of poetry, one sees how to pleasingly hold one's own in the company of two stellar ballerinas and a hot male crowd-pleaser.
If you can get past the hideous costumes by Isamu Noguchi (who also designed the ballet's spare, modernistic set), "Orpheus" is a delightfully suspenseful work based on the myth of the titular musician, whose mission to rescue his wife from Hades depends on his resisting the temptation to look at her. Rarely performed, the atmospheric, image-driven ballet is far more dependent on its visual design elements than any of Balanchine's other works and does little to showcase individual dancers' abilities. Nonetheless, Wendy Whelan gives an affecting performance as Eurydice and Amar Ramasar manages to conjure a dignified portrayal of the Dark Angel, even while sporting a black cap with a piece of tubing hanging down in front of his face.
Possibly the most interesting non-narrative ballet ever choreographed, both in terms of its inventive movement and its relationship to its score, "Agon" features a shockingly contortionistic central pas de deux gloriously danced by Maria Kowroski and Sebastien Marcovici. The ballet's other sections are full of wonderful little movement surprises—decidedly non-balletic, everyday motions that Balanchine slyly inserted into the choreography. Unfortunately, the dancers attack every movement with a similar deliberate force, obliterating this ballet's charming kinetic nuances.
Presented by the New York City Ballet at the David H. Koch Theater, 70 Lincoln Center Plaza, NYC. Sept. 18-30. (212) 496-0600 or www.nycballet.com.
Critic's Score: A-