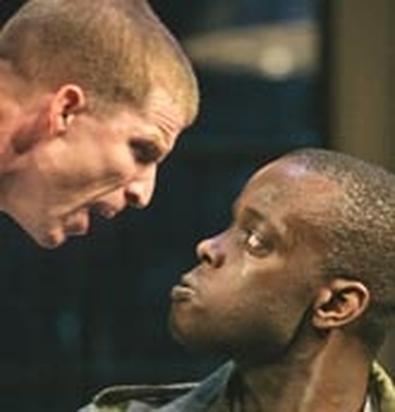 Plays date for different reasons. Even a work as damning and compassionate, as violent and loving as David Rabe's Streamers suffers from events beyond its control. Seeing this revival production with its liberal use of nigger and faggot days after the federal election of a minority candidate coupled with the four-state repression of another minority is an experience at once embarrassing and uncomfortable, making it difficult to return to the drama's time, that of the Vietnam War, and its racial and sexual stereotypes.
The award-winning play, which ran for 478 performances in 1976, succeeds on a more human level, retaining its undeniable power in its dissection of soldiers' anticipating being shipped out to a soul-destroying, unknown fate. Now, at a distance from Vietnam, Streamers encompasses all wars and pockets of hate, within and without. The communal house that these men struggle to establish is infected by wildernesses of spirit that reflect what happened in the Garden of Eden. Indeed, at one point the play's "villain," the murderous intruder Carlyle, slithers snakelike into the room, upsetting the delicate camaraderie forged by homosexual Richie, conflicted Billy, and dutiful black peacemaker Roger.
Another barrier to the work's timelessness is the acceptance of Richie in a pre-"don't ask, don't tell" era, partly because his roommates recognize their guilt-ridden pasts. But this is not a gay play. In director Scott Ellis' hands, it is angrier, more existentially absurd, and more blatant than the original production. Despite its two killings, the play's key line seems to be "I don't know who I was." All the characters are baffled, none more so than Sgt. Cokes, who has that line and whose final scene is acted by Larry Clarke with such understated grace and tension that you cannot breathe. The character embodies the play's title and theme: When he was in Vietnam, Cokes saw men whose parachutes failed to open, causing them to stream "into the ground like a knife," inspiring the tragicomic singing of "Beautiful streamer, open for me" and putting things into perspective. ("There's a lotta worse things in this world than bein' a queer," says Cokes.)
As Richie, Hale Appleman's campy insouciance hides a fear that he won't fit in. Even at his most brazenly effeminate, Appleman's eyes search for acceptance. As Billy, Brad Fleischer is touching as an intelligent hick, while J.D. Williams' edgy Roger is a man who long ago made peace with his demons and now seeks to have others maintain a similar equilibrium. Ato Essandoh is both menacing and pitiable as the uncomprehending Carlyle, with John Sharian evoking the gruff goodheartedness of Sgt. Rooney.
In some ways time and circumstances have not been kind to all aspects of Streamers, yet Rabe's talent is not as a historian but as a playwright who knows that at any moment people can be "all of a sudden dead." Anything can happen in an unstable world, and verbal violence can so easily escalate into the physical.
Presented by Roundabout Theatre Company in association with Huntington Theatre Company
at the Laura Pels Theatre, 111 W. 46th St., NYC.
Nov. 11-Jan. 11. Tue.-Sat., 7:30 p.m.; Wed., Sat., and Sun., 2 p.m.
(212) 719-1300 or www.roundabouttheatre.org.
Casting by Mele Nagler.