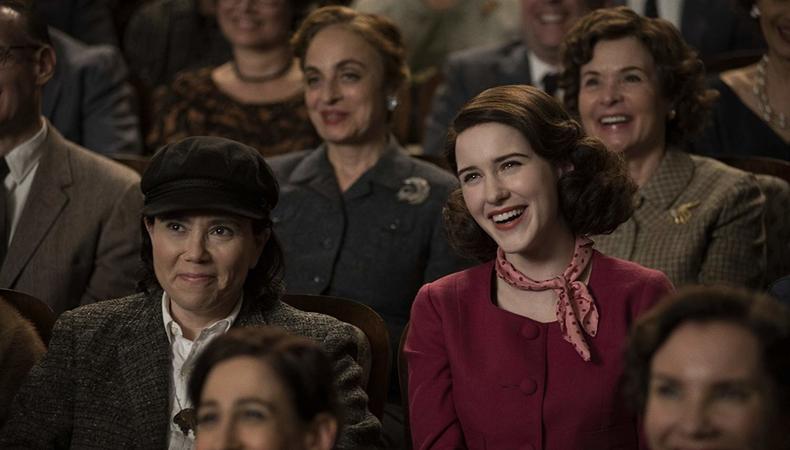 Whether it's Netflix, Hulu, Amazon Prime, or even the forthcoming Disney+, it's undeniable streaming services are the place for great content right now (even winning out over traditional networks like NBC for most Emmy noms!). Lucky for you, we've rounded up the most popular streaming shows casting right now, so you can get that red carpet 'fit ready.
"THE MARVELOUS MRS. MAISEL"
The recently nominated, Emmy award-winning series is filming again and is casting background actors for Season 3. The Amazon show focuses on housewife Miriam "Midge" Maisel (Rachel Brosnahan) who discovers her talent for stand-up comedy. The series is looking for a variety of male and female roles, including cocktail waitresses, Hollywood industry types, and Playboy Bunnies. Male talent must be clean-shaven and be okay with getting a haircut on shooting days; female talent must have short and natural-looking hair. Talent must be okay working around atmospheric smoke and wool. Pay is $210 for 12 hours of work for non-union, and SAG rates apply to SAG actors. Shoots take place on July 26 in New York City. Apply here and here!
"OZARK"
Background talent is wanted for the third season of the Netflix series "Ozark," starring Jason Bateman. The project centers on the dangerous world of drug money laundering, and is looking for both adult and child background actors with 1980s-style hair. Some pay is provided, and shoots take place on July 22 in Norcross, Georgia. Apply here!
"SHRILL"
Aidy Bryant stars in this Hulu adaptation of Seattle writer Lindy West's memoir, "Shrill." It follows Annie, an up-and-coming journalist, navigating the highs and lows of online media while battling her own self doubts about body image and her love life. The series is casting background for its second season, and is looking for male and female actors, aged 5 and older. Jobs pay $12.50 per hour with a four-hour minimum, and shoots take place in Portland, Oregon. Apply here!
"(RE)CONNECT"
New streaming service Disney+ is looking for real families to star in a new docuseries, "(Re)Connect." Families will be introduced to a family coach who will take them away from their daily lives for a week to address issues and give the family tools to reconnect with one another. Examples of issues include phone addiction, obesity, communication issues, blended families, siblings fighting, adoption integration, or any issue that naturally comes up for families. Shoot locations vary per family; some will go on a trip whereas others will stay where they live. Pay per family is provided. Apply here!