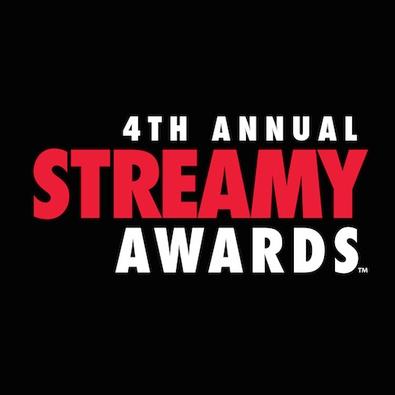 The nominees for the 4th annual Streamy Awards—acknowledging explemplary, original online video content—have been announced.
"If the caliber of this year's nominees is any indication, we're on track for the biggest Streamys ever," said executive producer Drew Baldwin, co-founder of Streamy Awards presenting partner Tubefilter, in a statement.
At the forefront of the nominations was the Emmy-winning "Pride and Prejudice"-inspired Web series "The Lizzie Bennet Diaries," which landed a best drama nomination as well as taps for two of its actors: Daniel Vincent Gordh and Ashley Clements. It's a good year for the series that was picked up by Starz Digital Media in June. Well-known Viner Brittany Furlan also received three nods including best actress in a Web series comedy for "SHFTY ~ Super Happy Fun Time, Yay!," best Vine comedian, and Viner of the year. Fellow Viner Klarity, also on "SHFTY," was recognized in the best actor in a comedy category.
Nominated for best actress in a drama is Julia Stiles for "Blue," Clements, and three others. Best actors in a drama included David Arquette ("Cleaners") and Brian Tee ("Mortal Kombat: Legacy II"). Best drama show nominations, in addition to "Lizzie," went to "Chosen," "Lauren," "Mortal Kombat: Legacy II," and "Storytellers."
"Convos With My 2-Year-Old," starring David Milchard and Matthew Clarke, where actual conversations with Clarke's daughter are re-enacted by the two men, was nominated in the new Kids and Family category along with a best actor in a comedy nod for Milchard. Other best comedy actors include Brent Bailey ("Emma Approved"), Paul Scheer ("ArSherrio Paul"), and Jimmy Wong ("Video Game High School").
Nominated comedy shows include "Jenna Marbles," "My Drunk Kitchen," "MyMusic," "Ryan Higa," and "Smosh," which has over 18.5 million subscribers on YouTube and stars comedy duo and parody artists Ian Andrew Hecox and Anthony Padilla.
Jerry Seinfeld's "Comedians In Cars Getting Coffee," where the actor takes other famous comedians out to coffee and lunch, was recognized in the non-fiction or reality category with four other shows.
This year saw the addition of eight new categories including one "recognizing traditional television shows that are 'doing it right' by engaging audiences with innovative use of original online video and best practices in social media"; "The Tonight Show Starring Jimmy Fallon" made this year's cut.
The ceremony for winners from 14 of the 47 categories will be live-streamed Sunday, Sept. 7 at 7:30 p.m. PT on www.streamys.org. The remaining winners will be announced prior to the Official Streamys Nominee Reception on Sept. 4 and will be mentioned on the eve of the awards.
Like this story? See more of our Web series articles here!