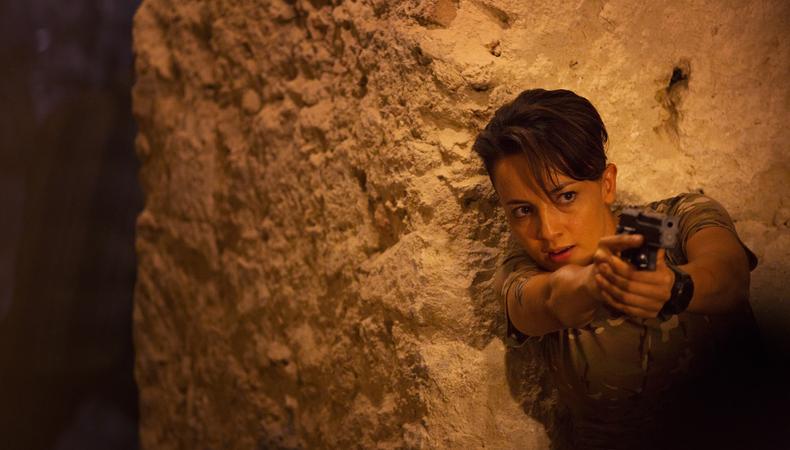 After the birth of her two daughters and a starring role on Australia's long-running soap opera "Neighbours," actor Alin Sumarwata was certain she was ready to switch into a stay-at-home role and back away from future auditions.
But, of course, life instead led Sumarwata to eight-hour boot camp auditions, then high-intensity military training in Jordan, then getting her head shaved for her current role as Lance Corporal Gracie Novin on Cinemax's "Strike Back: Retribution," the reboot of the popular military action series.
It wasn't the first time her acting passion has yelled at her—she initially put her career on hold to pursue degrees in Laws and Commerce before landing a gig on the Indonesian soap opera "Kenapa Ada Cinta"—and, now, with a major role on "Strike Back," renewed for a sixth season just before its Season 5 finale, Sumarwata is listening closely to that voice. She hopped on a call with Backstage to discuss her character Novin, honoring the "Strike Back" franchise, and going to extremes to make a role your own.
Novin was as far out of her own reality as could have been written, which made the character all the more attractive.
"I felt like everything stood still for a moment. I'm reading this character breakdown about this soldier had a background in engineering and tough-talking and a gearhead— basically, everything opposite to what I am (laughs). As I was reading it, and I remember my husband came home that afternoon and I'm sitting there, still in my robe, breastfeeding one, trying to feed the other, disheveled. And I said, 'This audition came through...it's a soldier! It's a military action show.' I was in a totally different world of storybooks and organic food for children and playgrounds! You couldn't put two more polar elements together."
Getting into character required both physical and mental endurance.
"I was conscious about my state of fitness and weight, so I was thinking of weight loss, weight loss, weight loss. When I went to the boot camp, the day when we basically put on tests to see who would die, I realized really quickly this had nothing to do with weight loss, it was all about strength and agility and stamina and endurance—mentally, especially, and physically. When I did change my focus to those elements of training, it gave me a different motivation altogether. Everyone was pretty athletic and I was just like, 'Man, I just need to get through it, not give up. I'm not as fast, I'm not as strong as everyone here, but I need to get through it.' That was my mantra through the day."
Find a version of yourself in your characters.
"[For Novin], I went back to maybe my 15-year-old self, the time where I was probably the most ready to take on anything. That's how I can ground myself into something truthful. It's got to be a version of yourself at some point in time with those given circumstances that caused you to come to that point and what's going to motivate you to keep moving forward. Sometimes I watch things back and I'm like, 'Wow, I don't believe that's me.' She's a completely different character to who I was. There are parts of it in me."
Let go of each scene after you finish it.
"You do a scene and it's done and you've got to move on. You can't sit there and go, 'Oh, damn. Next time, I'm gonna do it this way.' I could kill myself walking out sometimes over thoughts of how I could've done it better. Those thoughts, they're not really helpful for that scene. You really got to quickly be like, 'That's what it was in that moment. Let it go. Next thing. Better next time.'"
Be grateful for even your off-periods of no work, because you can use that time to hone your skills.
"There's that great saying that a lot of people in the military use when it comes to gun battles: when things go absolutely helter-skelter, 'you fall to the level of your training.' Any skill that you have a passion for, you should follow it because it will be used in some way, somehow. You draw those roles to yourself by training in that way. Be as grateful for the times when you don't have the work, because you have the freedom to choose, 'Okay, I'm going to train myself here' and really work yourself getting your skills up, so that when the job comes, it's all there."
No matter how intense the scene you're preparing is, you need to tap into your inner calm.
"The thing you really have to dig into yourself [for] is that inner calm and peace where you can actually focus and you can see through the chaos. It doesn't matter how intense something is, you need to come from a relaxed position to be able to come out with that fire and power."
When reading a role for an audition, make a connection with it that no one else will.
"[Directors and producers] know what they've given to you; they don't want it just spat back out. They want to see a personal connection you've made to it and something unique that's you. What you have to make it special is to find a piece of you that you can just stamp on it so they can see what's the potential of what you can bring to the project and to the story and how you can embellish the story and how you can be an asset to the production."
Working with original 'Strike Back' stars Sullivan Stapleton and Philip Winchester was a dream come true.
"We knew there were whispers of it, but the chances of it happening were so slim because of their scheduling; you needed both of them. It really dawned on me when I was sitting in the makeup room and when those boys came in the way, they were embraced and loved by the crew, I just broke down crying. It was so much history there. They're just so fun, so generous, and so malleable."
Novin is exactly the character she wants to see more of on television.
"More women in physical action leadership roles. Women getting in there and getting their hands dirty and fixing and doing shit. I think it's important to see that. For young girls, they need to see that. They need to see that women are capable and those opportunities just need to be there for them to see that."
Looking to get cast? Apply to casting calls on Backstage.