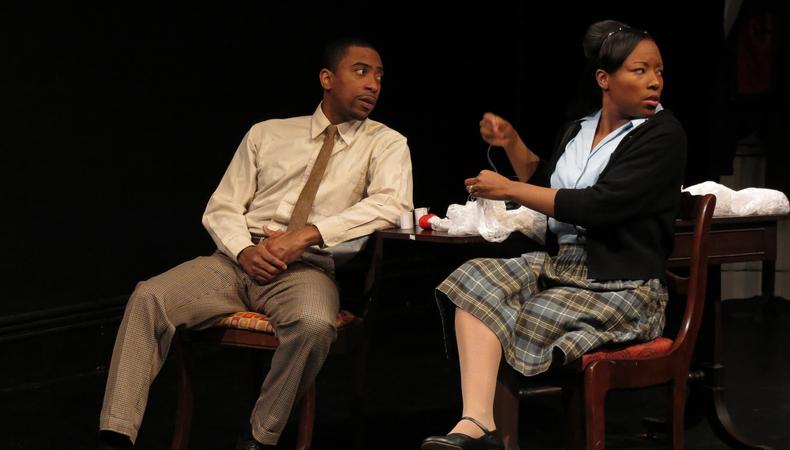 How can a family redeem itself in the aftermath of a scandal? What does it take to forgive and be forgiven? What is it like to suffer for another's sins? Those are the timeless themes of August Strindberg's "Easter," which the playwright wrote at the turn of the 20th century and set in a coastal town of Sweden and which the August Strindberg Repertory Theatre has chosen as its second production.
As with the company's inaugural offering last year, Strindberg's "Playing With Fire," "Easter" features a cast made up of African-American actors. "Fire" was supposed to take place among the black elite on Martha's Vineyard in the 1920s. The repertory company's artistic director, Robert Greer, says that he has transposed "Easter," which he also directs, to the Harlem of 1958. In truth, though, except for the race of the actors and just a few local references (the neighborhood asylum is referred to as Bellevue), there is little that roots the play in this particular time and place. That's just as well. Although a bit slow-moving, "Easter," which is a tragic story with a happy ending, proves a more satisfying theatrical experience than last year's comedy with a sad ending, in part because it doesn't strain to fit into its new setting. The effects of a family's disgrace have resonance no matter what the cause or the era.
Father has been imprisoned for embezzlement, leaving the family disgraced and perilously in debt. Son Ellis (Nathan James), a college teacher, is depressed and remorseful. Mother (Carol Carter) is in near-delusional denial about her spouse's guilt. Daughter Lenora (Ley Smith) has been confined to an asylum, but she escapes in time to return home for Easter. There she meets Benjamin (DeSean Stokes), an orphaned student who is staying with the family, which is its way of making amends; father's crime included wiping out Benjamin's inheritance. Adding to the misery are the repercussions of Lenora having bought a lily for Easter from a florist shop; because the shop was closed she broke in and took the flower, leaving a coin and a note. The florist apparently did not see them and so reported the theft to the police.
All the actors are professionally competent, with a particular standout being James, as the son whose personal grudges and jealousies nearly derail his family's redemption. The production, like the family itself, receives a lift with the entrance of Jolie Garrett as Lindy, a creditor who has moved in next door. Family members fear he will evict them and take all their possessions. Instead, he cheerfully offers the family a way toward redemption, and Garrett's energy gives the audience something to cheer about.
Presented by the August Strindberg Repertory Theatre, in association with Theater Resources Unlimited, at the Gene Frankel Theater, 24 Bond St., NYC. March 8–31. (212) 868-4444 or www.smarttix.com. Casting by Lawrence Evans.
Critic's Score: B