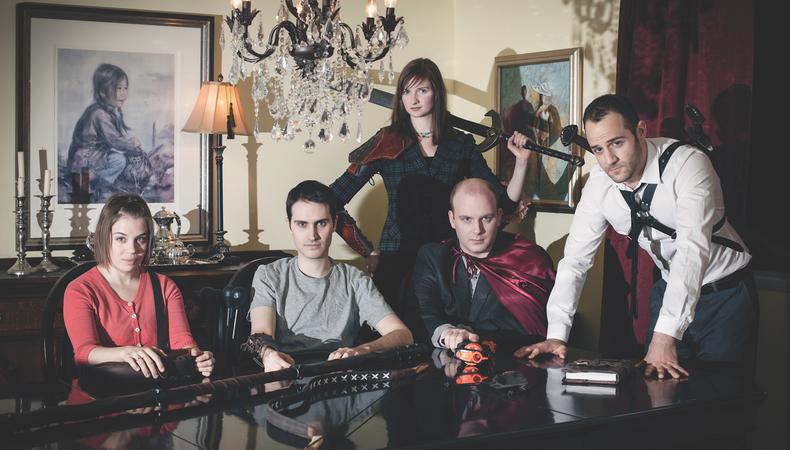 Don't mess with the power of the press. "LARPs: The Series" had a nice-sized following before LA Weekly wrote an article last year about the Montreal, Quebec–based Web series. But after the piece came out, it caught the eye of Felicia Day, actor and founder of premium YouTube channel Geek & Sundry, who added "LARPs" to her lineup.
The team behind the show, centered on Live Action Role-Playing, had joked about teaming up with Day before she reached out to them. Actor and associate producer Elizabeth Neale even tried tweeting at her, but it was the article that caught Day's attention. "Her assistant sent us an email and I can only speak for myself, but I got a giant smile on my face and I went back to bed," says director Julian Stamboulieh. Both Neale and Stamboulieh are part of Montreal's small theater and film community, a city that has a healthy LARPing community.
Stamboulieh came up with the idea for "LARPs" eight years ago during a relationship he says had two sides, one that took place in the public sphere and one in the private, and he wanted to apply that to his characters. He wasn't into LARPing (although series writer Jon Verrall is a veteran), but decided it was the perfect mechanism to explore his idea.
The series follows five friends, each humorously breaking their fantasy character to live out real-world issues while they play. Take Brittany (Charlotte Rogers), who's a badass elf in the game, but when she's not in LARP mode, she's shyly nursing a crush on Will (Scott Humphrey), who doesn't take it nearly as seriously as everyone else.
To get everyone into character, Verrall held a one-off LARP. "The first 10 minutes, you're self-conscious and aware of everyone around you," Stamboulieh says. "But then you get back into the sense of childhood play; this sense is so important to the show."
The first season was funded completely by Stamboulieh and producer Benjamin Warner under their Beanduck Productions banner. They shot all of the season's 11 episodes in 12 14-hour days. "It was really grueling and it's something I'm really looking forward to not having to do again," Stamboulieh admits.
The "LARPs" crew has already started preproduction as well as kicked off a funding campaign on Indiegogo that concludes April 7. Season 2 will see a likely higher Sundry-backed production value, the addition of another lead character, and longer episodes that explore new genres of LARPing.
But even without the recent push from the YouTube giant, the series' first season looks high-budget. It's beautifully shot by director of photography Joe Baron, with great sound provided by Matt R. Sherman, and professionally constructed LARPing costumes donated by Montreal-based Les Artisans d'Azure.
"When we started preproduction, we decided that just because we were on a free platform, that should not affect the way it looks. We should strive for TV quality because we strived to reach a million," Neale says. "We never wanted to use the excuse 'It's just a Web series.' "
Like this story? See more of our Now Streaming articles here!