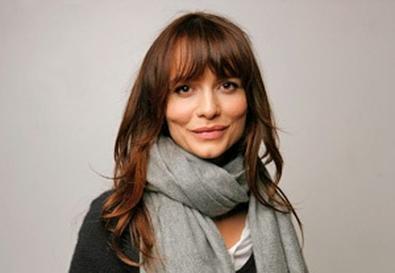 "The only thing that works is sleep and food," asserts Saffron Burrows when asked how she maintains her stamina during the 15-to-16-hour shooting days for her role on "Law & Order: Criminal Intent." "I eat like Michael Phelps," meaning she consumes a great deal—including meat, which represents a major culinary shift for her. She was a vegetarian for 25 years. "As a kid, I felt you don't eat anything you wouldn't kill yourself." The steak habit was re-launched when she was shooting Amy Redford's "The Guitar." Her character was a beef eater, and Burrows decided to relinquish her vegetarianism for the film; then, she says, "I let my morals go." She laughs between bites of—no, not hamburger and french fries—salad and sushi in her spacious dressing room at New York's Chelsea Piers, where the TV series is shot.
Burrows has recently come on board the 9-year-old show to play Detective Serena Stevens, an educated, upscale, single parent whose street savvy complements her intellect. Burrows compares Stevens to the character called B in Edward Albee's "Three Tall Women": "the middle-aged woman who has a 360-degree view of life," Burrows says. "She can look backwards and forwards. I'm the right age for this part now."
In preparation for the role, Burrows spent time with the major case squad in New York, absorbing the detectives' daily routines. The big surprise to her was "how much they live like actors, though of course the stakes are so much higher for them. They get called and told, 'We need you in half an hour and you won't be home for three days.' They pack a bag and off they go. Their jobs are time-consuming and all-encompassing."
Burrows was drawn to "Criminal Intent," most pointedly for the chance to work with co-star Jeff Goldblum, whom she describes as intelligent, funny, respectful, devoid of cynicism, and intensely enthusiastic. "I'm an enthusiast, but he takes it to a new, wonderful plateau. If you're going to spend this much time at work, you'd better like the person you're working with. I love Manhattan. Who doesn't? And as soon as I met Dick Wolf and [writer] Walon Green, I liked the atmosphere in the room. It felt creative and exciting, rather than complacent. Also, they were so smart and knowledgeable about British politics."
Known for voicing left-leaning and feminist views, the tall, svelte, London-born Burrows is a former model who made her mainstream film debut in "In the Name of the Father," established herself as a serious actor in "Circle of Friends," (playing a driven Irish woman), and is perhaps most widely known in the States for her stint on "Boston Legal" as attorney Lorraine Weller. She is also a stage actor who has performed at the Almeida Theatre and the Old Vic Theatre in London.
Taking the Reins
Burrows grew up in a heady environment—both parents are socialists—and though neither parent was an actor, there were many theater folk in her house. At 11 she was enrolled in Anna Scher's Youth Theatre and studied there for four years. It was the first drama school in Britain designed specifically to attract working-class kids, Burrows says, acknowledging she was one of the few white-collar youngsters in attendance. "It was very multiracial, very accessible. Anna Scher was political with a small 'P.' She had an internationalist view of life. We did workshops with an Israeli kibbutz and Palestinians. Coretta Scott King came to watch us. It had the reputation as an anti-stage school, meaning there was no tap-dancing and not much text work either. We mostly improvised, which I now think helped me in my film career. Kathy Burke, Gary Oldman, and Joe Wright, the brilliant director of 'Atonement,' came out of that school."
Burrows' modeling career was put in motion at age 15 when a scout approached her on the street—the same scout who had discovered Naomi Campbell a year earlier, says Burrows. For the next five years Burrows was a successful fashion model, but she insists it had no bearing on her acting career: It neither opened nor closed any doors.
Her first big acting break was in an independent film, "Welcome II the Terrordome," about a racial apocalypse, written and directed by a friend and in part inspired by Burrows' relationship with an African man. "In the film I have a breakdown, I'm beaten up by racists, and my baby is stillborn. It was a potent, charged film," says the actor. "From that I got an agent and met Jim Sheridan, with whom I worked on 'In the Name of the Father.' That led to my being cast opposite Albert Finney in Dennis Potter's last work, eight hours of television: 'Karaoke.' " When "Circle of Friends," with Colin Firth, Minnie Driver, and Alan Cumming, was released, a Los Angeles agent expressed interest in meeting Burrows, who ultimately relocated to the West Coast when she was cast in "Boston Legal."
"With all the characters I play I try to find out has much as I can about the world they live in and then try to forget it," she says. "But each project is crafted so individually with different structures, plot points, and moments of realization. When I made a film in New Orleans, the main thing I did was speak with the accent even off set. Sometimes I will find a novel that relates to the story and keep reading that. Sometimes I'll listen to a piece of music. Halfway through an episode I might say to myself, 'Ah, that's the music I should be listening to.' "
Though she has worked steadily, she admits it has taken her a long time to move beyond being "purely absorbing and receptive to realizing I have a point of view that can be employed. In the beginning all you worry about is just getting through the day without making a fool of yourself." Burrows is toying with the idea of directing. "It's what every actor should do at least once," she says. "Today everyone is going to have three careers anyway. Isn't that what they say?"
At the time of this interview, "Criminal Intent" has two more weeks of shooting before the hiatus. "At the end of the season, I'll be sad, and I don't take working for granted," she says. "I love working, but I also love not working. I will go to London or south of France or visit friends. As an actor you can get caught up in that thing of not quite living when you're not working. But that's passive. I've learned to take the reins a bit and not put my life on hold."