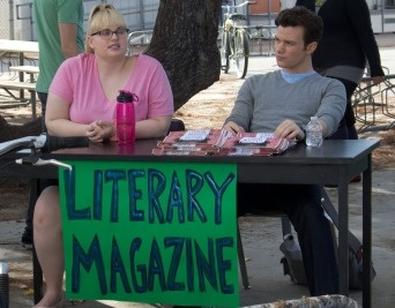 With "Struck by Lightning," the new tar-black teen comedy he wrote and stars in, Chris Colfer proves a number of things. Chief among them, his performance as whip-smart, sharp-tongued high school journalist Carson is evidence that there's more to the actor than his "Glee" character—and his screenplay reveals a fresh, offbeat voice that prevents even the stereotyped characters here from remaining just clichés.
Of course, that the Cheerleader, Jock, Drama Queen, and Yearbook archetypes here are clichés is somewhat the point. Carson is smarter than everyone around him—including his pill-popping mess of a mother and absentee father—which is bad enough in a small town, but that he makes sure everyone knows it is the unforgivable sin. His interactions with an overwhelmed guidance counselor or the gruff, disbelieving principal will resonate with anyone who ever perfected the art of side eye in the halls of high school.
For a certain segment of the audience, Carson's plot to gain acceptance to Northwestern may also register. In an age when extracurricular activities have become increasingly cutthroat, carson must not only launch a literary magazine but convince his apathetic classmates to contribute. Aided by the enthusiastic if plagiaristic Mallory (Rebel Wilson), Carson sets out to blackmail the most popular kids in school.
The high school scenes are crisp and compelling, but Colfer's screenplay gets bogged down in his family drama. Allison Janney does wonderful work as his angry, depressed mother, but the character is almost too monstrous to exist in the same movie as fun-filled blackmail. Dermot Mulroney and Christina Hendricks also pop up as Carson's father and future stepmother, but the real joys of the movie are in Colfer's jaundiced, Machiavellian view of high school, one that treats stupidity as the ultimate transgression and punishes it accordingly.
Critic's Score: A
Directed by Brian Dannelly
Starring Chris Colfer, Allison Janney, Rebel Wilson
Cast by Anya Colloff & Michael Nicolo