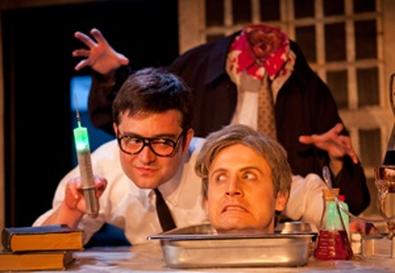 Stuart Gordon has two ardent -- and wildly different -- fan bases. Most people are probably familiar with Gordon as the writer-director of such low-budget horror classics as "Re-Animator" and "From Beyond," both based on pulpy stories from beloved cult author H.P. Lovecraft. Then there is Gordon the theater artist, a man who founded Chicago's prestigious Organic Theater Company, worked with Joseph Papp at the Public Theater, and helped bring David Mamet to prominence by directing the world premiere of "Sexual Perversity in Chicago." But recently, Gordon says, the two camps have begun to merge. A large amount of credit for the crossover is due to Gordon's latest incarnation of "Re-Animator" -- a bloody good musical set to travel the world.
Slightly revised from the critically acclaimed production that played Hollywood's Steve Allen Theatre in 2011, "Re-Animator the Musical" will run at L.A.'s Hayworth Theatre through July 8, then at the New York Musical Theatre Festival, before crossing the Atlantic for a series of performances in August at Scotland's Edinburgh Fringe Festival. The musical adheres to the plot of the 1985 film, in which brilliant medical student Herbert West discovers a serum that brings the dead to life, necessitating the procurement of bodies for his experiments. The show blends horror and comedy as chaos -- along with zombie cats, decapitations, and a number of catchy tunes -- ensues. The literally eye-popping special effects are courtesy of the same team who did them for the film. And for those anxious to experience the viscera viscerally, the first few rows of each show are the designated "splash zone" -- where blood and gore shoot into the audience.
While "Re-Animator" might seem an odd choice for a musical, Gordon says people have been suggesting the idea for years. "I wish I could take credit for it, but everybody else in the world had this idea before I did," he says. "And I would always laugh, because I thought it was so ridiculous." But the more he thought about it, the more Gordon could envision where songs could fit into the plot. "The question was, Who could write the music? I have no musical ability -- when I was young, I played the clarinet in orchestra. And I was so bad that when they had recitals, they told me to just pretend."
One night Gordon happened to see a musical called "The Bicycle Men," with music and lyrics by Mark Nutter, an old friend from the Organic. He approached Nutter with the idea for "Re-Animator the Musical," and the duo spent more than two years writing the book and music. "Mark just kept adding more and more amazing songs," Gordon says. "I'd have a section of dialogue, and he'd come in with it all set to music. So now it ends up with only 10 minutes of spoken word in the whole thing."
Stuart Gordon (Getty Images)

With the musical, things have come full circle for Gordon, since "Re-Animator" the movie actually began with his theater company. Gordon was happily making a living in Chicago as a theater artist when he noticed that every time a film came to shoot in Chicago, it would cast theater actors like Dennis Franz and Joe Mantegna. "It sort of struck me; why don't we do a movie?" he says, adding that a friend told him horror films were the easiest to get financed. A friend recommended Lovecraft's short story "Herbert West, Re-Animator," which was so obscure at the time that Gordon had to request it from the special collections desk of his local library. He wrote a screenplay and was going to shoot it in the theater, before the board stopped him. "They got freaked out," he says. "They said, 'We don't want you to be doing a horror film -- you should be doing an art film!'" So Gordon took a leave of absence and went to L.A. to make the film. He returned to Chicago, but then, he says, "the movie came out and took off, and I got offered a three-picture deal."
While his career in movies has thrived, Gordon has occasionally returned to the theater; most notably, he directed "Re-Animator" star Jeffrey Combs as Edgar Allan Poe in the acclaimed solo show "Nevermore." And though he's been involved with some prestigious theater productions, Gordon says he has never minded being known as a genre director. "I've always had a great time making movies," he says. "And I was given so much freedom." So why does he keep being drawn back to theater? "Because it's what separates the men from the boys," Gordon replies without hesitation. "If you can do theater, you can do anything."