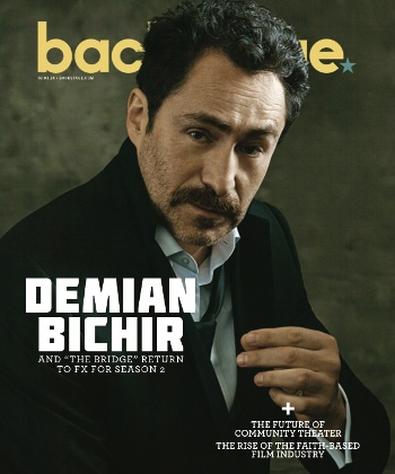 Demian Bichir's heart sank when he heard the premise for FX's "The Bridge." A proposed U.S. remake of the acclaimed 2011 Swedish series "Bron" (also remade in the U.K. as "The Tunnel"), the pilot centered on a gruesome, perplexing murder that left a body (or was it two?) on a bridge joining the U.S. and Mexico, and cops Marco Ruiz (Bichir) and Sonya Cross (Diane Kruger) trying to solve it. "You have no idea how many things I have read about the border," Bichir says, rolling his eyes for effect and simultaneously noticing a young guy with a camera lurking on the L.A. sidewalk outside the café. He smiles and waves, then goes on.
"I thought, This is going to be the American way, and didn't expect to get past Page 19 or 20—but it was good drama. Then they told me Diane Kruger was going to play the American cop." He is huge-eyed and expressive, retelling the tale. "She and I were meant to do a film that same year for [director] William Friedkin. And then they told me the pilot was being directed by Gerardo Naranjo. I had met him on a flight to New York two weeks before!"
But Bichir isn't about signs so much as stubbornness. "I'm here because I'm stubborn; I've been like that since I was a kid. My father used to say, 'Whatever you want, you always get, motherfucker. You never stop until you get it!' "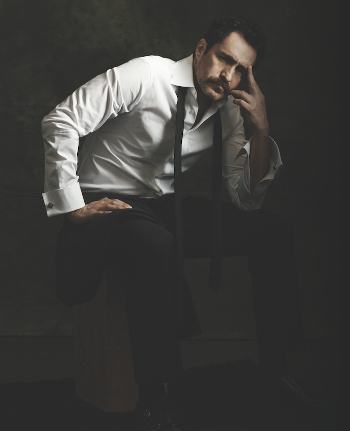 "The Bridge" is indeed exactly what Bichir needed: a role to reinforce the fact that his 2012 Academy Award nomination for best actor for "A Better Life" wasn't a one-off, and to ensure his standing front and center on the international stage. He recently completed the Argentinean film "Muerte en Buenos Aires," and wrote, directed, produced, and starred in the somewhat autobiographical "Refugio," shot recently in Mexico and New Orleans. "I'm always searching for characters that can be opposite to what I've played before, or a risk or challenge," he says. "Like doing this Argentinean film. I've played Colombian, Bolivian, Cuban, Spaniard before. For Americans that might be the same, but it's another accent in Spanish and it's really difficult."
A week later, Bichir is filming a scene for Season 2—premiering on FX July 9—on the show's regular soundstage near Six Flags Magic Mountain. In Ruiz's scene opposite Juarez, Mexico's police chief, Captain Robles (Juan Carlos Cantu), tension, tequila shots, and shaky hands proliferate. The dialogue is entirely in Spanish, with Bichir in a demonstrably altered mode. Seconds later the engaging charmer is back, snacking on cheese and olives. "Yes, we have complete scenes in Spanish, subtitled in English," he says. "That's rare!"
No wonder, then, that more than 125 countries have embraced "The Bridge" (it is hugely popular in Germany and Australia) as Bichir has embraced Ruiz. "Marco Ruiz felt real," he says. "I saw a character who had to transition between heaven and hell, walk on fire and be smart enough not to be burned by it. That's 'Richard III' and 'Hamlet!' " He fell for his brilliant, troubled U.S. police counterpart, Sonya Cross, too, as well as her alter ego Kruger. "We are a team, sharing everything, and [we] understood from day one that we depended on each other, needed each other to survive," he says. "That's pretty much what the relationship between Mexico and the U.S. is about. Diane has the most difficult role of the series by far, and she's doing it so graciously and so well."
Co-stars Kruger and Annabeth Gish are as effusive in their praise for him. "I think Demian's very instinctual," says Kruger. "There are moments that I feel like he's a Marlon Brando. And of course girls just tend to lose their panties around him. He is so charming!" Gish calls Bichir "an actor who somehow holds an easy balance of distinct masculinity and authentic vulnerability. The world needs more of him and all that he brings to his characters."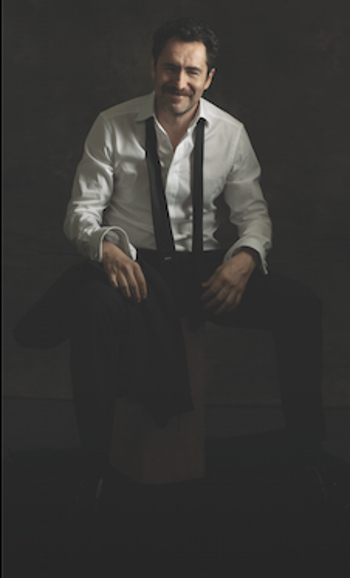 Bichir's own most difficult scenes were during the first season's two-week period when Ruiz didn't know if his kidnapped son was alive or dead. "Marco is doing very badly at the beginning of the second season," he says. "No one is ready to lose a son and you can never recover from that. Those two weeks were too much. I don't remember being so wrecked [by work] ever before in my life. That roller coaster of anxiety, fear, and rage, and then getting to know the actual news that he was dead from Sonya? You could go crazy if you're not prepared. You could go to the hospital."
His preparation extends to "set dressing," too. He is particular about showcasing his country accurately, not in a clichéd way, and has halted production to have a set cleaned. "I don't want anyone to picture Mexico as Switzerland, but it is not filthy with trash everywhere," he says. "Juarez is a modern city. The producers took my notes seriously and a lot improved and changed." The producers also said they wanted to write something for Bichir's brother Bruno. "Cut to...they actually wrote something for him and he's here. After Bruno's first day, everyone said, 'Your brother was so amazing.' I told him later, 'I never got that sort of a welcome!' "
He jokes, in part, about his own better life. "Everything that has happened has been a nice ride, although I feel this journey is only now beginning. My plane is just about ready for departure."
---
Star Sightings
"I stopped seeing stardom as a faraway dream when I met John Hurt!" Demian Bichir says.
"In 2007 I was on the Ibiza Film Festival jury with a woman called Anwen, who offered to drop me at my hotel after the first day. She said, 'Do you mind if we stop and say hi to my husband first?' They had a house and we walked over to the pool. She said, 'John, I want you to meet Demian, he's part of the jury also.'
"And there was the great John Hurt, with his reading glasses on, studying a chess book. He took his glasses off, said, 'Hi Demian, nice to meet you,' and I went mute. It was overwhelming. He knows he's one of the most respected and loved actors, but he didn't know my story: that when I was growing up I adored him. 'The Elephant Man.' 'Midnight Express.' I was already a professional actor in Mexico with the National Theatre Company, but I was going to high school at the same time. My notebooks were tabbed with his photos. I had lots of different ones.
"John wouldn't let me go to my hotel. He went to the kitchen, prepared a beautiful salad, cut some salami and cheese, and we went back to the pool and stayed there, talking and talking. Eventually he told Anwen, 'Let me take Demian.' He took me to my hotel and said, 'We'll pick you up here at six this evening.' And that was that.
"I can assure you everything in my mind changed from that point on; something switched and things began happening. A few days later, Steven Soderbergh offered me the role of Fidel Castro in 'Che.' And when I got the Oscar nomination in 2012, I thought, Now I have something in common with John Hurt!"
Inspired by this post? Check out our audition listings!