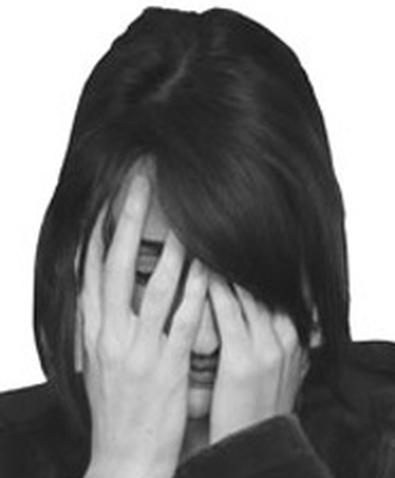 Derrick has never played an alcoholic. He has done plenty of classical theatre regionally, as well as a smattering of episodic TV, but never enacted a drunk. "I'd love to," he says. "There's so much that goes into it. A very good friend of mine did a play a couple of years back, and he wanted me to play the role about this famous Restoration playwright who was a famous drunkard. He wound up playing it himself, and being a sober man, there were things I thought he missed. We've been great friends, and he's seen me on both sides of it. There was stuff I wanted him to get, and he didn't, in my estimation."
The expression "It takes one to play one" doesn't necessarily apply to the acting profession. Derrick — who, like the majority of actors quoted in this article, is not using his last name — is a recovering alcoholic who has been sober since 1999. He credits Alcoholics Anonymous and key friends with helping him turn his life around. Artistry of any kind offers potentially great rewards — creative and financial — but it's no cakewalk, and life doesn't always get easier the higher one rises. Tales of performers who have struggled with addictions — be it alcohol, drugs, gambling, food, or sex — are nothing if not common. In a profession filled with feelings of perfectionism, egotism, intense competition, and irregular paying work, the headline-grabbing exploits of a Mel Gibson or a Robert Downey Jr. barely raise eyebrows anymore. Imagine, if you will, the kind of movie you could make with a lineup of stars who have publicly admitted struggles with drugs or alcohol: Robin Williams, Philip Seymour Hoffman, Melanie Griffith, Drew Barrymore, Michael J. Fox, Faye Dunaway, Carrie Fisher, Jamie Lee Curtis, Ewan McGregor.
There are numerous resources for the stars — and for the actors who don't write their memoirs or discuss their inner demons on The Oprah Winfrey Show. Alcoholics Anonymous holds regular Take 12 meetings at the Screen Actors Guild headquarters and has other gatherings that specifically target recovering members of SAG and Actors' Equity Association. The Actors' Fund of America also offers chemical-dependency services.
Whereas a Lindsay Lohan will have plenty of work waiting for her when she gets out of rehab, the performer who is scratching and clawing for parts could face a potentially crippling drop in recognition if he or she takes time off to deal with a problem. On the other hand, given the havoc an addiction can wreak upon a career, can that performer afford not to?
"There's not a lot of loyalty in this business. It's a lot of, 'What can you do for us? What do you look like?' You're not going to get a lot of nurturing and support," says Buck Dodson, a social worker who heads up the Actors' Fund's chemical-dependency program on the West Coast. "Initially, if you have to take time out of the industry, there's a process of getting back in."
Public Drunkenness?
Alcohol and drugs have long been a part of social networking within the entertainment industry. Camaraderie among showbiz types is often manifested at bars or at cast or wrap parties. Indeed, some maintain it's that prevalence of booze and drugs that can help get performers started in the first place. Even at work. Especially at work. If office workers can blow off a little steam at the local watering hole after work, the reasoning goes, shouldn't actors be afforded the same privilege?
Larissa recalls performing a Shakespeare play that was staged in a bar. At the end of the performance, when cast and audiences were mingling, the bartender — who didn't know her history — offered to set her up with a beer. Larissa turned to her husband and said, "I have to go home."
"I'd love to say I never felt like drinking again once I stopped, but that would be a lie," says the 46-year-old actor, who is 14 years sober. "Some nights I could order my ginger ale and hang out. I've learned to gauge when I can be around that environment and when I can't. When I first stopped, it was very difficult. Not so much now."
Derrick says that during his training at a well-known arts school, drugs were readily available. And if you're a performer, the perception has long existed that somehow you have creative license to use or imbibe. How else does one truly get into the soul of a Joe Clay or a Sir John Falstaff?
"Everybody's familiar with artists who seem to have this feeling that using drugs and alcohol frees their inner artist, frees their inhibitions, and opens up their creative spirit," Derrick says. "When I was at school, everyone kind of went crazy, and there was this feeling in the air that it was what you should do."
Rejection, loneliness, and high expectations are three of the most common factors shared by the entertainment industry clients of Andrew Susskind, a psychotherapist and recovery coach. By the time they reach his office, Susskind's clients have been through rehabilitation and are trying to figure out where to go next. "I think those are the biggest stumbling blocks that most people who are working toward some kind of success in the industry will run into," Susskind says. "There are times where they just feel stuck. As a coach, I try to help them break it down into building blocks of success rather than having the idea of making it tomorrow."
No Blame, No Shame
As challenging and demoralizing as they say the profession can be, however, the performers interviewed for this article were unwilling to in any way blame their chosen profession for their decisions.
A person's brain chemistry is such that he or she either is or isn't predisposed to having an addictive personality, contends Hope Alexander, a director and actor who has been sober nearly 20 years. Alexander has also been diagnosed with attention deficit disorder, which probably also played a part, she says. If you accept the "driven to distraction" principle that ADD individuals are fundamentally "hunters trapped in a farmers' world," alcoholism and ADD can feed each other, according to Alexander. "If you put me in a cubicle and made me be a secretary, I would probably kill myself," she says. "Look at what actors do. There's something about having to go and hunt for a job, and then the roles change every six weeks. Everything changes constantly. You have no time to get bored. "People like to make romantic stuff out of all of this," she continues. "But it's all about the brain chemistry." Alexander returned to L.A. at age 40, having left a flourishing stage career in the Bay Area. She lived at the Magic Hotel, which she characterizes as being "party central" among artists living in the area.
"I was drinking all the time, had the shakes. I had alcohol poisoning. I was in trouble, but I didn't know what to do about it," she says. A friend came down to visit, the two had lunch, and Alexander learned that the friend's mother was in A.A. Alexander asked her friend to take her to a meeting the following day. On Aug. 5, 1988, she got sober and has not had a drink since.
Nearly two decades later, she likens alcoholism to Professor Moriarty, archnemesis of Sir Arthur Conan Doyle's Sherlock Holmes. "It's the only foe I will ever have that is as smart as I am," she says. "I always sense that Moriarty is out there waiting for me. I am as terrified of it today as I was almost 19 years ago." Before turning to acting, Derrick considered attending medical school. Had he ended up a doctor, he believes, he would also have become an alcoholic. "I'm reasonably sure that my alcoholism would have manifested — if not when it did in my life at 30, it would have happened at another time," he says.
"Most of the time, addictions are really manifestations of a deeper problem," adds Susskind. "People who are using alcohol, drugs, sex, food, or money to deal with a deeper level of pain. It may be depression, extreme anxiety, or trauma from one's childhood. They're trying to cope, and obviously it's not a healthy way of coping."
For the Long Haul
In addition to having a father who was an alcoholic, Kaitlin experienced a traumatic attack when she was 14 that left her seriously injured physically and psychologically. But whereas her father went for booze, Kaitlin's opiates of choice were cocaine and later heroin, both of which she was able to obtain for free or in exchange for sex.
She bottomed out after moving to Los Angeles at age 21. After leaving the city, she drifted into the habit again before going into a 12-step program and kicking it for good. When she speaks of heroin, her affection for the substance is still apparent. "The fact that it's illegal and so shady and everybody knows what heroin is," she says. "It's a lovely drug and not for the faint of heart. I cleaned up on my own, and that was ugly and hard and required help from friends. I kept myself crystal clean after that."
She turned instead to alcohol. When her husband threw down the gauntlet, Kaitlin went to A.A., "and found that I had a lot of old friends in those rooms, people I hadn't seen in a decade." She remained sober for two years and had her first child shortly thereafter. "One simple rule: I don't do drugs," she says. "I have so much to lose, and I've never had a death wish or been self-destructive. I'll have a glass of wine at night or whiskey periodically when I'm sick."
She credits her friends within the theatre community for allowing her to lean on them, for not losing patience during times of difficulty. As lonely a business as this can be, the same group of people who are present to share rehearsal gossip over cocktails may also be there to give you a lift to a detox facility. Those who can't do it on their own routinely cite programs such as Alcoholics Anonymous and Al-Anon. The nonprofit Actors' Fund offers services ranging from full intake and preparing clients for treatment to referrals and partnerships with other programs such as the Motion Picture & Television Fund, SAG, and MusiCares.
Susan is a longtime board member on the Actors' Fund's Western Council. She constantly encourages officials to pass along her name and telephone number just in case somebody struggling with an addiction needs a friendly, sympathetic ear. She estimates that, over the years, she has received "one nibble."
A 73-year-old actor with more than five decades' worth of stage, film, and TV credits — including a Tony nomination — Susan also sponsors five women in A.A. and two in Al-Anon. "Whenever I'm out and meeting new people or new groups, I let it slip into the conversation that I don't drink anymore. I don't have to," she says. "You never know when somebody is at their wits' end, and you just might plant a seed. In the theatre, we all drank and drugged. It's so easy to get drugs if you're on a set, and the main problem I have a feeling that actors run into is our wonderful ability to lie and manipulate."
To obtain quantities of speed, Susan recalls, she informed her doctor that the bottle of Dexedrine was sitting on the back of the toilet when — whoops! — all of the pills accidentally took a plunge. The physician immediately came back with, "Oh, how awful. Come by for a refill. Will 100 do?" "We're always getting our purses stolen with the drugs inside them," she continues. "We're adorable." Ultimately the pharmacists started getting wise, and because government regulations for obtaining medications were becoming more stringent, Susan approached a psychologist about finding a way to "trip" without becoming overly dependent on the pills. The psychologist agreed to work with her — once Susan went through detox. "How weird she'd know that I had anything in me," Susan says of the psychologist. "I guess it was fairly obvious."
Detox led to a hospital stay and ultimately to A.A. Susan's mother, also an actor, had spent the last 17 years of her life in institutions, starting at age 54. Susan, who was approaching the same age, didn't want to repeat the pattern. After she got out, she called the doctor back and informed her that she wouldn't be needing her services after all, since Susan had come to understand that she was simply a drug addict and an alcoholic and could find a different way to recovery. The psychologist, who happened to be Dr. Laura Schlessinger, gave a gracious answer. "To her credit, she said, 'I have never been so happy to lose a potential client,'" Susan says.
Points of Pride
It's a point of some pride among the actors interviewed that — even though their careers and nonsober years overlapped — they rarely came to work loaded. Hung-over, yes, making for an interesting performance experience — "I wanted to blow my brains out," Larissa contends — but never drunk.
During rehearsals of one show she was stage-managing, Larissa would excuse herself to do lines of cocaine in the bathroom so she could make it through rehearsal. She subsequently made amends to the director. "The thing I've noticed about alcoholism is that your perception of how other people see you is so skewed, it's hard to realize the effect you're having," she says. "We did a show once, a two-character scene, and the guy I was playing opposite, when I got close, he reeked of alcohol. I was supposed to slap him gingerly, but I round-housed him. I was so pissed. I thought it was outrageous he would do that. Maybe it's the pot calling the kettle black. I don't know."
If you reach a high-enough level in the profession, some maintain, those in the industry — agents, producers, directors — will go to great lengths to protect you. But protection is not necessarily a form of help. Derrick was on a TV show with a well-known actor who subsequently landed in some trouble. At the time, he says, there were no consequences. "What I saw, as a sober member of the program, was him acting out and everyone around him — including producers and director and everyone — coddling him, catering to and protecting him," Derrick says. "At a certain level in the industry, people feel like they have to protect the artist, that talent or whatever. There are no consequences until there are serious consequences that have to be paid."
Alexander doesn't hide her past. Still, when she applied for the artistic director position of a Bay Area theatre a year ago, she was surprised to have her alcoholism brought up during the interview. "I never drank and worked. I never missed a show. In rehearsal, I was always the person you would call on if someone else couldn't go on, and I'd run on with the script in hand. I was the most dependable person," she says. "Yet that was brought out in the interview. It can have that ramification."
"Since I got sober, my career has gone down, but I don't seem to mind anymore," Susan says. "It kept me alive for all those chaotic years. It was my reason for being. Now I don't have to use that."
More information on addiction is available through Alcoholics Anonymous, The Actors' Fund, and Al-Anon .