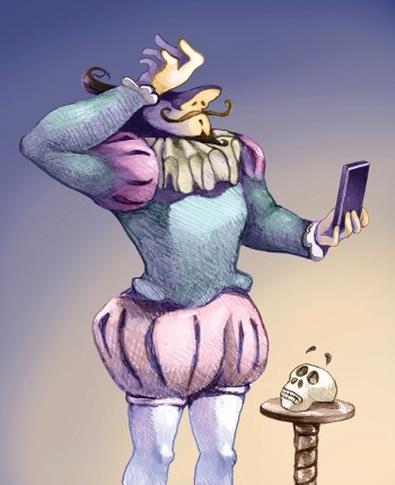 Studying Shakespeare as an actor isn't always the most alluring prospect. Sure, he's the most renowned dramatist in the history of theater, but with his heightened language and iambic pentameter and all, the man doesn't exactly make it an easy endeavor. Still, the old adage holds true: Once you can do Shakespeare, you can do anything.
"That's the simplest way to put it," says Scott Kaiser, Shakespeare scholar and director of company development at Oregon Shakespeare Festival. "If you've done 'Merry Wives of Windsor,' you can do 'Modern Family,' and if you've done 'Richard III,' then 'Game of Thrones' is fairly easy. A lot of Shakespeare really translates immediately into the other mediums if you work those muscles. If you can run a 26-mile marathon, you can certainly run the 5K."
That said, it's hard at times to see the utility of having "Julius Caesar" in the modern actor's repertoire. There are purposes, however, that don't immediately meet the eye, specifically in the way the work requires an expansion of the actor's imagination. The magic of something like "A Midsummer Night's Dream," for instance, would seem pedestrian without an actor's imaginative whimsy. It's for this reason that the Bard's canon is tough work, certainly, but also why it continues to be essential knowledge for actors today.
Beyond magical realism, imagination also comes into play with Shakespeare's sets. When performed in the late 16th and early 17th centuries, there were very minimal set pieces on the stage and it was up to the actor to create the Forest of Arden in "As You Like It," for example. Actors today who learn Shakespeare in a similarly minimalist setting such as a workshop or classroom environment benefit by creating the world around them from the ground up.
Kaiser says this aspect of Shakespeare benefits actors particularly in the realm of film and television, where more and more of the buzziest productions are shot with CGI and green screens. There's very little difference between imagining yourself in the Forest of Arden onstage and imagining you're on "Game of Thrones" with dragons flying overhead.
"Being on an empty stage and having to imagine an entire world around you [uses] exactly the same muscles as standing in front of the green screen and imagining everything that's going to be provided for you digitally in postproduction," Kaiser says.
Unless you're in "Avatar" speaking Na'vi, though, you could never get on a soundstage and be convincing speaking in tongues. Same goes for Shakespeare. An actor could hardly convince the audience he's in 15th-century Denmark without an understanding of what he's saying and an ability to activate Shakespeare's language. To achieve this, the Shakespeare Society's artistic director, Michael Sexton, recommends getting in a class and breaking it down with the pros.
"You need to get into a room with somebody who knows what they're doing and read it out loud," Sexton says. "Getting any kind of training or class is invaluable."
Luckily, Shakespeare continues to be the mostly widely taught playwright for actors and students around the world. Conservatory programs like Juilliard consistently rank among the nation's best, but there are also learning options for actors on a budget. The Shakespeare Society, for instance, is currently offering classes with British actor Chukwudi Iwuji. "[It's] very accessible and open to the novice," Sexton says. There's also Shakespeare and Company's monthlong and weekend-long intensives in cities like New York, Los Angeles, and Boston; and the Shakespeare Forum's Tuesday nights in New York (which are basically "a lot of people just trying out monologues," Sexton says) recently won training program of the year at the Shakespeare Standard's annual Bardie Awards. That's not to mention Berg Studios in Los Angeles, the New American Shakespeare Tavern out of the Atlanta Shakespeare Company, and the Red Bull Theater in New York. The Shakespeare Standard itself is also an excellent place to get started with the Bard. The most important thing is to get out there and act.
"Becoming familiar and acquainted with Shakespeare's work is good for any human being. It's good for the soul," Sexton insists. "[And] if one gets the opportunity to perform Shakespeare at a high level, it's a privilege and an enormous joy. It's one of the things that only we in the theater can do."
Inspired by this post? Check out our theater audition listings!