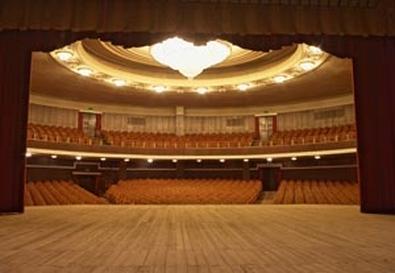 Gordon Goodman was once so confident a performer that he could fall asleep while waiting to sing. In fact, he did. Sitting in a chair onstage with the Phoenix Symphony, with a full house of 5,000 in front of him and nearly 200 musicians and singers behind him, he was so relaxed that he nodded off, waking only when his chin hit his chest.
Goodman missed his first line, but no matter. "No one knew, because it was an original piece," he recalled recently. "So I just stood up very calmly and started." Afterward, he added, he got a standing ovation.
Things changed when his larynx was damaged in an onstage collision during a performance of "Oklahoma!" Goodman recovered his voice but struggled to regain his swagger. He suffered from stage fright. In one particularly bad audition, he said, his performance resembled "the cartoon where the opera singer opens his mouth and just a squeak comes out."
An actor and singer who lives in Los Angeles, Goodman is now doubly familiar with stage fright, or performance anxiety. He recently wrote a dissertation on the subject while earning a Ph.D. in psychology from Fielding Graduate University in Santa Barbara, Calif. His study, conducted in March and April, revealed that more than 80 percent of professional actors have suffered from stage fright at least once in their careers. He also contends that his study debunks "the widely held belief that stage fright is closely linked to age, experience, success, or fears of incompetence."
Rather, Goodman writes, the condition is linked to how much control actors feel they have over a single "acting situation." Like the warning in a commercial for a mutual fund, past performance is no guarantee of future success. Basically, it comes down to confidence in the moment, something Goodman used to have in ample supply. "I was so cocky, I walked like a gorilla, like a gangster, and I knew I'd blow them away," he said. "Then I was in a severe accident…and it totally changed my life."
Elite Majority
Goodman writes that past performance-anxiety studies have focused on public speaking, test taking, sports, and music, "but less than a handful…have focused on the performance domain that gave stage fright its name, acting." He added that his study could be the first that focuses on regularly working actors, or those whom he calls "elite."
For his dissertation, which he successfully defended in July, Goodman surveyed 136 actors affiliated with either
Musical Theatre Guild in Los Angeles
or
Sacramento Music Circus
. Each actor had membership in at least one performers' union and, Goodman said, they had a wealth of experience. According to the study, 72 percent had toured nationally or internationally, 40 percent had performed on Broadway, 56 percent had at least one co-starring role on a TV show, and more than 30 percent had at least one co-starring role in a film.
Of those surveyed, Goodman said, 84 percent reported experiencing stage fright at least once in their careers. He described the condition as freezing or choking and said it is usually represented by a performance's sudden collapse, rather than a gradual decline. Anxiety is particularly debilitating to actors, because fear of the future occurs in the same part of the brain where imagination lives, Goodman explained. He likened it to an overloaded computer: It will freeze if it has too many programs open while trying to process something complicated. "Imagination," he said, "is a limited space."
Energy Crisis
Rachel Bailit said her career almost crashed during the second performance of her one-woman show, "Sugar Happens," several years ago at the Lee Strasberg Theatre & Film Institute in Los Angeles. The first night had gone very well, and she assumed that her fortune would continue. Then she took the stage. "In a one-woman show, you're very in tune with the energy" of the audience, she said. "It was mortifying when I came out, the energy."
Bailit got to the part in the show when she talked about her brother, who had died. "All of a sudden I really got stage fright," she said. "I couldn't figure it out, and I remember looking out, and everyone had a stunned look." She almost walked off the stage, a move that would have haunted her career, she said. One thing kept her onstage. "I was frozen," she said.
More-positive thoughts quickly took hold, she said, and she remembered her training: Concentrate on what you're saying; get in the moment; connect with someone. She saw a friend in the audience and continued. Afterward, Bailit said, her publicist came up to her and said there was someone who wanted to see her: Al Pacino. Suddenly she understood the weird vibe. Her peers were nervous for her, and everyone wanted to see how Pacino was responding to the show.
Bailit recalled her conversation with the Strasberg disciple: "I said, 'Do you remember when you were a struggling actor like this?' He said, 'Are you kidding? I'm still going through it.'"
Enter Brooklyn
Bailit had a lot of acting experience when she had her bout with stage fright. That's consistent with Goodman's study, which found that experience and success are no guard against the affliction. Actors such as Meryl Streep, Ian Holm, and Barbra Streisand also suffered from it after they had established their careers.
Newcomers aren't immune either. JayAre Sarerro, a college student in North Carolina, wanted to act from a young age but sometimes froze at auditions. Performance anxiety "would make my speech slurred and shaky, as well as my body," he wrote in an email to Back Stage. In an interview, he said he took classes to get over it. They helped, but he required something more. "I developed another persona," he said. "It's not bipolar. You change and become someone else."
He calls his persona Brooklyn, named for a place his parents would never take him when they visited New York. (Too dangerous, they said.) He recently performed in a musical, "Rock 'n' Roll Nightmare," that toured North Carolina, Florida, and Chicago.
"Brooklyn is very open," Sarerro said of his alter ego. "He's not afraid, not nervous at all. He's strong. He's definitely not how I am in everyday life."
The Octopus
Though this brand of anxiety was originally born on the stage, Goodman said actors have a much more difficult time in a small room with a handful of people sitting behind a folding table. That is, auditions are significantly more likely to engender stage fright than performances—by 19.2 percent, the report states.
"That kind of shoots down the theory that the more people in the audience, the more chance of stage fright," Goodman said. "It's all about who's in the audience."
Goodman's study reaffirms what many professional actors have heard dozens of times and already know, at least in theory: Those with the most confidence are least likely to experience stage fright, and confidence depends upon control. To put theory into practice, Goodman said, actors can put their attention on managing their individual tasks (knowing their lines, showing up on time, and mitigating distraction). They should never try to manage the thoughts of those who are evaluating them. "The more the person concentrates on the end result," he said, "the worse they perform."
After his accident, Goodman had a difficult time finding the freedom to not think, he said; he had to manage every moment just to get the sound out. He found his way through character roles and by doing other things: He lectures, writes and produces audio books, and is working as a media and entertainment psychologist. "People are happier when they're an octopus," he said. "It's important for an actor to have as many legs as they can."
Goodman still acts. He recently played Mr. Brownlow in a production of "Oliver!" and about a year ago he booked a commercial for Jack in the Box. He plays a man on a video dating site who is equally unctuous and obtuse. The performance is hilarious, revolting, and convincing—convincing because the character and the actor possess an equal amount of swagger.