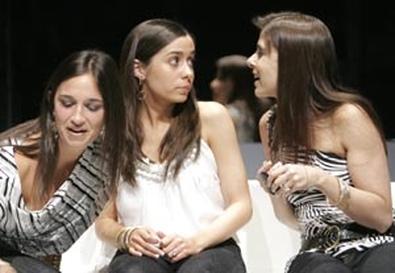 Late in David Adjmi's new play
Stunning
, a woman stands center stage and mutters, "I can't end it." Sometimes authors have a way of infecting characters with their own struggles. Perhaps in this case it's a two-way street: The play is largely about being hemmed in and fighting to get out. But Adjmi paints both himself and his characters into a corner too tight to hold the bold and brilliant promise of his first act. It's a shame. Before collapsing into self-parody,
Stunning
starts off as the year's most exciting new play.
The opening scenes do a masterly job with exposition. We meet Lily (Cristin Milioti) as a member of a peculiar species: She's a gum-chewing, Prada-wearing, money-obsessed, family-fetishizing, ill-educated Middle Eastern Jew. When she interviews Blanche (Charlayne Woodard) for a maid position, she initially rejects her for not being Puerto Rican (Blanche is black); when she hires her (because Blanche speaks some Spanish), Lily insists on calling her Anna Maria. Quickly you realize a maid means more than a menial; she's a surrogate mother, and Lily can use one: Though she's married, she won't turn 17 until next week. Her husband is an aggressive middle-aged businessman. You could call him unbridled id, but he wouldn't know what you're talking about.
Much of the play hinges on the exchange of knowledge. Lily finds Blanche reading
Eco's Semiotics
and learns that her maid is an academic between gigs. Soon, a Pygmalion relationship develops. Adjmi's writing is at its strongest here, subverting the stereotypes with charming, moving depth. Consider the following exchange as Lily curls up in Blanche's lap: "Play with my hair." "Yes, Miss Daisy." "I like it when you call me that."
The lemur-like Milioti makes for a beautiful blank slate just begging to be written on. Precious, maddening, spoiled, yearning—it's impossible to resist calling her performance stunning. Woodard is stellar, but she's hamstrung by her character's too-frequent outbursts. Jeanine Serralles and Sas Goldberg lend strong support as caricatures of Lily's sister and her friend.
But the husband is trouble. As written and played, he's an over-the-top cartoon villain. He doesn't exist on the same theatrical plane as everyone else, and it's not a coincidence that as his presence grows more menacing, Adjmi begins borrowing plot elements from movies of the week.
LCT3, Lincoln Center Theater's new initiative, has given
Stunning
a first-rate production. Anne Kauffman's stylish direction has a character-driven vitality that is far too rare. David Korins' set is a marvel of white minimalism that Lily, in an inspired bit of symbolism, insists must be freshly repainted everyday. I wish Adjmi would follow suit and white out his play's decline into desperate melodrama. By the time we reach the headshaking conclusion, it's hard to recognize the exhilarating voice that had spoken from the stage earlier in the evening.
Presented by Lincoln Center Theater/LCT3 at the Duke on 42nd Street, 229 W. 42nd St
.,
NYC. June 18
–
July 11. Mon
.–
Sat
.,
8 p.m
.;
Wed. and Sat
.,
2 p.m
. (
646
)
223-3010, www.dukeon42.org, or www.lct.org. Casting by Daniel Swee
.