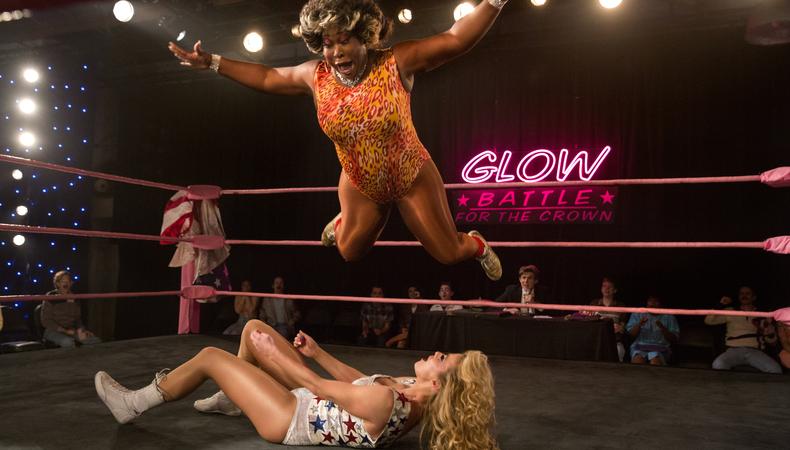 Stunt performer and coordinator Shauna Duggins is no stranger to primetime, having worked on series like "Alias," "Ray Donovan," "Crazy Ex-Girlfriend," and more. And she's just getting started.
Ahead of this year's 70th Emmy Awards, where Duggins is nominated for Outstanding Stunt Coordination for her work on Liz Flahive and Carly Mensch's 1980s female wrestling hit "GLOW"—just renewed for a third season—Backstage chatted with the nominee about building trust with the cast of the Netflix series, and how she ended up with what she calls the coolest job ever.
'In the Envelope' Podcast: Betty Gilpin of 'GLOW' on Getting Your Hopes Up for a Dream Role
You have a background in gymnastics. How did that turn into a passion for stunt work?
At first I didn't know about stunts. When I moved to Los Angeles, I was trying to figure out what I wanted to do in the industry and what I loved. And I knew I loved performing. I found a gym that had open gym—I just wanted to play around. It was kind of like going home, having done gymnastics collegiately. And in open gym there were all these stunt people. There were martial artists and break dancers and gymnasts and everybody was just kind of cross training with each other. Through time I got to know them and it was one of those, "Wait, you guys do this for a living? This is the coolest job ever!"
From there, I started training with them four to six days a week, at night or whenever I could, and I quickly determined this is what I want to do. I started working on everything I could get my hands on in the stunt world.
How did you transition from being a stunt performer to a stunt coordinator?
I started performing and doubling and that gradually led into coordinating after some time. Now I do both. Performing is a physical rush: getting to put your body on the line, physically figuring out what the director wants. Coordinating is getting to be involved from the earliest aspects: sitting down with the producers, directors, and writers and asking, "What do you visualize? And how can we achieve that?"
Do you prefer performing over coordinating or vice versa?
For most stunt people, the progression naturally is to go to coordinating. So as the opportunities have come up, I've taken them. Sometimes I miss performing and things will come up that are too good to pass up. And then a great coordinating opportunity will come up, so I'll do that. I've doubled for Jennifer [Garner] for a very long time and during the second season of "GLOW," she decided to do an action movie called "Peppermint." That was something I just couldn't pass up. I loved partnering with her and doing action, then going back to coordinating on "GLOW."
Has working on "GLOW" been different from other series you've worked on?
"GLOW" is constant work because the wrestling is part of the story. Even if you're not shooting actual physical and wrestling scenes, you're rehearsing, you're trying to stay one or two episodes ahead. Because the girls are so busy and a lot of the scenes have all of the actresses in there, it's about trying to figure it all out. If we can only train them on Tuesday or Friday for two hours in between scenes before work or after work, we try to utilize every bit of every second. We go through the specific moves that they need to learn and the moves that they want to do.... We're taking them out of their comfort zones and they go for it. I'm so proud of them.
How do you build trust among a cast, especially a big one like on "GLOW," for such a stunt-heavy project?
We have a great team between myself, Chavo [Guerrero]—Chavo comes from a wrestling family, he's a phenomenal wrestler—and Helena Barrett. And the three of us, all we want to do is keep the cast safe, first and foremost, and then we want to make them look good. Once they realized all we were there to do was make them look good, they realized coming in that ring was a safe space where they could be honest. We know we're taking them out of their comfort zone, we know this isn't what they do, so all we ask is that they trust us, work with us, and be honest. If something's hurting and they're not feeling great or if they prefer this move over that move, we encourage them to tell us because we can build to their strengths. Everything that's in there is there to enhance these girls and make them look the best they can.
There are some days where they'll come in super empowered, saying, "Let's do this!" Other days they come in and they're physically tired because they've had a 16-hour day the day before. We respect what they have going on in the acting world and they give us nothing but respect and hard work when they come in. It's a two-way street.
Do you have advice for people who want to get into the stunt world?
Stunts aren't about what's the biggest action you can do. It's about what fits the story or helps the humor in it. For me, action always has to move the story along. If it doesn't fit that, why are you doing it?
Knowledge and experience are so important, too. You can't be an island who knows it all. And the minute people feel like they have to be the end-all-be-all that knows it all, you're hurting the product. Even though I have a lot of experience, I still contact people and say, "I'm thinking of doing this and you're really good at this. Is there something I'm not considering?" With our industry, every time you do it, it's a little bit different. Don't be afraid to ask for help and utilize people who are there.
Ready to join a TV ensemble cast? Check out Backstage's TV audition listings!