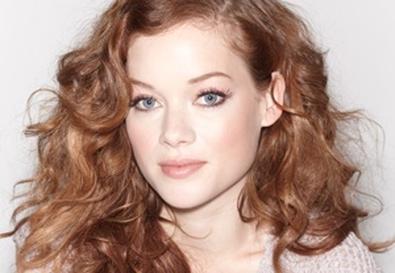 Now 22, Levy read for Tessa when her résumé only boasted a recurring role as promiscuous bad girl Mandy Milkovich on the Showtime series "Shameless."
"Through the whole process, she was always so level and unshaken. I later heard from her manager that when she got the part, she was screaming and jumping up and down. I never would have known," Kapnek says, adding that Levy's inexperience might have helped her land the part. "I think a lot of the time when people have been in the industry forever and have been at it a long time, they belong to a very specific cadence of comedy. And Jane was so other than that; she had such a natural delivery and such a realistic and organic state of mind."
Levy has always done things her own way, be it living in England for six months at 15 or dropping out of college after a year and moving to New York City to start her acting career. Growing up in Marin County in Northern California, Levy knew she wanted to be an actor from an early age and participated in community theater and shows during her freshman year of high school before quitting. "I didn't really get along with my drama teacher, which was part of it," she admits. "I would always get a B-plus, no matter what. I gave it everything I got, and he gave me a B-plus; it made me crazy." She also confesses she found something clichéd about wanting to be an actor. "I figured this was ridiculous -- every girl dreams about being an actress."
Later, while attending Goucher College in Baltimore and finding she lacked a passion for her studies, she had another realization: "Then I thought, this is even more ridiculous, to spend all this money on tuition when I didn't know what I was doing, and if there was something I really wanted, I should go after it." Her first step was to move to New York City, where she stayed at a house in Brooklyn with her brother, who was attending New York University.
Though she was still a teenager, Levy says she's never hesitated at jumping into a new situation. She cites England as an example; though her high school didn't have an exchange program, she found one on her own in order to study abroad. The experience didn't turn out quite as she planned. "I thought all of England would be like London, and I thought I would be wearing a cute uniform and smoking cigarettes in the bathroom and having picnics after school," she says. "I ended up in the West Midlands near Birmingham, and it's not the nicest area, and the family was not very nice to me. They treated me like an American slave and made me babysit and cook for them and clean the house. But I learned a lot about seeing things through, even when it's not fun or easy."

New York Stories
Levy had never formally studied acting before signing up for a two-year program at the Stella Adler Studio of Acting, where she flourished. "At college, I wasn't passionate about anything I was studying. When I got to acting school, I felt I had finally found it," she enthuses. "To be honest, there are so many things I learned in acting school beyond the method; it was a safe place to practice. So acting school was about exercising that acting muscle and doing it every single day -- and having people tell you that you're bad every single day! Which pushes you to work even harder." Levy went straight through the summer without taking a break, allowing her to finish the program in a year and a half.
Levy decided not to pursue auditions while studying, choosing instead to concentrate on school. "I don't know how you can ever really be ready, but I just wasn't ready mentally and emotionally," she says. "I was too nervous." Just prior to graduation, she sent out a packet with her headshot and résumé to talent agents, managers, and casting directors around New York City. One manager, James Suskin, called her in for a meeting -- once he found her. "I guess I didn't include my email in my package," Levy says with a laugh. "So he found me on Facebook. I was like, 'Who is this creepy guy on Facebook? I should definitely not go over there.' But then I looked him up and realized he was legitimate." Suskin began sending her out on auditions, and Levy booked one of her first; he signed her and they've been together ever since.
Which is not to say auditioning came easy to Levy, who says bluntly, "One of my first was an HBO pilot, and I almost shit my pants going in there." For one of her first screen tests, she broke out in hives the night before. And even landing the parts proved intimidating. "Shameless" marked her first time in front of the camera. "My first scene I ever did was me pouncing on Cameron Monaghan and taking his pants off, essentially pretending to go down on him," she says. "My first scene ever, ever, ever."
Levy says she still struggles with auditions but has calmed down considerably in the two years since she started. Last year the script for "Suburgatory" came her way, and though it was her first pilot season, she knew it was something special. "I try not to get attached to stuff; I try to move on," she says. "But this was the first one I went out for and it was exciting." She says the process was fast -- she estimates auditioning six times within 10 days. "I was told by everyone to keep my expectations low, so I did. But when I found out it was actually going to happen, I went crazy."
As for having to relive her teen years onscreen, Levy says she doesn't mind. "It's fun with Tessa because she's a very advanced 15-year-old," she says. "I wasn't as comfortable with myself or mature when I was her age. And I like her as a person. I like what she does for her friends, how she is with her father."
Not unlike her character, Levy sounds well-adjusted when it comes to dealing with her new situation, which includes having her face all over town on billboards and posters. "I have amazing parents and some really great friends that would kick my butt if I ever started acting different," she says. "And my life really hasn't changed that much, except I can buy myself stuff." Her big extravagance? "When we got picked up, I bought a really nice bed."
First Position
Now that the world is aware of Levy, there will be more opportunities to see her on bigger screens. She had two films at this year's Sundance Film Festival; one, "Nobody Walks," she says she "was all but cut out of," but the other, "Fun Size," opens Oct. 26 in theaters. "I play the sidekick of the main character, a girl who desperately wants to be popular," Levy says, adding, "It was a lot of fun to work on." Her one disappointment was not getting to meet co-star Johnny Knoxville during the shoot.
As for future roles, Levy is shooting the much-discussed remake of "Evil Dead" on her hiatus for release in 2012. And when it comes to choosing future projects, she claims she's up for anything. "I'm not looking for anything specific," she says. "I just would like to try new things and always be doing something different."
In the meantime, she can be seen on "Suburgatory," which has already been picked up for its second season. Kapnek teases that the May 16 Mother's Day-themed finale will feature some of Levy's best work yet. "It will really knock your socks off in terms of her range and acting chops," Kapnek says. "It's pretty dramatic for a half-hour comedy, and she destroyed it. She really made me cry." And Kapnek, for one, has no doubt that Levy is in the acting game for the long haul. Kapnek jokes that she's often said to her agent, "I know we'll look back at this and say, 'Remember when Jane Levy was the star of "Suburgatory"?' She's just destined for huge things."
---
Outtakes
- The first role Levy booked was in an indie film called "Eye of the Hurricane," but she had to drop out because she was cast on "Shameless."
- Levy met her TV dad, Jeremy Sisto, for the first time at the "Suburgatory" table read: "We hit it off instantly. We just get along with each other and have a really fun time."
- For Season 2 of "Shameless," the character Levy originated was played by Emma Greenwell.