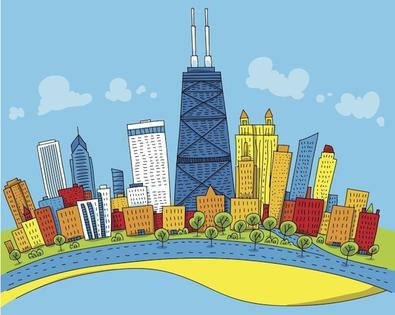 Claire Simon, Simon Casting
An Artios winner for "Prison Break" and casting director since 1996, Claire Simon's road to casting wasn't something she anticipated. After being an actor for 10 years and an agent for five, Simon looked forward to starting her own agency. But when a CD friend was diagnosed with cancer, she enlisted Simon to keep her business going, offering her a partnership. Since her friend's passing, Simon has stuck with a business made easier by the recent influx of projects in Chicago. "Last year we had seven TV shows being shot here, so every year the actors have more and more chances of getting guest star roles and really building their résumés," she says.
Having worked on series from "Crisis" to "Chicago Fire" and "Betrayal," Simon says the experiences have taught her to "just keep digging for actors and trust my gut." While casting extras for the "Prison Break" pilot, Simon brought in a woman with tattoos rather than the man the role called for. "I always try and bring in a variety to think outside the box," she says of her decision that changed executive producer Brett Ratner's vision of the character.
All from Illinois themselves, these Chicago casting directors know that their city is bursting with opportunities for determined actors.
David O'Connor, O'Connor Casting Company
Celebrating his 25th anniversary as a casting director this month, David O'Connor is a Chicago native who knows the city has too much to offer to ever leave.
Starting at just age 23, O'Connor says he "fell in love with meeting and talking to actors and understanding the process." Decades later, by using his "fairly decent eye in terms of what was good and what was bad," he's built an impressive résumé and connections with countless actors throughout the city. "There were 12 or 15 people in this showcase I just did, and I've auditioned at least 90 percent of them 30-plus times for different projects over the last few years," he says.
Though O'Connor has close relationships with his city's actors, the established CD says, "We're always bringing in new actors—it's a constant for me.
"There are a lot of newbies that are getting mixed into it that if they were in New York or L.A., [they] wouldn't have a chance for an audition, but we'll give them a chance if we can because we're trying to nurture people and find new faces and new abilities," he adds.
"I think it's a common thread through all of us that we're always looking for the next person—we're always looking to surprise the director or creative on something."
Darlene Hunt, ExtraOrdinary Casting
Specializing in roles for extras, Darlene Hunt created ExtraOrdinary Casting nearly 10 years ago. "I got an itch for it when I became an extra myself and started working behind the scenes," she says. "You know, my dad actually got me started—he's 94 now and he's still an extra!"
In Chicago, Hunt casts for print, commercials, music videos, television shows, and TV pilots, among other things. Her projects include "Shameless," "Public Enemies," and "Drinking Buddies."
She knows the value of being a background actor in these projects. "As an extra, there are a lot of opportunities for them to bump you up to a principal role, and having the right attitude makes a big difference," she says.
"People say if you're an extra you can't be an actor, but that's actually not true. It's an opportunity every time you're on set."
Inspired by this post? Check out our Chicago audition listings!
And check out Backstage's YouTube channel for advice from inudstry professionals: