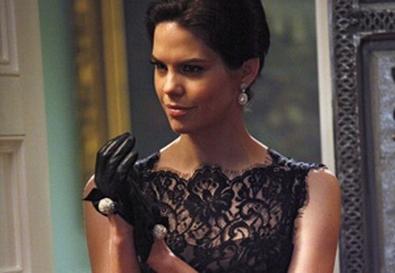 The white-hot HBO series "True Blood" has exploded into the pop-culture arena over the past two years, fueling the international vampire obsession. But unlike its "Twilight" counterpart, "True Blood" isn't afraid to show the sizzlingly sexy and graphically violent, placing it at the decidedly grown-up end of the blood-sucking spectrum.
Since the beginning of the series, actor Mariana Klaveno has been in some of the grisliest and steamiest scenes of them all—as Lorena, the vampire who turned Bill Compton (Stephen Moyer) into Vampire Bill during the Civil War and who continues to fight with Sookie Stackhouse (Anna Paquin) for his love. The role has required Klaveno, whose brooding, feline beauty seems to effortlessly morph from charming to cruel in a flash, to flesh out a character who relishes in the bloodsport of being a vampire, unlike Bill. And though she's a true villain in the fictional Southern setting of Bon Temps, La., Lorena is driven by an unrequited love, making her unexpectedly relatable.
As the series returns for its third season, Klaveno talked to Back Stage about the freedom of embodying a supernatural being, avoiding the urge to Google herself, and why she held onto her restaurant job through the second season.
Back Stage
: What is it like to play this incredibly rich, meaty villain?
Mariana Klaveno:
It's incredible. I could not have dreamed up this part. Last season, every script I got, with the '20s flashback and the '30s flashback, I just was pinching myself. It's so much fun. She's so flawed and fabulous. I love all of that; she is not perfect, and I love her all the more for it. I hope people love to hate her. I know she's certainly not somebody that you're rooting for.
Back Stage
: The show seems to have taken pains, especially with those flashbacks, to help the audience understand Lorena's connection to Bill.
Klaveno
: Yes, I hope so. I think the writers really do that well. It's not necessarily so black-and-white. That's one of the really brilliant things about the show. They show how vampires relate to humans, and vice versa: What parts of humanity do they maintain, and what parts do they not? And obviously some do so more than others. Bill fights really hard to maintain some of his humanity, and someone like Lorena doesn't. There's parts of her that are just not there anymore, nor does she want them to be, because that's part of her human life, and that's dead and gone now. But it's interesting to me that love seems to be something that stays with them. Love and jealousy and greed and lust—those all carry into your vampire life
Back Stage:
How did you prepare for the role when you found out you were cast? Did you go back and read the books?
Klaveno:
I did read the books, although she's not really in the book so much. She's there a little in the third book, and you kind of hear about her the whole time, but you really don't see her at all, and there are none of the flashbacks. None of the rich relationship that you have in the show between Bill and Lorena exists in the book. They kind of took some liberties, and thank God they did. I was very nervous coming into Season 2 because I didn't really know how far to take it, and, really, playing a supernatural creature means it's sort of anything goes. The canvas is blank and wide open, which is a blessing and is a curse sometimes because you don't have any boundaries. You think, "I could do anything. So, what do I do?" But I try to embrace those moments rather than run away and hide.
Back Stage:
What was the audition process like?
Klaveno:
It was not unlike normal auditions. I only read twice. I went in for some producers, and I knew that it was going to be an amazing show. I was immediately nervous. I worked on it with a friend of mine who I often work on auditions with, and we talked it over and started to make some really bold choices, because I'd rather fail big than fail small. It also seemed like the kind of show that allows that.
Back Stage:
What has it felt like to be part of a show with such momentum and with such a devout following?
Klaveno: I
t's really surreal. I've only experienced it a little bit, while people like Stephen and Anna and Alexander [Skarsgard] have it on a huge scale. It's crazy but it's incredible, and I'm so grateful and thankful. It's incredible to not only to be on a show, because in this industry it's amazing to be on any show, but to be on a show that's, quite frankly, kind of a phenomenon. And to be honest with you, I try to stay off the Internet a lot. I don't mean to ignore fans. I feel terrible to do that. My close friends will look over some stuff and guide me into the right places. But there's so much negative stuff that it's sometimes best to let that be. I think it can be kind of poisonous to be constantly Googling yourself. So to some extent I kind of keep myself apart from that and try to focus on the work and not let that influence me in a lot of ways.
Back Stage:
I read that you held on to your restaurant hostess job for some time, even into the second season of "True Blood," partially because you identified as a starving artist.
Klaveno:
I did. I worked on Season 2 from March through May of last year, and I didn't quit my job until July. So I'd be filming during the week, and then Saturday night was my shift at the restaurant. I was just really nervous to cut that cord because I was struggling for so many years, and I thought, "I just have to be really, really positive that this is it. I can't quit and then have to come back six months later. If I leave, it has to be for good." I stuck it out for a long time, which I know was comical to everyone involved. You just never know.
Outakes:
Grew up in Washington state; her parents farmed wheat and barley
Other TV credits include "Alias," "ER," and "K-Ville"
Recently filmed the period piece "No God, No Master" opposite David Strathairn; she says, "Working with David was a dream. He's everything you would want him to be. I look at him, and that is a career that I would love to have: somebody who works constantly and is respected by everyone."