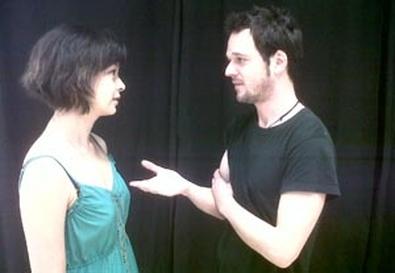 Paul David Young has written a deceptively quiet winner with his new one-hour one-act, "In the Summer Pavilion." Set on an alcohol- and LSD-fueled summer night in the titular location, three 20-something friends experience a multiplicity of futures, in shared hallucinations, that might be theirs. Surprisingly straightforward, richly compassionate, and directed with clarity and intelligence by Kathy Gail MacGowan, the show is an early highlight of the Fringe.
Young shows an impressive awareness of both the shifting, halting, yet unlimited hopes of youth and the realities of circumscription that experience brings. His characters—the rich but unfocused and insecure Ben (Ryan Barry); the mercurial, confident, also wealthy Nabile (Meena Dimian), who has masculinity issues; and the artistic, self-contained, yet loyal Clarissa (Julia Taylor Ross), whose drive is the strongest—accrete into complex beings as much through the differences in their possible futures as through their similarities. All three actors do excellent work, with the shaggily sexy Barry getting to show the greatest range, including a strong delivery of Young's intriguing and enticing prologue.
A final shout out to lighting designer Kia Rogers and sound designer Kristyn R. Smith, whose clean, simple work, limited by the primitive Living Theatre venue, nevertheless immeasurably supports and enhances the proceedings.
Presented by Go to Her Room Productions as part of the New York International Fringe Festival at the Living Theatre, 21 Clinton St., NYC. Aug. 13–22. Remaining performances: Sun., Aug. 14, 4:45 p.m.; Mon., Aug. 15, 4 p.m.; Sat., Aug. 20, noon; Mon., Aug. 22, 8:15 p.m. (866) 468-7619 or www.fringenyc.org.