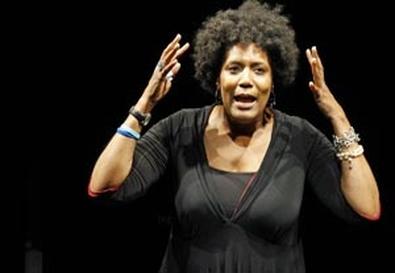 Now in its third year, this summer series of shorter works remains a pretty hit-or-miss affair, with a new offering from Neil LaBute the standout of Series A.
Things get off to a somewhat shaky start with writer-actor Nancy Giles' monologue "Things My Afro Taught Me." A winning and charismatic performer, Giles at first seems ill at ease sitting in a chair (Maruti Evans' scuffed black set looks painfully cheap) and talking to the audience about her struggles to accept her wild hair. But she gradually stands up and warms up, and an extended riff on a former boss at Lifetime is hilariously dead-on. Closing the first act, John Augustine's meandering comic drama "Death by Chocolate," about a woman dealing with the aftermath of her husband's titular demise, repeats many of the same diatribes against the isolation caused by technology that the playwright previously covered in "People Speak," part of "Summer Shorts 2." Both Sherry Anderson and Mary Joy, standouts in last year's series, deliver off-pitch performances under Robert Saxner's direction, coming across as whiny and shrill, respectively. But Aaron Paternoster shines in his multiple roles as the men in their lives.
The evening finally kicks into high gear with Neil LaBute's "A Second of Pleasure," which, happily, finds the playwright writing about real adults instead of callow youths. As lovers arguing at the train station over whether she'll accompany him on a romantic getaway, Margaret Colin and Victor Slezak are both superb. Colin in particular takes LaBute's newly mature material and runs with it, turning in a witty, rueful performance under Andrew McCarthy's direction.
The evening ends with Skip Kennon and Bill Connington's tone-deaf period musical "The Eternal Anniversary," a mind-boggling affair filled with more than its share of glaring plot holes. Preparing a lovely meal for their 20th anniversary, Tom (Robert W. DuSold) eventually accuses his lovely, ethereal wife, Sara (Leenya Rideout), of having an affair years before. She claims she went to her sister's and left him a note; he insists she abandoned him on their anniversary for her lover. The twist ending can be seen a mile off, and Kennon's songs, which the actors deliver with vibrato-laced overenunciation, rely heavily on
life/wife
rhyme schemes. Lacking tension, surprise, and common sense, "The Eternal Anniversary" threatens to turn into the eternal musical.
Presented by J.J. Kandel and John McCormackat 59E59 Theaters, 59 E. 59th St
.,
NYC
.
July 24
–
Aug. 25. Schedule varies
.
(
212
)
279-4200 or www.ticketcentral.com
.
Casting by Billy Hopkins and Jessica Kelly
.