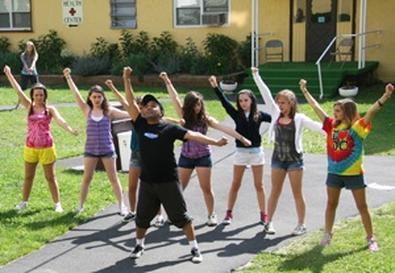 William Shakespeare's "Cymbeline" is probably not the first title that comes to mind when you think "children's theater camp." But a few seasons ago at the Idyllwild Arts Summer Program in Idyllwild, Calif., actor-turned-director Johanna McKay found herself leading seven kids, ages 8 to 12, through that play's complicated dramaturgy. McKay wrote a mini version in rhymed, child-friendly iambic pentameter ("King Cymbeline came roaring through the house: / 'Get out! How could you marry her, you louse?' "). She also added a sequence involving a slow-motion sword fight.
This artistic excursion was as rewarding for McKay as it was for the kids, perhaps more so. "We did it at the open-air amphitheater," she recalls. "We had the audience sit on the stage. You could see the woods and the hills and flags fluttering in the breeze. It was everything I'd hope a summer experience would be if I were in a Shakespeare repertory company." Sounds like a pastoral paradise, doesn't it?
Campers rehearse for "Happy Days: A New Musical" at Oregon Conservatory of Performing Arts. (Rodney Lee)

Working for a summer theater camp or similar summer program may not be for everyone. But for those who enjoy working with young people, it can be a viable—and inspiring—alternative to acting in a summer-stock program yourself or pounding the sunbaked pavement looking for work in the city. Of course, no two camps are exactly the same. Back Stage recently looked at four programs to get an idea of the options available throughout the country.
Stagedoor Manor, Loch Sheldrake, N.Y.
Arguably the most famous of all children's theater camps, Stagedoor Manor is in a renovated resort hotel in the Catskill Mountains. The list of Stagedoor alumni includes such names as Robert Downey Jr., Natalie Portman, Zach Braff, and Lea Michele. Actor-director Todd Graff drew on his experiences at Stagedoor for his 2003 film musical, "Camp."
Campers at Stagedoor range in age from 10 to 18. As with most acting camps, participants not only take classes and workshops but also prepare a production as the finale of a three-week session. The camp is extremely popular. According to program director Chris Armbrister, a decade or so ago Stagedoor operated at 80–90 percent capacity. Now, in the "Glee" decade, it tends to be fully booked by the October preceding its three summer sessions.
Unsurprisingly, employment at Stagedoor is highly desirable. Says Los Angeles actor and teacher Amy Lyndon, who worked at the camp while a BFA student at Syracuse University, "I enjoyed it so much, they had to remind me that I worked there and wasn't paying to participate." Armbrister notes that there's a 95 percent return rate among the camp's directors, choreographers, and music directors.
Armbrister also hires camp counselors, who manage kids in the dorms by night and serve in various capacities—videographer, lifeguard, makeup artist—by day. There's even a sports counselor position. "In a lot of camps you have all these sports, and then you have one person doing the drama program," says Armbrister. "We're the exact opposite. We have one guy who teaches our tennis classes and runs our cast-versus-cast volleyball games. He's our sports department."
Brian Coffey

New Jersey–based actor Brian Coffey has worked as a teacher and director at Stagedoor for a half-dozen summers. He notes that Stagedoor campers often perform highly sophisticated dramatic material. One season Coffey was set to direct Beth Henley's "Crimes of the Heart" with kids ages 13 to 17. But when enrollment shot up, he was asked to switch to a show with a larger cast: the homophobia-themed "The Laramie Project," from Moisés Kaufman. "There's no way," Coffey says, "to 'sugarcoat' the themes of such a play. The only thing I can do is to tell the kids, 'This is adult material. If you have questions, ask.' "
Coffey is often startled by the talent level of the kids he encounters. He recalls one tiny blond-haired girl who performed a monologue as an aging Italian woman looking back on a joyless life. The child's skills, he says, were astounding. And she was one among many: "You see kids, and you think, 'Oh, that's a young Christine Baranski. That's a young Mandy Patinkin.' "
Despite their talent, these young people often lack an understanding of basic playing techniques. Coffey recalls directing children in a vintage comedy. "They don't necessarily have a knowledge of humor earlier than, like, 'The Hangover,' " he says. "So I had to teach them spit takes, double takes, triple takes. They were so hesitant. I had to keep saying, 'It's funny—trust me, it's funny.' And then they realized, once they started getting laughs, that it was funny. It was like watching a flower bloom."
Idyllwild Arts Summer Program, Idyllwild, Calif.
Some of the senior artistic staff in the drama division at Idyllwild are working actors, directors, or choreographers. All are expected, however, to have some previous experience working with young people. But according to the summer program director, Steven Fraider, few staff members are certified public-school teachers. "I hope it doesn't sound immodest," he says, "but we think we have a higher standard than that."
In addition to faculty, some 60 people are hired as camp counselors. These positions are relatively low-paying and tend to be filled by college students or recent graduates. If you're a counselor with a theater background, you won't necessarily be in charge of drama kids alone. You may supervise music or visual arts campers as well.
Most of the summer sessions at Idyllwild are two weeks long, but some of the larger theater programs last three weeks. Theater campers do more than simply rehearse a show for final presentation. They also build sets and make props and costumes for the performances. "You could probably get better-looking stuff by renting it," says Fraider, "but we think the students learn a lot more by making it."
Johanna McKay

Johanna McKay discovered Idyllwild 17 years ago while she was an MFA acting student at UCLA. She started out as an assistant to the late John Altieri, who began the camp's "Shakespeare's World" program. McKay had limited institutional experience working with young people but had tended kids before: "Who knew that my typing class and my baby-sitting were gonna be the things that really helped me out in life?"
Eventually McKay took over the "Shakespeare's World" program. In addition to her adaptation of "Cymbeline," she created a version of "Hamlet," complete with an interpolated "pirate" episode showing Hamlet, Rosencrantz, and Guildenstern on the high seas. Recently, an adaptation of "As You Like It" that McKay prepared for Idyllwild was published.
Her work at the camp led McKay to a new career during the non-summer months. She now is employed by P.S. Arts, which provides arts training for kids in underfunded public schools in the Los Angeles area. That doesn't mean McKay is done with acting. "Even though Idyllwild is two and a half hours from L.A., my managers know when I'm leaving town," she says. "If something big comes up, they'll call me. And the camp lets me off."
She encourages actors with curiosity about camp work to give it a whirl, even if it takes them out of the audition pool for a spell. "You might find yourself sucked in," she says.
Oregon Conservatory of Performing Arts, Medford, Ore.
Jeff Tabler, artistic director of Oregon Conservatory of Performing Arts, in rehearsal. (Rodney Lee)

Artistic director Jeff Tabler founded OCPA in this southern Oregon community in 1998, in part to compensate for the diminishing arts instruction in public schools. In addition to the organization's summer camp, OCPA offers classes during the school year. Over the seasons nearly 2,000 kids have participated in the conservatory's programs.
The summer program is a day camp, so there are no dormitories that require the hiring of counselors. With campers returning to their homes each night, there tends to be more day-to-day parental involvement than one would find in a sleepover setup. So staff members sometimes face the prospect of dealing with stage moms or dads.
Tabler hires instructors and other staff largely from among the local theater and film community. Southern Oregon University and the Oregon Shakespeare Festival—both in nearby Ashland—are handy resources. For newcomers with little or no experience working with kids, internships can provide a foot in the door.
Tabler stresses that staff must be part of a team: "We certainly don't like anybody coming in and just saying, 'I can do it all myself, and I don't really need you but I'm stuck with you.'... [Staff members] have to have patience with kids, understand kids. And when I say 'kids,'…we work with kids up to 19."
For Tyrone Wilson, who's also a longtime actor at OSF, 2012 will mark the ninth season at OCPA. Williams runs the conservatory's "Classical Camp," directing abridged versions of plays by the likes of Shakespeare and Molière. Because of his wealth of experience, Williams enjoys considerable autonomy in picking scripts and devising curricula. This summer, Williams intends to direct a Shakespeare play leavened with Monty Python–style antics.
Working in a day camp requires a talent for adaptability, Wilson says. "You walk in, and they say, 'Oh, [this camper] isn't going to be here today. He has a dental appointment.' And you go, 'Okay, we didn't know about that, did we, until this morning? So we're going to have to change what we're doing in rehearsal today.' " Wilson double-cast last season's "Tartuffe" in part to avoid such disruptions.
Wilson is frequently impressed with the creative maturity of the campers. "On the other hand," he says, "I'm surprised at how young they are and how much they haven't lived yet." He feels that his own acting has become "simplified," thanks to his work at the camp: "I have a more articulate way of [explaining] my own process because I've had to explain it to a 12-year-old."
Long Lake Camp for the Arts, Adirondack Park, N.Y.
At Long Lake Camp, it's all about the camper. Geoffrey Burnett, Long Lake's co-director, explains: "We make everybody feel like they're very, very valuable. We offer a noncompetitive approach to theater, and that dictates who I hire. So we're not looking for your very aggressive, bombastic, egotistical director, who says 'Look at me through my kids.' We're looking for those who say, 'Wow, look at those kids!' "
Campers rehearse a new production at Long Lake Camp for the Arts.
(Geoff Burnett)
Long Lake gives its theater campers plenty of opportunity to explore artistic and recreational pursuits in addition to drama, Burnett notes. In fact, kids structure their own days. If they feel like exploring ceramics or canoeing instead of taking an acting workshop, they're welcome to do so.
Sam DiRosa, who has taught and directed at Long Lake for two seasons, offers one amendment to Burnett's description: If campers wish to be part of a theater production, they must make themselves available for rehearsals. There's no running off to a table tennis tournament when there are scenes to be run.
Making kids feel at home and comfortable is the task not only of Long Lake's camp counselors (known as "unit leaders") but also of instructors such as DiRosa. Most kids love being at camp, but bouts of homesickness are inevitable. Some campers are shy or uncomfortable about themselves to begin with.
DiRosa says he has never encountered a child at Long Lake who hasn't been able to befriend a like-minded camper. "It's not that we play matchmaker or anything," he says, "but if we see certain kids who are really quiet, who just sort of keep to themselves, we'll go up to them and start talking to them, see what they're interested in, what they're into…. Between all the staff there, we really get to know the kids and troubleshoot to see what it is that's bothering them."
The work at Long Lake can be strenuous. In each of his seasons at the camp, DiRosa has participated in all three 3-week sessions. At each session he has directed two musicals, one rehearsing in the morning, the other in the afternoon—and these are large-cast shows, such as "Annie" and "Les Misérables." After DiRosa rehearses the second musical, his day isn't yet over; he will then teach workshops on such topics as improvisation and audition technique.
He doesn't mind the hard work or long hours. Nor does he fret about taking a break from his own acting career. At the staff talent show DiRosa is sometimes asked to perform. He avoids it: "The last thing I want to do is sing."
In autumn and winter and spring, he says, everything revolves around his own career and creative development. The summer months provide a welcome respite—an opportunity to focus on the artistic growth of somebody else.