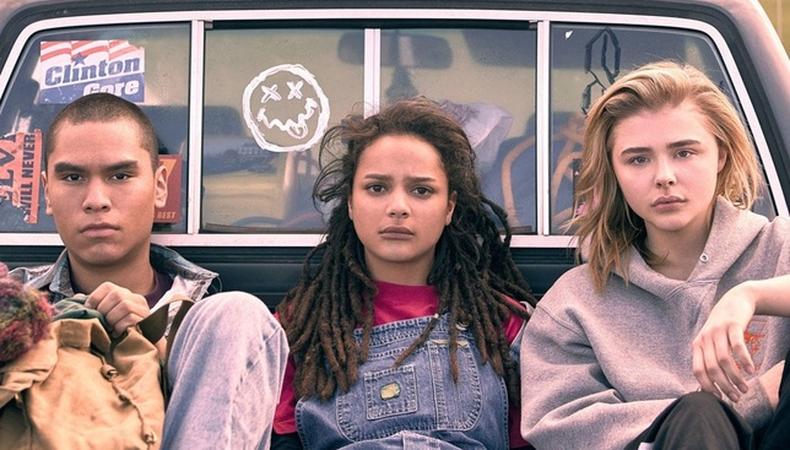 The Sundance Film Festival, an increasingly significant awards season player, closed out its 2018 edition Jan. 27 by handing out awards to some of its 123 films. All the while, the true prize for some of the films that premiered—major distribution—was still elusive.
"The Miseducation of Cameron Post" was awarded the highest honor by the Park City, Utah festival in the U.S. dramatic competition: The Grand Jury Prize. Chloë Grace Moretz, Sasha Lane, and Forrest Goodluck are among the stars of this beautiful teen drama directed by Desiree Akhavan about a girl sent to gay conversion therapy. The members of the jury responsible for the U.S. dramatic winners included actors Michael Stuhlbarg, Jada Pinkett Smith, and Octavia Spencer, as well as the newly Academy Award-nominated cinematographer Rachel Morrison and filmmaker Joe Swanberg. This team also singled out Benjamin Dickey in Ethan Hawke's latest directorial effort, "BLAZE," to receive the U.S. Dramatic Special Jury Award for Achievement in Acting.
On the U.S. documentary side, the Grand Jury Prize went to "Kailash," about activist Kailash Satyarthi and his work to end child slavery. Meanwhile, the World Cinema Grand Jury Prizes went to "Butterflies" and "Of Fathers and Sons" in dramatic and documentary, respectively. Attendees deemed Andrew Heckler's "Burden," starring Garrett Hedlund as a member of the KKK who renounces his racist past, the winner of the Audience Award for U.S. Dramatic. The festival still has yet to announce the recipient of the new Festival Favorite honor.
Sundance Institute organizers were effusive about the work presented. "This Festival has been extraordinary," festival director John Cooper said in a statement. "It's been a pleasure to stand shoulder-to-shoulder with these artists, and to see their work charm, challenge and galvanize its first audiences." Among the fest's other highlights were Maggie Gyllenhaal in Sara Colangelo's "The Kindergarten Teacher," Carey Mulligan in Paul Dano and Zoe Kazan's "Wildlife," and Mia Wasikowska and Robert Pattinson in David and Nathan Zellner's "Damsel."
Distributors, however, were seemingly less eager to nab some of the titles that had their premieres over the past week. One of the biggest deals went to "Assassination Nation," a violent teen flick, which sold to Neon and Joe and Anthony Russo's AGBO for $10 million. Neon, following up their Oscar-nominated success with "I, Tonya," was rather busy at Sundance 2018, buying the drama "Monsters and Men" and the documentary "Three Identical Strangers" for North America.
One of the most discussed premieres ended up at HBO for a reported $7 million in an acquisition that surprised those who assumed it would be headed toward a theatrical run. Jennifer Fox's "The Tale," starring Laura Dern, is a narrative feature and unsparing memoir of her own sexual abuse. "It has always been my intent to find an engaged distribution partner who deeply understands the wide reach of the project, not just as a film but also for the impact it can have on a larger global conversation," Fox explained in a statement. "In a world in which stories like mine have often been pushed into the darkness, no one has been better at shining a light on storytelling and important social issues than HBO." The cable channel also secured the U.S. rights to documentary "The Sentence," which earned its section's Audience Award.
The wacky satire "Sorry To Bother You," featuring Lakeith Stanfield, Tessa Thompson, and Armie Hammer, went to Annapurna Pictures. The distributor, which got the worldwide rights, declared, "We fucking love this movie." It was a sentiment echoed by many critics at the festival who fell for director Boots Riley's strange vision.
Elsewhere, Bleecker Street picked up the Ben Foster–starring "Leave No Trace," the newest film from "Winter's Bone" director Debra Granik, domestically. Along with 30West, the indie distributor also spent some seven figures on Keira Knightley biopic "Colette." Other deals included The Orchard and MoviePass picking up the ripped-from-real-life crime story "American Animals" for North America; Saban landing Chloë Sevigny's bloody turn as Lizzie Borden in "Lizzie"; and studio Gunpowder & Sky grabbing Nick Offerman and Kiersey Clemons' quirky "Hearts Beat Loud."
Festival co-founder Robert Redford said in a statement, "The work of independent storytellers can challenge and possibly change culture, illuminating our world's imperfections and possibilities. This year's festival is full of artfully-told stories that provoke thought, drive empathy and allow the audience to connect, in deeply personal ways, to the universal human experience."
Last year's festival saw the premiere of current Oscar competitors "Mudbound," "The Big Sick," "Call Me By Your Name," and "Get Out." Which of the 2018 premieres could be our newest contenders? For a full list of Sundance winners, click here.
Check out Backstage's film audition listings!