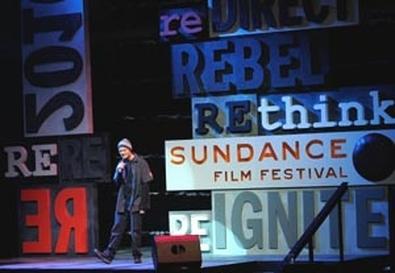 With twenty-seven editions of the film festival thus far, "Sundance" is old enough to have graduated college and worked for a year (or five). Like most at that age, the program is in the throes of deciding how it's defined, and looking for more meaningful relationships with its audience.
During the early years, when festivals weren't in every town, just getting into Sundance meant you'd work again, and winning meant a career. However, in recent years, Sundance has not been the promiscuous program it once was, and has failed to imbue its filmgoers with a sense of cinematic danger.
In 2009 and 2010, programmers attempted to herald a Sundance that was returning to those roots, and they tried welcoming back the 'rebel' spirit, but it is the curious lack of hype surrounding Park City's 2011 program that looks likely to deliver something significant.
With "be there" as its new slogan, the fest's leadership surprisingly promises… nothing. In lower case, it's almost a marketing plea that you simply show up.
At first glance, the official 2011 poster is merely pretty, brandishing a lone, ice blue snowflake. Taking the time to look beyond the flake, however, you'll notice subtle clues to the geographic and cinematic history of Sundance, and discover iconic cues of acclaimed titles reminding us of this fest's impact on our indie appetite.
Film titles hidden in the graphic design that have forged our critical and commercial acceptance of truly independent vision, include: "Pi," "Sex, Lies and Videotape," "Exit Through the Gift Shop," "The Squid and the Whale," "Donny Darko," "Man Push Cart," "The Cove," "Hoop Dreams," "Man on Wire," "Girlfight," "Anvil! The Story of Anvil," "The Motorcycle Diaries," "Me and You and Everyone We Know," and "Open Water."
With this mood of exploration in mind, we took a close look at the lineup to select a half-dozen titles worth tracking:
Commercial clout: "My Idiot Brother." Zooey Deschanel ("500 Days of Summer"), Emily Mortimer ("Lovely & Amazing"), and Elizabeth Banks ("The 40 Year Old Virgin," "W.") team as sisters coming to the aid of their brother Ned (portrayed by Neil LaBute and Judd Apatow favorite, Paul Rudd). Ned's string of bad luck includes losing custody of his dog, Willie Nelson. The film's production company, Big Beach, has had recent Sundance success with "Jack Goes Boating," "Sunshine Cleaning," "Little Miss Sunshine," and "Sherrybaby."
Documentary depth: "Magic Trip." Allison Ellwood and prolific documentarian Alex Gibney (Oscar winner for "Taxi to the Dark Side," Oscar nominated for "Enron: The Smartest Guys in the Room," and currently short-listed with "Client 9: The Rise and Fall of Eliot Spitzer") turn to Ken Kesey (author of "One Flew Over the Cuckoo's Nest") and his Merry Pranksters. If Gibney's work on "Gonzo: The Life and Work of Dr. Hunter S. Thompson" is any indication, everyone who was anyone during this hallucinogenic-fueled era will be trying to remember something about the events. Though recollections of the era are not entirely trustworthy, and the film doesn't have the gravitas of some other docs playing here, "Magic Trip" is sure to entertain.
Genre fare: "Red State." We're not sure whether Kevin Smith will fly or drive to Park City, but his screening of religion-related horror "Red State" will be an event. The helmer suggested he'll auction the rights to distribution in the theater immediately following the film. Smith's refusal to do any press, preferring to post answers to popular questions online, is also likely to be tested in this media-mad environment. The trailer is red hot, and it's clear that John Goodman, Michael Parks, and everywhere-woman Melissa Leo have been given space to flex their considerable chops.
Indie-horror: "Take Shelter." Oscar-nominee Michael Shannon ("Revolutionary Road," "Boardwalk Empire") re-teams with his "Shotgun Stories" director in a psychological tale of a man crumbling under life's pressures, and whose dreams compel him to build a tornado shelter in his backyard. The film boasts the special effects wizardry of the Brothers Strauss (cleverly brought on as executive producers in order for the indie filmmaker to avoid their usual fees).
Art-darling: "The Future." Without a film since 2005's Sundance-winning "Me and You and Everyone We Know," Miranda July returns to the festival with a project about a couple living life to the fullest before their pending adoption of a stray cat. Featuring music by Jon Brion, the film is narrated by the, um, cat.
Human nature: "Project Nim." James Marsh, helmer of the Oscar-winning "Man on Wire," directed this opening night doc selection. "Nim" educates us about the chimpanzee taken from its mother in the 1970s and raised like a human child on New York City's Upper West Side.
With 118 feature-length films (including 95 world premieres) on offer from 29 countries, and 40 first-time filmmakers in the mix, Sundance's 2011 snowflake has significant substance; expect its titles (especially on the documentary slate) to crystallize into this year's top contenders.