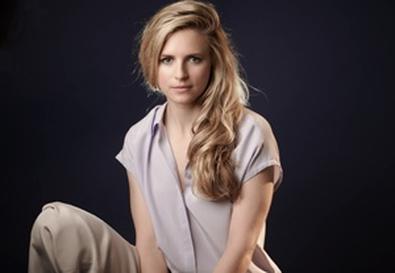 Brit Marling
is perfectly cast as a cult leader in her new film "
Sound of My Voice
" -- which is intended as a compliment.
Since the 2010 Sundance Film Festival, where the unknown hit the scene as co-writer, producer, and star of two acclaimed movies, "Voice" and "Another Earth," the cult of Marling has quietly been gathering momentum and fans. It's not just that she's beautiful -- after all, Hollywood is overrun with stunning blondes -- and the fact that she writes her own roles would mean little if she didn't inhabit them so completely and charismatically. There is clearly something special about the artist, and the powers that be have already taken notice; later this year, she will appear opposite Richard Gere and Susan Sarandon in "Arbitrage" and in "The Company You Keep" for director Robert Redford.
But first up is "Sound of My Voice," directed by co-writer Zal Batmanglij, in which Marling plays Maggie, a spiritual leader who claims to be from the future. A couple named Peter and Lorna (Christopher Denham and Nicole Vicius) infiltrate the group with the intention of making a documentary about Maggie, only to find themselves questioning their beliefs. Marling delivers a star-making performance as Maggie, by turns maternal and manipulative, and the film should leave people asking questions long after it is over. "You're constantly revising what you think of her," Marling says. "Is she a con artist? Is she extraordinary? Everyone has their own opinions."
In fact, after the film premiered at Sundance, Marling found herself witnessing an argument while riding the bus. "I was wearing this parka with a hoodie and sitting in the back," she says. "There was a couple in front of me, talking about the movie, saying, 'She's so from the future! It's obvious!' And this other group of people joined in, saying, 'What are you talking about -- she's a fraud!' They got in this heated debate while I was just sitting there in my hoodie, shrinking." Since the film had not been shown to anyone outside of family and friends, Marling says she was overcome with happiness to see how people were responding. "It was so exciting to see how engaged people were and how strongly they felt their version of events," she says with a laugh. "I loved it."
Secret Artist
Though she performed in school plays while growing up in Chicago and Florida, Marling kept her acting ambitions somewhat hidden when she attended Georgetown University. "I was a double econ-studio art major," Marling says. "So I'd be in the darkroom developing photos, then in the library doing economic regressions. So clearly I felt this pull between art and commerce." She excelled at both, going on to become the class valedictorian. But when she wasn't crunching numbers, she was making short films with Batmanglij and "Another Earth" director Mike Cahill and teaching herself acting. "I learned so much by that trial-and-error process," she says of those early films. "I would see where I was pushing too much and where I needed to exercise restraint, how sensitive the camera is and how little you have to actually verbalize to say a lot."
Still, she admits she struggled between taking the safe route and pursuing her artistic desires. She spent a summer interning for Goldman Sachs, at the end of which she was offered a job. Suddenly, Marling says, the choice was clear. "I can't fully explain it," she says. "It was a hard decision for all my life until it came to a point where it was suddenly the easiest decision ever. I reached an epiphany where I wasn't afraid anymore. I knew my life was going to be a blink -- it's the universe losing an eyelash or shrugging a shoulder or tossing her hair back. Something in me broke, and I knew I couldn't live my backup plan anymore." Marling let her bosses know that she was grateful for the opportunity but that she was going to be an artist.
Marling knew she'd made the right decision when she and Cahill were in Cuba, co-directing the documentary "Boxers and Ballerinas." "I realized I can actually live a very small life and be very happy," she says. "I told myself that if I could do what I loved, I'd be fulfilled. And it turned out to be true."
She and Cahill soon joined Batmanglij in Los Angeles, and Marling set about trying to jump-start her acting career. She discovered acclaimed teacher
Harry Mastrogeorge
and began studying with him. "I went to a lot of orientations and did not connect with what was going on," she says. "I walked into his class, and the first thing he said was from Aristotle's 'On Poetics,' but he switched the words around a bit. He said, 'The player who merely assumes the characteristics cannot move others as much as the player who is himself moved.' That was the way in for me. I was profoundly moved by him and his approach."
Less inspiring were the auditions Marling attended. "When you're in your 20s and never done anything before, the stuff you go and read for is appalling -- especially for girls," she says. "The guys at least manage to keep their clothes on or aren't being cut apart or raped or brutalized or just weak, underwritten girlfriend roles. I got to a place where I was so discouraged, I didn't know what to do. And I thought maybe my way around this was to just begin writing." Marling began spending time in the library, reading every script and screenwriting book she could get her hands on.
Marling estimates it took about three years for her to feel she had gotten a script right. During that time, she came close to being cast in a number of horror films. But every time, she would take herself out of the running. "I'd get into the final round, and I'd suddenly be like, 'Oh my gosh, I can't do this,' " she says. "And it was hard; I needed money. I had moved into progressively smaller apartments, progressively farther east, ever since I got here. I finally ended up in an apartment that didn't even have a kitchen."
Knowing it would be difficult to finance a film with an unknown director and star, Marling wrote with a small budget in mind. "I'm not sure I envisioned just how small," she laughs. "But our credo was essentially that we weren't going to wait for permission; we were just going to go out and make something and even if we fell flat on our faces and no one but our parents saw it, to make something was better than to not try at all."
In 2007, Marling and Cahill went to stay with Cahill's mother in New Haven, Conn., to shoot "Another Earth" on a microbudget estimated at $150,000. In the film, Marling plays a young woman named Rhoda who kills a mother and her child in a drunk-driving accident. When she is released from prison four years later, she attempts to apologize to the lone survivor of the accident, John Burroughs (William Mapother) but loses her nerve before she can bring herself to reveal her true identity. As the two embark on a tentative relationship, their mutual grief is played out against the backdrop of a more fantastical story -- the discovery of a second Earth that is inhabited by exact doubles of everyone.
"Sound of My Voice" was shot in 2009, and though they are very different films, the two have a similar way of approaching science-fiction material in a credible manner. For example, Maggie purports to require an oxygen tank and suffers from severe allergies as a result of her time travel. "We wanted to deal with what the practical experience of a time traveler would be," Marling reasons. "If you fly from L.A. to Paris, it does something to your immune system; you're tired and jet-lagged. So if you came from the future, you're probably really compromised. We wanted to make the sci-fi element feel grounded in reality, which was one aspect that helped me find Maggie as a character."
Both films were submitted to the Sundance Film Festival in 2010, though Marling says she kept her expectations low. "We'd been working in a vacuum, and you find yourself filled with so much doubt," she says. "You wake up every day and tell yourself to keep writing and try to get these movies made, but you don't have any idea if you're really good. And your friends and family are telling you you've lost your mind and need to start filling out applications for grad school yesterday. I had no idea how the films would be received." In November 2010, she was on her way to visit her parents in Florida for Thanksgiving when she received word that Sundance had accepted both films. Sold-out screenings, raves for the two movies, and heated conversations on buses followed.
Coming Attractions
With her Sundance success and the release last year of "Another Earth," Marling has been in the position to work on films such as "Arbitrage" and "The Company You Keep" as just an actor. And rather than finding the experience limiting, she believes she has done some of her best work as a performer in her upcoming films. "It's actually much harder when you've written a role because you don't perceive there to be any rules; you can change the text at any moment," she says. "Working on someone else's story gives you a set of constraints. And the same way great poetry finds its creativity through its constraints -- this is the meter, this is the rhyme, this is how many lines -- it forces you to look in a direction you might not normally. You have to dive deeper, rather than push out horizontally." She also enjoys being able to concentrate solely on acting. "It's nice to do your work and leave the set and not have to worry about finding the money to do your sound mix," she says, adding of working with larger budgets, "I'm sure one of the dresses I wore on 'Abritrage' was more than the entire budget of 'Another Earth.' "
Still, Marling says she will never abandon do-it-yourself writing and producing -- though she prefers the term "ninja filmmaking" to "guerrilla," noting, "There's something about the term 'guerrilla' that is inherently underdog. 'Ninja' indicates I'm intending to be a ninja, sneaking in and getting the job done." She and Batmanglij are in the process of editing their new film, "The East," an espionage thriller in which she plays a spy. While hesitant to reveal too much, she says it's a straightforward story, without any elements of science-fiction, and calls it her best shooting experience to date. "Making these films is grueling and challenging and amazing," she says. "You bring together a really special group of people and become a tribe. I wouldn't change it for anything in the world."
---
Outtakes
- Marling appeared on a 2011 episode of "Community" as Britta's gay friend Paige -- who turns out to not be gay.
- For "Sound of My Voice," Marling researched cults and their leaders. "One of the things I noticed was a lot of cult leaders had failed ambitions at acting. There's something there -- perhaps the desire to hold an audience."
- At Sundance, "Another Earth" won the Alfred P. Sloan Feature Film Prize, presented to a film "focusing on science or technology as a theme, or depicting a scientist, engineer or mathematicia