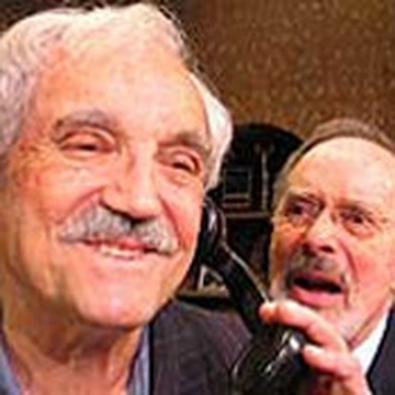 The two eponymous ex-vaudevillians who form the centerpiece of this Neil Simon work knew how to get laughs from their tired old jokes. It took knowledge of comedy, it took the basic building blocks of Western humor, it took rehearsals, and it took that intangible quality that makes someone or something plain ol' funny.
What's missing here is not the knowledge, which abounds in the talents of Hal Linden and Allan Miller as the boys, Jackée Harry as the real-life nurse, and director Jeffrey Hayden. Simon provides the foundation with his laugh-a-line script that, if done right, also packs a heart-wrenching punch. The cast is disciplined and rehearsed -- although, in the midrun performance reviewed, lines were still not solid. What's missing are the intangibles.
Linden comes closest to nailing the script's cadences and his character's decades-long immersion in vaudeville. But it's not a completely honest portrayal, which would make his character, Willie Clark, hilarious to watch but also deeply deserving of our hearts. As Al Lewis, Miller is miscast, more a scholarly rabbi than an old-time entertainer, and his characterization is thin. In the blow-sip-blow-sip tea ceremony suggested by Simon, only Linden participates, leaving Miller to look like a spoilsport. Even more unfortunately, as Willie's nephew Ben, Eddie Kehler begins in meltdown mode, so there's nowhere for Ben to go, and the actor is so busy being wild-eyed and hyper that there's no loving support shown for Willie. Harry is wonderfully snide and quippy, but it's a sense of humor that doesn't quite fit in here.
Hayden's inspired use of the Odyssey's tech booth to help create the television-studio scene brightens the action, as of course does Ric Zimmerman's lighting. But the comedic touch that's the most spot-on is by the uncredited designer who created the hilarious Variety headlines. Now that's plain ol' funny.
Presented by and at the Odyssey Theatre Ensemble,
2055 S. Sepulveda Blvd., L.A.
Thu.-Sat. 8 p.m., Sun. 2 p.m. (Sun. 7 p.m. only May 11 & 25. Also Wed. 8 p.m. Apr. 23-30 & May 7.) Apr. 5-Jun. 1.
(310) 477-2055. www.odysseytheatre.com.