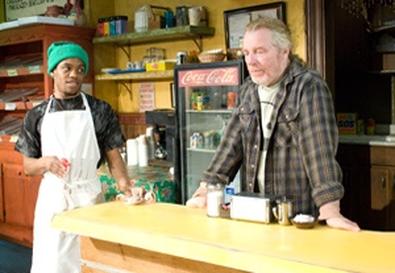 A misanthropic old man is brought out of his shell by a bubbly youngster. Individual entrepreneurship is crushed by creeping consumer monoliths like Starbucks and Whole Foods. The little guy takes on nasty criminals and, though beaten and bruised, wins a moral victory. Though these plot points may sound like fodder for a made-for-TV movie, in "Superior Donuts," Tracy Letts uses them to fashion a funny and moving evening of theater. Just as he rethought the dysfunctional-family play in "August: Osage County," here the playwright brings quirky twists to familiar themes and finds universal truths in them. This transfer from Chicago's Steppenwolf Theatre Company, directed with no-nonsense toughness by Tina Landau, handily avoids sentiment and delivers a slice of life as fresh and tasty as a doughnut right out of the oven.
The setting is the titular eating establishment, owned by Arthur, a Vietnam War draft evader who returned to Chicago from Canada and took over the shop after his immigrant Polish parents died. The main action concerns Arthur's growing friendship with Franco, a spirited, wisecracking African-American boy with writing ambitions and a gambling addiction, and the efforts of Max, a vulgar yet goodhearted Russian merchant, to buy Superior Donuts so he can expand his video business. There are also two police officers who regularly stop by: James, whose hard exterior conceals a nerdy "Star Trek" obsession and a concern for the neighborhood, and Randy, a woman with a soft spot for Arthur. And let's not forget Lady, the sharp-tongued alcoholic constantly on her way to an A.A. meeting or a bar, whichever is closest.
Each of these people is as real, detailed, and flawed as James Schuette's lived-in set, with its grease stains, broken clock, and wall menu with missing letters. Even the slimy loan shark Luther, who has put the bite on Franco, has a believable story: His Hispanic wife's relatives are camping out in his living room, with their computers and video games eating up his electricity, and his resulting ulcer gives him a craving for milk, causing him to slurp from Arthur's creamers. That little detail is but one of dozens Letts provides to create this complex ecosystem of friends, business rivals, and predators.
The cast takes the clues the playwright gives and adds to them to flesh out the shop's denizens. Michael McKean slowly reveals the core of Arthur's pain, exposing layer after layer in a series of monologues. Jon Michael Hill conveys Franco's joy and enthusiasm without rendering him cloying. Yasen Peyankov makes Max both hilariously obnoxious and sympathetic as he explains his driving ambition and his shame at living alone in a boarding house at nearly 50. James Vincent Meredith and Kate Buddeke convincingly display the human sides of the two cops. I especially enjoyed Jane Alderman's flinty Lady, who doles out snappy comebacks and motherly advice with equal aplomb. Robert Maffia doesn't soften Luther's viciousness but does make his deplorable actions understandable. Michael Garvey barely speaks as Max's hulking nephew, but he conveys this bodybuilder's sensitivity in a silent gesture of kindness. Cliff Chamberlain completes this strong ensemble as Luther's henchman Kevin.
Ana Kuzmanic's everyday costumes, Christopher Akerlind's evocative lighting, and Rob Milburn and Michael Bodeen's sound design of traffic noises and rattling elevated trains add to the grimy, realistic atmosphere. Definitely a "Superior" play.
A Steppenwolf Theatre Company production presented by Jeffrey Richards, Jean Doumanian, Jerry Frankel, Awaken Entertainment, Debra Black, Chase Mishkin, Karmichelle Productions/Robert G. Bartner, Dena Hammerstein/Pam Pariseau, Carole & Barry Kaye/Irv Welzer, Andrew Asnes, Rebecca Gold, Kathleen K. Johnson, George Kaufman, Charlie McAteer, Terry Schnuck, Michael Gardner/David Jaroslowicz, Stewart F. Lane/Bonnie Comley, and Roy Gottlieb/Raise the Roof Two. At the Music Box Theatre, 239 W. 45th St., NYC. Oct. 1–Jan. 3. Tue., 7 p.m.; Wed.–Sat., 8 p.m.; Wed. and Sat., 2 p.m.; Sun., 3 p.m. (212) 239-6200, (800) 432-7250, or www.telecharge.com. Original casting by Erica Daniels. New York casting by Telsey + Company.