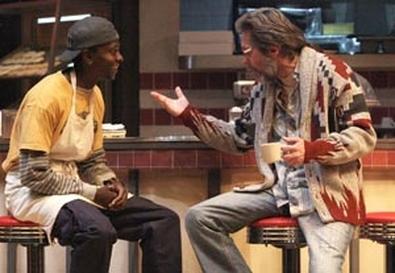 "The root of the Polish character is hopelessness," Arthur Przybyszewski explains to his new employee, Franco Wicks, in Superior Donuts, the Chicago shop that he inherited years ago from his immigrant parents and the title for Tracy Letts' follow-up to his larger-scale, Tony Award– and Pulitzer Prize–winning "August: Osage County." Indeed, Arthur seems a hopeless case, a shell of a man who believes his glory days have long passed, much like the once cheerful, now depressed establishment he spends his days in. Arthur has resigned himself to a solitary, banal life until the day Franco walks though the door to answer a help-wanted sign in the window. Franco is a young, poor black guy from the neighborhood who has big ideas for Arthur's run-down confectionery. In fact, everything the energetic Franco embarks upon is big, including the "great American novel" he spent the last seven years writing and the gambling debt he racked up and is desperate to pay off.
Letts has written a lovely, intimate tale about friendship, loyalty, and courage in this comedic drama that is often hilarious but ultimately serious at its root. And as played by the actors in this Geffen Playhouse production, the colorful characters that populate Arthur's shop are well worth hanging out with. Gary Cole leads the cast as Arthur and gives a strong, subtle performance that balances between deadpan wit and deeper emotions. Edi Gathegi infuses Franco with such great energy that he nearly steals the show. Together, Cole and Gathegi share terrific chemistry, and their characters' burgeoning friendship feels organic.
Standing out among the supporting cast are Ron Bottitta as Arthur's next-door neighbor Max, a boisterous Russian shop owner who refuses to give up on buying Arthur out; Paul Dillon as Luther, a bookie with a bad ulcer and a score to settle with Franco; Kathryn Joosten as homeless Lady, a shop regular who comes in for a pee and free food; Mary Beth Fisher as Officer Randy Osteen, a regular who has a thing for Arthur; and Damon Gupton as Randy's partner on patrol, Officer James Bailey.
Set designer John Arnone's grimy shop is perfect, as is Richard Woodbury's sound design of the subway cars passing by. Still, as delicious as the play and this production are, they have imperfections. Letts' use of a Q&A device during Arthur's monologues is questionable. Randall Arney's direction of Cole in those monologue scenes also disappoints, as does Arney's staging of a climactic fight sequence, which nearly derails the play. And what's up with Cole's ponytail extension? Yes, Letts wrote Arthur to have a ponytail, but there must exist more convincing hairpieces to fit on a hippie.
Despite these flaws, "Superior Donuts" is far superior to most productions and provides a great treat to theatergoers.
Presented by and at the Geffen Playhouse, 10886 Le Conte Ave., L.A. May 31–July 10. Tue.–Fri., 8 p.m.; Sat., 3 & 8 p.m.; Sun., 2 & 7 p.m. (310) 208-5454. www.geffenplayhouse.com.