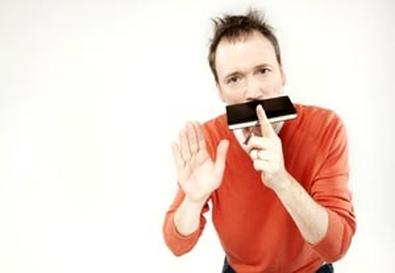 Tom Shillue's new show deserves a subtitle: "I Love the '80s." No, he's not spewing witticisms about Chia Pets and Members Only jackets, as they do on the popular VH1 program. But the talented storyteller spends much of this 90-minute performance piece reliving quirky moments from his high school and college years, which coincided neatly with the heyday of A Flock of Seagulls and Michael Jackson's "Thriller."
Raised in Massachusetts, Shillue seems to have had an idyllic middle-class childhood, with a loving mother, stern father ("My dad was Darth Vader—with a Boston accent"), and a math-obsessed brother who liked to explain random occurrences ("Coincidences don't freak me out"). Ethnicity colors many of his memories. He says that his Catholic childhood was so "monochromatic" that he found the Jewish girls he met in middle school "exotic." And he recalls his mom's "taco nights" as the family's version of a multicultural experience.
In college, Shillue had a roommate who became, for a time, obsessed with paper airplanes; among the show's highlights is a description of the two flying airplanes through Emerson College's spooky back staircases. Later, Shillue recounts living with his kindly but narrow-minded grandmother ("little old lady racist") and retarded uncle, who seemed to be much smarter than he let on. In another great set piece, Shillue relives exploring the New Wave scene in pre-Giuliani New York with a friend, in particular his experience dancing at the Tunnel nightclub.
The show moves along at a spirited pace and only slows down for a short time in the middle. The music is a great mix of '70s and '80s pop. The uncredited lighting is stellar, adding great emphasis where needed.
Like the title says, Shillue's a fairly normal guy, and his stories reflect a typical childhood, with its share of ups and middles and very few real downs. While none of the stories are especially revealing or emotionally engaging, Shillue imbues each tale with an infectious enthusiasm. Through his natural storytelling ability and gentle sense of humor, he puts you right in the moment with him. Shillue's memories are so warm that you feel great taking the ride.
Presented by and at Performance Space 122, 150 First Ave., NYC. March 16–April 9. Wed., Thu., and Sat., 8 p.m.; Fri., 10 p.m. (212) 352-3101, (866) 811-4111, www.theatermania.com, or www.ps122.org.