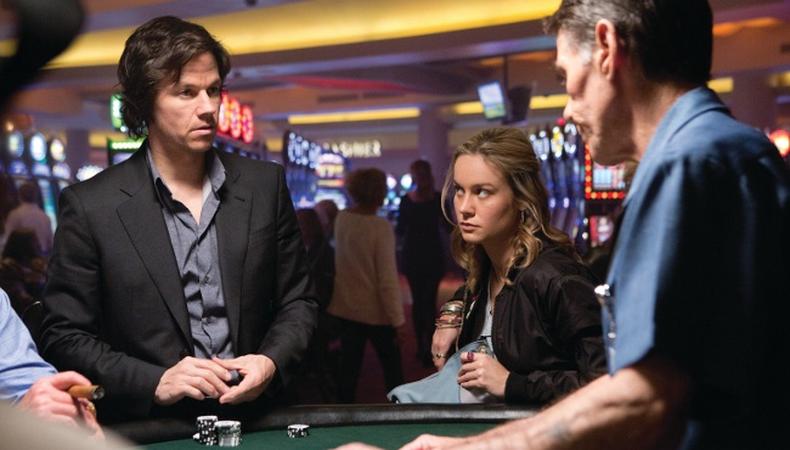 In a movie about a hyperarticulate writer and professor of literature, Brie Larson is a center of calm as college student Amy. Gambling addict Jim Bennett talks—almost against his will—in dizzying spirals of nihilism and blunt honesty, but Amy simply sits back and watches.
"Amy is very centered and it was an absolute pleasure to be inside her mind because it's very clear and very straight," Larson says. "I think she's watching Jim through most of the movie and is highly amused and understands him in a way that is not something that can be explained. And through all the talking in the movie you realize that whatever that feeling is, it's not something that can be talked about. It's just there and it's the only thing that really shuts him up."
That watchfulness provides Larson with some of the film's strongest scenes; her most memorable moments are usually ones where she remains silent, allowing her thoughts to flicker briefly across her face. "That's something I'm interested in right now," she says. "I believe that an audience can pick up way more than we've given them credit. And it's so much more fun to see it in the smallest movement. A blink says so much, a smirk says so much. Not saying anything can say more than all the words."
Larson—who wowed audiences and critics alike last year in "Short Term 12"—has a strong rapport with Mark Wahlberg as Jim, one that was immediately apparent during her audition. After spending three hours talking with director Rupert Wyatt (which Larson describes as "one of those magical meetings"), the actor came in to read with Wahlberg.
"We started with the very first scene in the classroom and they sprang it on me," Larson says. "I arrived and Mark was like, 'Let's try this scene!' And I was like, 'OK, it's mostly you talking, so go for it!' We were six months away from filming and he already had this huge monologue memorized. And it really blew me away and made me even more interested in the project, seeing his commitment to it. He worked so incredibly hard, and that's the kind of teammate I want to be around. It's really important to align yourself with leaders."
Though Larson remains mostly silent in that first scene, as Wahlberg delivered a blistering monologue calling Amy the only genius in the room and asking what made her into one, Larson found herself in tears. "I actually cried, which surprised me because I wasn't expecting it to happen," she says. "But he went through the whole monologue trying to penetrate my armor and I was holding back tears and as they started to fall I was like, 'Oh, man.' You can just feel it. You can feel it in the room when something's sparking. And then when it was done, Mark just went, 'OK, to the next scene.' It's not so much about lingering, it's, 'Great, we did it, let's keep going.' And it's such a nice way of working. It's not so precious."
Once the part was hers, Larson joined Wyatt and Wahlberg in marathon discussions about the knotty, elliptical script by William Monahan. One of the things they discussed most was whether or not Amy truly was a genius.
"I don't know!" Larson says when asked. "I didn't feel like I'm the one who could say, 'Of course she's a genius!' I don't know. The term 'genius' comes from 'genie' and the idea that you have a magic genie inside you. And maybe there's a little genie in there."
Inspired by this post? Check out our film audition listings!