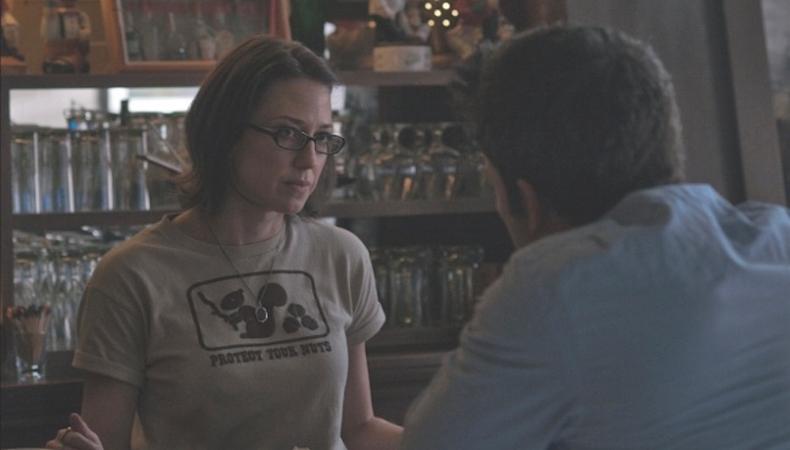 Nick Dunne has two women in his life. One is his wife, the literally Amazing Amy. The other is his twin sister, Margo, who is as ordinary as Amy is stupefying. And yet, when brought to life in David Fincher's film "Gone Girl" by Carrie Coon, Margo may be ordinary but she's never average.
As Nick's levelheaded voice of reason, Margo acts as the audience's surrogate, voicing our disbelief at what Nick and Amy are capable of and taking Nick to task for his obliviousness and selfishness. On the page, it doesn't necessarily read as a juicy role, but Coon found all the nuance and layers to a woman who begins suspecting that her brother is capable of far more than she'd ever imagined. And key to the success of her performance is her easy rapport with Ben Affleck as Nick.
"David was looking for someone who could match Ben's rhythm—Ben's pretty quick and my family is a pretty sarcastic family," Coon says. "So we were able to fall into that rhythm right away."
The actor, a Tony nominee for her performance in "Who's Afraid of Virginia Woolf?" raves about making her film debut opposite Affleck, saying that because of his own Cinderella story with "Good Will Hunting," he's extremely supportive and excited for other young actors breaking out. She also points to the cast's six weeks spent shooting in Missouri as an important part of what made the eclectic, large ensemble click so effortlessly. "It was like summer camp," she says. "What an amazing group of people. All the stereotypes of Hollywood to me are not true because everyone I worked with was smart and generous and not self-absorbed."
Coon's performance is all the more impressive precisely because "Gone Girl" marks her feature film debut—and she's thankful she made her first movie with Fincher, who is notorious for demanding multiple takes of scenes. "I was perfectly happy to give him as many takes as he wanted!" Coon says with a laugh. " 'Yes! Give me another chance!' And sometimes you don't do a lot of takes, and then you feel really good about yourself. You get a round of high-fives if you get done in seven!"
She cites Fincher's attention to detail as integral to her ease on camera. "The worst position to be in as an actor is to be working with a director in any medium who's making arbitrary choices," she says. "That's the worst. Even if their vision is bad, as long as it's strong, that's a better position. And there's no such thing as an arbitrary decision on a David Fincher set."
Certainly Coon's casting was far from arbitrary. When she received the script, she was asked to put herself on tape—performing all 22 pages of Margo's scenes for Fincher and casting director Laray Mayfield. She sent the tape off assuming that was the end of it, only to get a call while in New Orleans at a weekend wedding announcing that she had an appointment in L.A. on Monday. Packing so quickly she forgot her jeans in the hotel—"I had to go to L.A. and buy a wardrobe!"—Coon flew out to Los Angeles and read with Fincher and Mayfield for an hour and a half, taking notes from the director.
"David appreciates a good listener," she says. "David hires actors who are good listeners. And he's testing you to see if you're listening to him." Returning to Fincher's propensity for multiple takes, she adds, "If it's good enough for David Fincher, it's good enough!"
Inspired by this post? Check out our film audition listings!