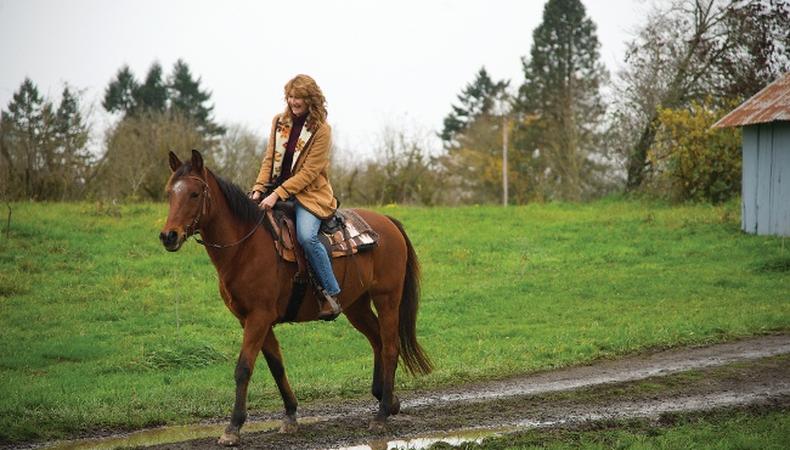 Laura Dern may be heartbreakingly perfect as single mother Bobbi in "Wild" because she's as open, generous, and kind as her character. Delivering one of the most beautiful performances of the year, she deflects all attention and compliments to others involved in the making of the film adaptation of Cheryl Strayed's memoir, starring Reese Witherspoon and directed by Jean-Marc Vallée ("Dallas Buyers Club").
"David Rubin [who cast 'Wild'] is such a brilliant casting director," she says. "I've had the pleasure of knowing him over the years and being cast by him before in brave ways. I'm really endlessly impressed by him and how he sees actors. He really sees the actor and not a character they played, which is so rare. When I saw 'Wild,' I thought, This is the most incredible thing. He should win an award for finding these extraordinary people!"
The story of how Strayed left behind her self-destructive life to find inner peace by hiking the Pacific Crest Trail, "Wild" is as much about memory as it is about one woman coming to terms with her mistakes and the loss of her mother. And as flashes of scenes early in the film are revisited in full later, as Cheryl's exhaustion prevents her from keeping the darkest memories at bay, the full extent of Cheryl's pain becomes increasingly evident.
Recalling when Vallée first showed her the film, Dern says, "I knew every single frame we shot! Usually the director is like, 'I want to prepare you. There are a few things—like the majority of your performance—that didn't make it.' But everything was there! It was like watching this tapestry unfold of memory that he really created in the editing room—both with visual images as well as music. He really stayed committed to how memory plays out in Cheryl's storytelling, which is how it plays out in real life."
Calling Vallée "the most amazing partner an actor could ever ask for," Dern redirects every comment on her simple, unadorned turn to him. "He has the greatest authenticity detector anyone could ever want. So if anything feels untrue, from a prop far in the background to any gesture that's inorganic, he sees it," she says. "He lets everything be messy and true and hopeful, and never in a maudlin way but in a pure, honest way. So I was very, very lucky."
But despite Dern's best efforts at deflection, there's no getting around the fact that she is very, very good in "Wild." What could have turned into treacle on the screen—the mother who always looks on the bright side, never mind the pain and struggles she'd endured, right up until she passes away from cancer—is instead a celebration of the human spirit and one of the most powerful mother-daughter stories since "Terms of Endearment."
"When we started doing press, I would be asked, 'Playing a mother, what's that like?' I was like, 'Are you kidding? The last time I played a mother I was huffing paint in 'Citizen Ruth'!" Dern says with a laugh. "Emotionally, for the most part, I've played adolescents my whole life. But to have the privilege of saying some of the lines in this movie that Bobbi said to her daughter, there were a number of days on this movie where we just would all cry at the deep gratitude that was won in earnest. People can have seeming gratitude while they're walking through a privileged life, but this is a woman who walked through abuse and abject poverty with no support and was grateful for everything she had. I really feel like Bobbi and Cheryl have taught me a lot."
Inspired by this post? Check out our film audition listings!