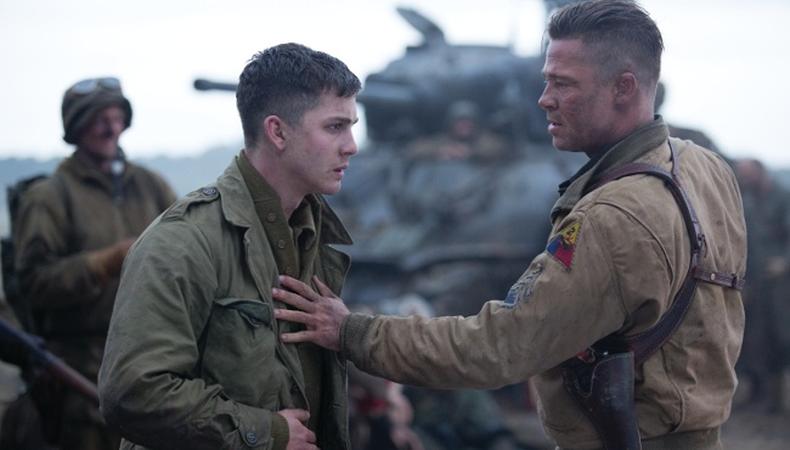 Logan Lerman fought for his part in "Fury" for almost two months. Although David Ayer's World War II drama demanded an astonishing amount of preparation and a grueling shooting schedule, Lerman auditioned his heart out to take on those challenges. "He gave me the script and I read it and fell in love with it," says the 22-year-old actor, who counts war movies such as the Soviet thriller "Come and See" among his favorites. In preliminary meetings with Ayer, he gleaned that the writer-director "has a great way of transporting [actors] into the world he's written, in a way I've never experienced before with any filmmaker."
So Lerman knew what he was getting into when he finally landed the role of army newbie Norman; for starters, a vast majority of "Fury" takes place in the tight confines of the eponymous tank. "We spent countless hours in that tank and got very comfortable with it," he says. "By the time we started shooting, that tank was ours; we sort of felt possessive over it. It was a character in the movie." That didn't make filming inside it any easier. Lerman remembers "painful two-hour setups to get the next angle" in the replica of the vehicle's cramped interior.
To maintain the required energy, he turned to his fellow crewmates: Brad Pitt, Shia LaBeouf, Michael Peña, and Jon Bernthal. "We all relied on each other," says Lerman. "We supported each other and kept each other focused." The tight-knit cast also used the production's very realistic carnage to plunge themselves into the gritty horror of the Allies' advance into Nazi Germany. For Lerman, scenery and atmosphere provide great dramatic fuel. "We would all avoid seeing sets before we had to work on them to keep the environment fresh and as disturbing and shocking as it is the first time you see it."
Ayer also prepped and shot the film with intensely immersive techniques. Along with guiding actors through four months of heavy research into tank mechanics, army life in 1945, and veterans' stories, Lerman recalls "getting inside the trauma and maintaining that nightmarish place Norman is in" was key to unleashing the best performance. "[Ayer] plays a lot of psychological mind games, stuff like that," says Lerman. "It was just a lot of fucked-up stuff that is probably not good to mention."
When it comes to the most crucial part of tackling any film role, the young star highlights that relationship. In his years as a child actor, Lerman realized the importance of having "somebody you can trust that's leading a movie with a clear vision. Then you just explore different intentions and ways to make scenes fresh and different and as realistic as possible." Although Lerman doesn't approach each project with the same methodology—visionaries can have radically different approaches, after all—he does emphasize playing with character motivations in collaboration with the director.
Trusting the vision of someone like Ayer is especially vital in a story that seeks to illustrate rather than judge the brutality of war. "Fury" is less concerned with taking a political stance than depicting what Lerman calls "that entry into hell, those things human beings really should not see or do." Asked what becomes of Norman after the film's feverish climax, the actor doesn't hesitate: "He's just a totally fucked-up mess for the rest of his life. But a strong one. Definitely stronger." While Lerman is certainly not as damaged as his character, there's no doubt he's emerged from this grueling experience quite a bit stronger as well.
Inspired by this post? Check out our film audition listings!