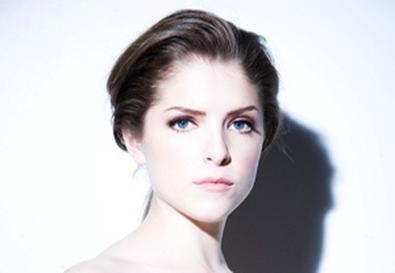 Anna Kendrick left her "Up in the Air" audition convinced of one thing and one thing only:
It didn't go well. "I went in and just tried to do what I could and thought, 'Oh, so much for that,' " she recalls. "I was pretty bummed out, because the script was so amazing." Much to her surprise, Kendrick got a job offer a couple of days later. And writer-director Jason Reitman was quick to tell her she needn't have worried: He penned the part of Type-A overachiever Natalie with Kendrick in mind. "I tried to keep it really cool," the actor says with a chuckle, "to act as though it was the most normal thing in the world for me to have parts in George Clooney movies written for me."
Though this might not be an everyday occurrence for her, she shouldn't be surprised if it starts happening more frequently; Kendrick's performance in "Up in the Air" already has critics buzzing. She plays Natalie's high-strung comedic moments for all they're worth, but she also locates the vulnerable, beating heart lurking beneath the character's perfectly tailored blazer.
"I feel really protective of Natalie," Kendrick says earnestly. "I love her so much, even though she annoys me. It was a challenge to allow her to let the cracks show. It was hard to let go sometimes, because I know how embarrassing it is for her, but you have to realize that she probably is giving away more than she would like to."
In the film, which Reitman and Sheldon Turner adapted from Walter Kirn's novel, Natalie is introduced as the perfect foil for Clooney's Ryan Bingham, a slick corporate-downsizing expert who flies around the country firing people. The two initially have a prickly, antagonistic bond, which morphs into something resembling friendship. Kendrick was thrilled when she read the script, because Natalie isn't your typical second banana.
"I knew that she wasn't a romantic interest for George, so I kind of kept waiting for her to disappear," she says. "Like, I just couldn't believe that this could be a fully developed role for a young female, where she does not become romantically involved with the lead. I thought it would be like a two-scene secretarial thing. The fact that she has her own story line was really exciting."
That story line wasn't part of the original novel; Reitman added the character for the cinematic version. Still, Kendrick read the book while prepping for the role. "I was thinking, 'Oh, am I supposed to re-read this and keep this, the source material, with me at all times on set?' " she says. "But the novel is really about Ryan's world and Ryan's philosophy, and Natalie is a stranger in Ryan's world, struggling to find her footing. So I figured that wouldn't be beneficial."
There's something disarmingly decisive about the way Kendrick says this: She projects the same kind of pure confidence and poise that make Natalie so magnetic. Maybe this is because Kendrick has been on stage since she was a kid: At age 12, she landed the role of Dinah in Broadway's "High Society," eventually earning a Tony nomination. And she thoroughly charmed Sundance audiences in 2007's "Rocket Science," playing motor-mouthed debate team enthusiast Ginny Ryerson. Reitman first noticed her in that fearless, take-no-prisoners performance.
"It's funny: When I did a Q&A for 'Rocket Science,' they asked what we thought our characters would grow up to do," says Kendrick. Reading the "Up in the Air" script, "I thought, 'Of course: Ginny grows up to fire people.' Natalie and Ginny are very different, but there was something strange in that connection."
On the other side of the spectrum, Kendrick initially didn't feel much of a bond at all to the character she's probably best known for: ditsy flirt Jessica in the blockbuster "Twilight" series. "I went in thinking they'd got it wrong and I had no business auditioning for the popular mean girl," she says. "That's not who I ever was, and I feel like physically I just don't look like I'm that girl. Then I realized, if it were me and I was trying this hard to be a popular mean girl, it would just come across so desperate, so needy and just pathetic. So that's how I went in and played it, and I think there was something funny about that that maybe they hadn't seen from other auditions."
Despite this sure-footedness when it comes to approaching characters, Kendrick confesses that the "Up in the Air" shoot was not without its challenges. For one thing, she had to get in the groove of shooting on the go. Much of the film's action takes place in airports, and Reitman used terminals and taxiways around the country as his locations. "Shooting in the airports was always tricky, because you have to go through regular security just like everybody else," Kendrick says. "And you're filming in a real live airport, where everything's working."
She was passing through one security checkpoint when she had a somewhat offbeat fan encounter. "A guy recognized me and asked me what was coming up for me and what I was working on, and I was like, 'This movie right now,' " she remembers, chuckling. "It was strange, because I was in [Natalie's] skirt suit, and he thought I was just, like, getting on a plane."
In a way, "Up in the Air" represents a new path for Kendrick. For the first time, she's playing her age (early 20s). "When I was shooting 'Twilight,' I was like, 'Am I going to be in high school forever?' " she says. "I completely appreciate the opportunity that I've been given by Jason to try to transition, because I know it's a really tricky time, and I don't imagine that the work's done."
That said, she doesn't have a complicated strategy in mind for moving away from teencentric roles. For now, she's just enjoying the variety of work coming her way. "I think the second that I actually try to put a plan in motion of what I'm looking for, the opposite will come to me, and it will be completely beautiful," she says. "Life's gonna give you what it gives you."

Outtakes

- Repped by Creative Artists Agency
- Received Spirit Award nominations for "Camp" and "Rocket Science"; will next be seen in "Scott Pilgrim vs. the World"
- On going from child actor to adult thespian: "This is a silly thing, but I'll say it anyway: I've found that it is so much easier to cry in auditions, because as you get older, your character is crying about something you actually care about. When I was a kid and I would have to cry about my dog or the babysitter moving away, I was just like, 'What? I wouldn't cry over this. This is ridiculous.' But you can relate a lot more to the emotional aspects of the characters as you grow up."