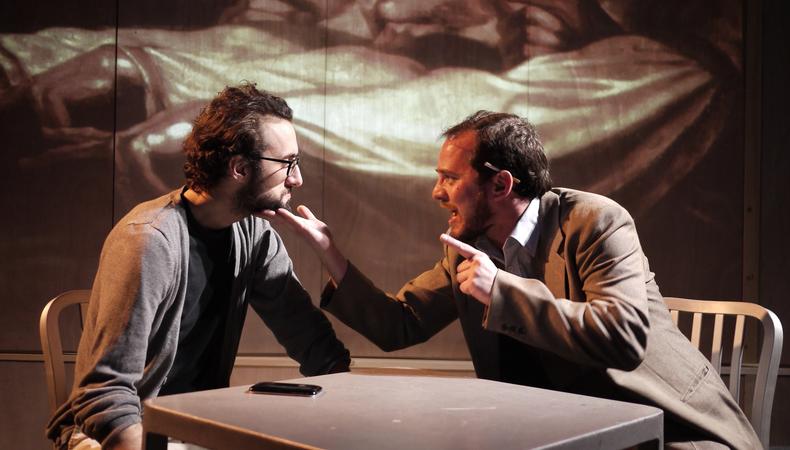 With its surreal interludes, flickering projections of Henry Fuseli's paintings, and sudden, unexplained nudity, Buran Theatre's "Nightmares: a demonstration of the Sublime" makes for an intriguing sensory echo chamber, in which dozens of seemingly incongruous ideas about authorship and man's relation to the sublime ricochet off the walls of the Brick at light speed.
Unlike Buran's significantly more linear "House of Fitzcarraldo," which was presented at the Brick last year, the current production—directed by Theresa Buchheister, Adam R. Burnett, and Jud Knudsen—has a very loose narrative that continually veers off into nonsensical tangents assaulting at least two or three senses (bourbon shots are occasionally served) only to fade, wraithlike, from memory, as dreams do. The most coherent story, teased out in very short bursts among other vignettes, follows a famous essayist, played with an amusing Woody Allen affect by Burnett, who has been accused of plagiarism. His latest essay, the content of which he hilariously admits may have "seeped" in from other sources, seems to posit that man has lost touch with "the sublime" and ponders whether it is even possible to be overwhelmed by anything anymore.
Knudsen acts both as the scribe's chief accuser and a high-strung art-history professor serving as a narrator who ably builds meandering, Escherlike connections to the other thematically linked fragments of the piece. For instance, one young woman (Catrin Lloyd-Bollard) would rather stay home looking at Google images than actually go camping ("Nothing is pretty," she reasons), while another (Lara Thomas Ducey) is deeply infatuated with her iPhone; they successfully reverberate Burnett's ideas about why people might have lost their ability to appreciate true beauty.
Also mixed in is the summer of 1816—which history calls "the summer that never was," due to its intemperate weather—when Mary Shelley, Lord Byron, John Polidori, Claire Claremont, and Percy Bysshe Shelley spent a Swiss holiday on the shore of Lake Geneva. This famous getaway led to the creation of the ideas for "Frankenstein" and "The Vampyre" and is briefly presented here as a debauched, drug-fueled sing-along. Frankenstein's monster (a multitasking Knudsen) and a vampire (Brady Blevins) also turn up in one of composer CS Luxem's jauntier tunes. Most of these tertiary episodes are presented behind scenic designer Nick Kostner's terrific wooden proscenium, which has doors that open onto an AstroTurf hill—presumably a knoll by Lake Geneva—and is nicely accented by media designer Geraldo Mercado's trippy soundscape and undulating projections.
It's easy to get lost in the disparate components of the show's irreverent gloom, and the dizzying digressions probably go on a little longer than they need to. Still, Burnett, Knudsen, and company twitch and blather on splendidly. It's only in retrospect, when one is attempting to recall specific details—Percy Bysshe Shelley was wearing hip holsters for his cans of beer, wasn't he?—that the tremendous scope of this expressionistic critical mass becomes apparent. Vehemently defying categorization, "Nightmares: a demonstration of the Sublime" is, in a word, overwhelming.
Presented by the Brick and Buran Theatre at the Brick, 575 Metropolitan Ave., Brooklyn, N.Y. Jan. 3–12. (212) 352-3101, (866) 811-4111, www.theatermania.com, or www.bricktheater.com.
Critic's Score: A